Corporate Social Responsibility
Promise 1
Creating New Value
EIZO, as a Visual Technology Company, will create total imaging solutions that address the social issues and enrich people in their professional and personal lives.
Business & Plus (B&P)
Choose EIZO, Work Better
In addition to offering excellent image quality and reliability as basic performance features, EIZO's standard monitors are packed with elements following years of dedicated work in environmental performance and ergonomics, for example minimizing eye fatigue.

Furthermore, the FlexScan series was developed with thorough consideration for their environmental impact.
We have adopted environmentally friendly features including lightweight construction and the use of recycled
materials. Furthermore, the low-power consumption design contributes to curbing power demand and CO2 emissions. We also collect and recycle used products to fulfill our responsibility at the end of their operating life.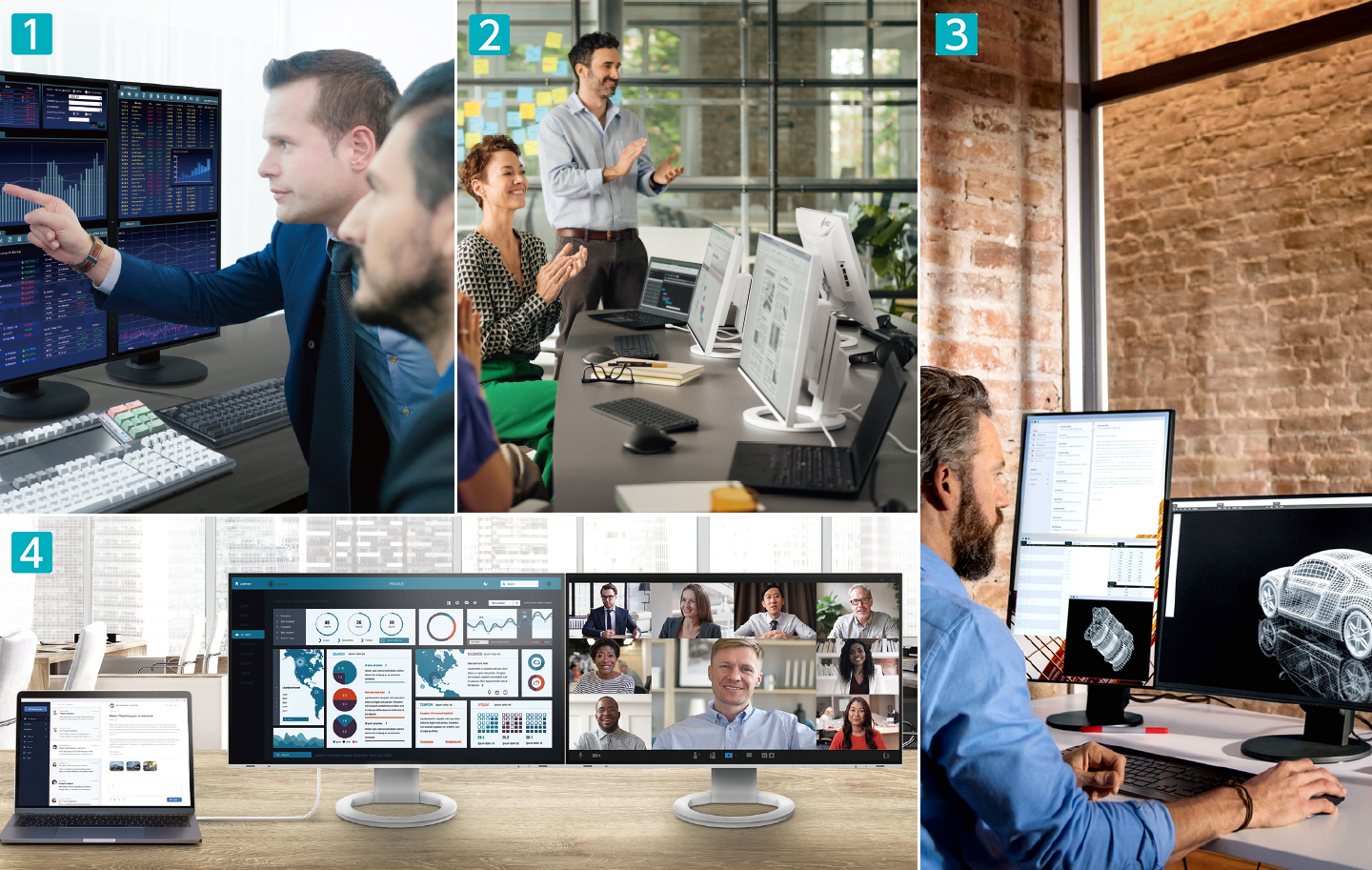 Comfortable stress-free trading with frameless multiple monitors
Increase office productivity by connecting the monitor with a notebook computer
Multiple monitor configurations aid CAD operations
Streamlined connection with USB Type-C

Healthcare
Making Each Life Visual
In today's increasingly advanced and complicated healthcare field, not only doctors but also other healthcare professionals such as nurses and clinical engineers are cooperating in the treatment of patients. It is therefore essential to create an environment that facilitates smooth information sharing and cooperation. In addition, due to the improved performance of state-of-the-art imaging instruments (modalities) and the increase of hybrid operating rooms, there is now a much greater need to efficiently view massive amounts of various types of image data.

To address these issues, EIZO provides consulting services to propose comprehensive visual solutions that encompass image display equipment, image control software as well as network layout, enabling the construction of an optimal visual environment to meet operating room needs. We realize innovation in the visual environments of hospitals (including operating rooms) by performing every facet of operations, including image "Capturing," "Recording/Distributing," and "Displaying."
Diagnosis
Examination
Treatment

See case studies about Healthcare
Creative Work
True to Creativity
We are committed to color reproduction quality and seek to increase work efficiency and accuracy in creative settings including photo editing, design, printing and video production by offering monitor solutions that facilitate achieving and maintaining accurate color display.

Our ColorEdge series of color management monitors and EIZO's own calibration software enables users to adjust their displays settings to their individual needs.

With a color management solution enabling central management of multiple ColorEdge monitors over a network, the monitor administrator can save time and effort by remotely and simultaneously setting the color mode for several monitors. This enables users to maintain uniform color display throughout the entire workflow, from production to referencing, even when finishing a product by dividing work, which thereby boosts work efficiency.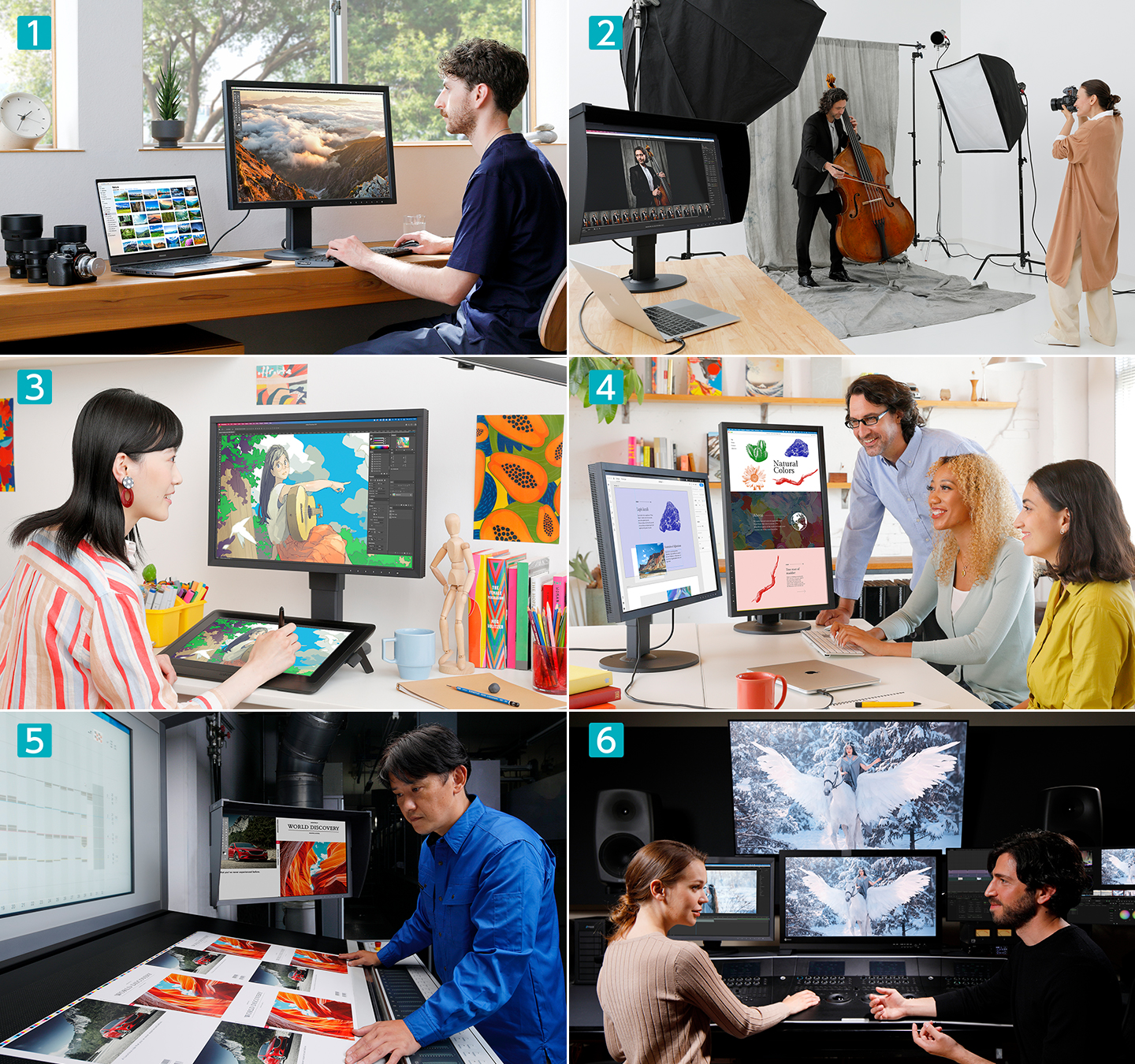 Hobby Photography
Pro Photography
Illustration
Design
Printing
Post Production

See case studies about Creative Work
Vertical & Specific (V&S)
Durability × Quality × Everywhere
EIZO provides visual environment solutions for specialized applications and environments in areas such as security and surveillance, maritime, railway, air traffic control and factory automation. We serve diverse needs ranging from improving visibility to ensuring high reliability and excellent display performance under harsh environments. We meet each and every requirement by harnessing the visual technology and know-how we have accumulated over the years.
Small quantity production
Flexible customization
Stable long-term supply
Reliable long-term maintenance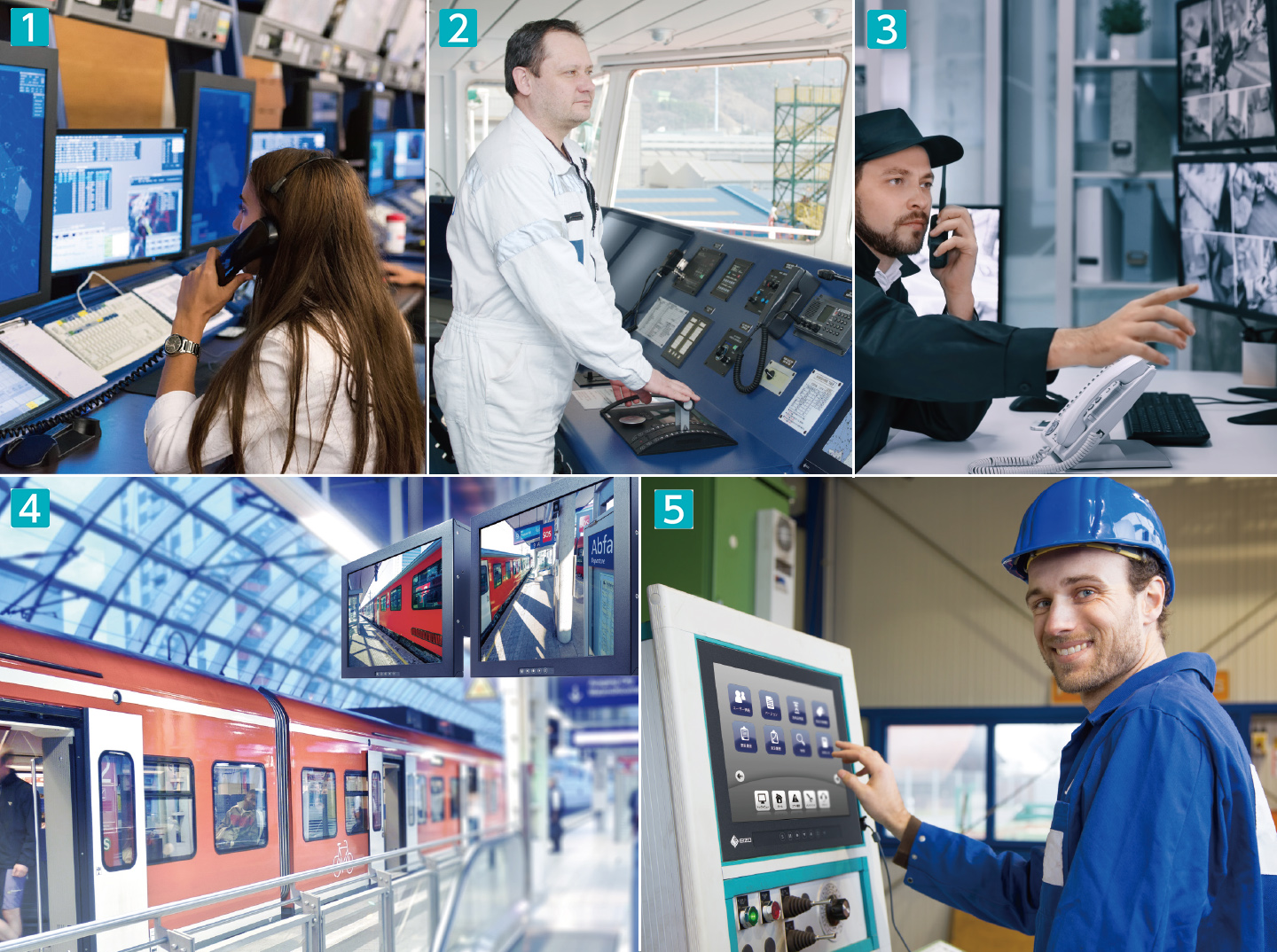 Air Traffic Control
Maritime
Security & Surveillance
Railway
Factory Automation

Amusement
Comprehensive Capabilities by Combining EIZO Hardware with Irem Software
We entered the market at the dawn of the pachinko era and have since sought to create amusement products that amaze users, enticing them to continue playing. We have been a key longtime partner of the market's leading amusement machine manufacturer, producing extremely popular products including the "Sea Story" and "Hammerin' Harry" series.

Our track record has been supported by the comprehensive capabilities of the EIZO Group. We develop and manufacture the hardware and software for monitors installed in pachinko machines and supply them to the amusement machine manufacturer as an integrated unit.

Our in-house capabilities encompass production planning, video production and software insertion in addition to hardware development and production. This comprehensive capability gives us a major advantage over other manufacturers and video production companies.

©SANYO BUSSAN CO.,LTD.
Development
To create the world's best products, EIZO maintains a fully integrated in-house system for product planning, development, production and quality assurance. This ensures we continuously accumulate and advance visual technologies and expertise within our organization.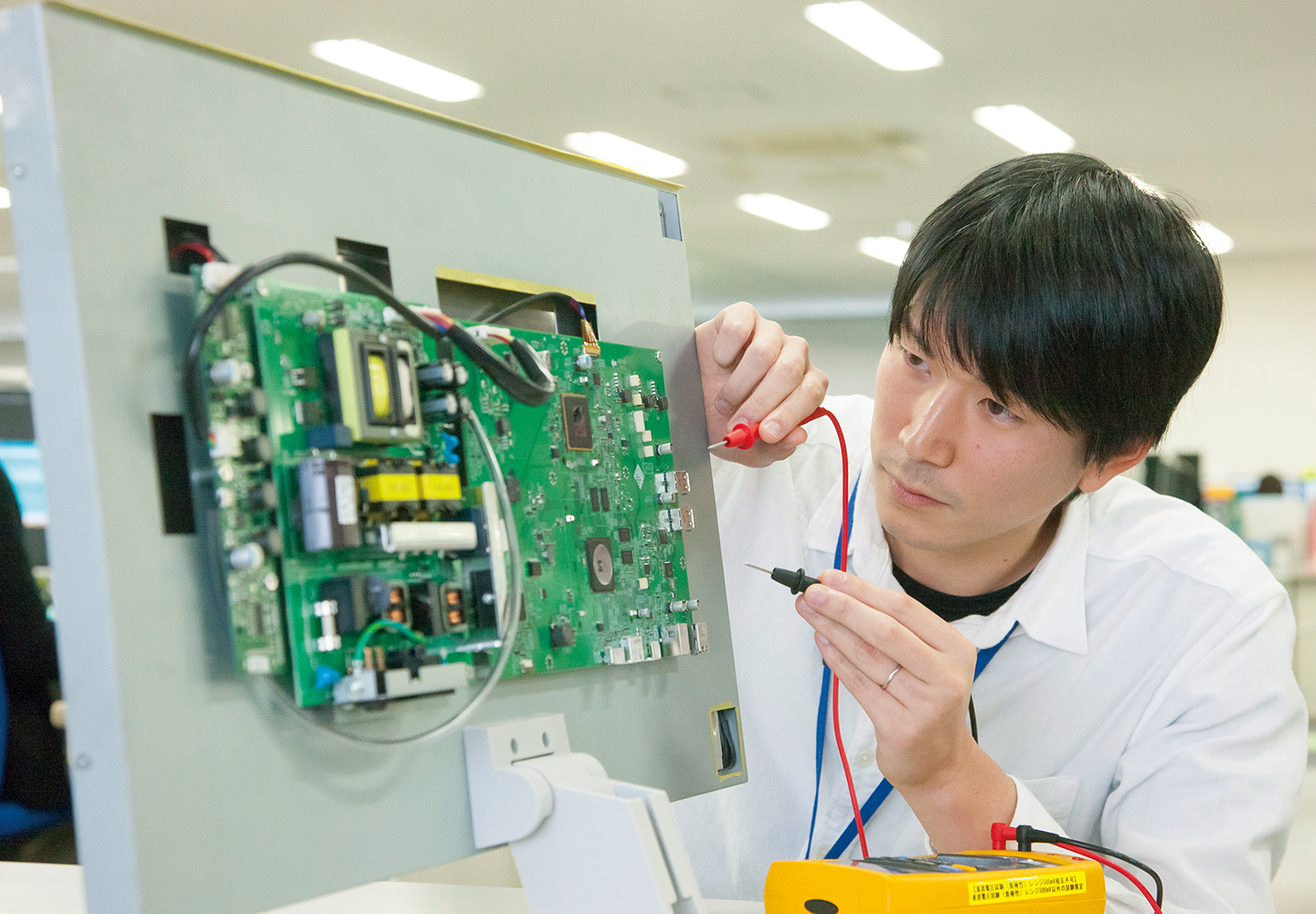 Accumulating Unrivaled Visual Technologies
Realizing the high performance, features and functions demanded by specific environments such as healthcare, creative work and other vertical markets has been achieved through the cultivation of our visual technologies and developments incorporated in monitors for the Business & Plus market. Through this evolution we have accumulated a strong base of core visual processing technologies and competencies.

In particular, the unrivaled quality and reliability essential for these specific environments are realized in both hardware and software technologies. Our hardware design technology is capable of creating images with excellent quality while our software technology maintains and controls display quality, allowing for widely recognized solutions in professional applications that require a consistently high degree of accuracy over long periods of use.
New Technologies Evolving Capabilities
By incorporating not only our hardware and software capabilities but also GPU and AI technologies we have undergone a significant transformation. We are now developing a range of visual information processing technologies such as analytics, analysis, recognition, and decision making capabilities based on such information.

These technologies expand our capabilities beyond conventional hardware monitors to the development of complete systems covering the entire visual process; from the initial input of visual data, image capturing, recording and distribution right through to, and including, actual visual display output. The evolution of this complete imaging system (Imaging Chain Innovation) significantly expands our ability to propose solutions for an even wider range of markets.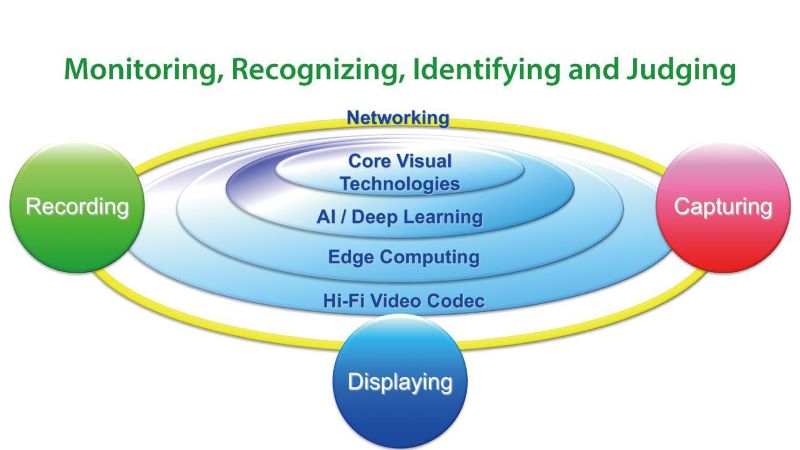 Devices Creating Products Committed to Exceeding Expectations
Novel devices and image processing technologies are vital for creating innovative products. We therefore pay close attention to the performance of all components as they are indispensable in creating high quality images. In order to ensure such uncompromising performance we build and maintain sound partnerships with each and every key component manufacturer. In addition, our proprietary control systems maximize the ability of all components to even surpass necessary performance levels. We have also developed our very own ASIC and FPGA image processors that are indispensable components for the system.

When the need for customization or ultra-reliability cannot be achieved even in collaboration with component manufacturers, we realize them in-house, drawing from our proprietary technologies, including touch technologies, optical bonding, IP standards, environmental and customization capabilities, etc.
The Spirit of Global Development
EIZO maintains research and development (R&D) and manufacturing facilities in multiple locations globally. Each year EIZO companies responsible for R&D gather at the headquarters to introduce their technologies at the EIZO Technology Showcase in order to ensure smooth collaboration and creation of the world's best. This event is an important opportunity not only for engineers to exchange information but also for sharing EIZO's future vision with sales, planning and manufacturing staff from around the globe.

We also hold separate global meetings for sharing detailed information on specific markets, trends and related technologies. For example: In fiscal year 2019, those responsible for the ATC market from EIZO (Germany, U.S., U.K., Austria, Italy, Switzerland, Nordics, Czech, the Netherlands, and Japan) gathered in Germany to exchange information on market trends, new products and sales strategies and also undertook technical training including assembling an actual 2K2K primary control monitor.

Manufacturing
"Stop looking for the reasons why you cannot do it. Think seriously how you can do it!!"
This statement originates from an EIZO production site and is now widely shared as the philosophy of EIZO's manufacturing. Each and every employee embodies this philosophy ensuring EIZO maintains our high quality.
Manufacturing Unity with Group Production
Electronic circuit boards in EIZO monitors are manufactured by EIZO MS Corporation, located in Hakui City, Ishikawa Prefecture. The circuit boards are supplied to EIZO factories in Japan, China, and Germany and are used in more than 90% of EIZO monitors sold worldwide. Final products are assembled in Japan, Germany, and China. The entire production process is undertaken within the Group, from the manufacturing of electronic circuit boards to the assembly and inspection of final products.

Furthermore, our R&D and manufacturing departments work together from the development stage, freely exchanging ideas for improving manufacturing operations. In addition, our Information Systems Department joins to analyze the massive volume of quality data accumulated daily in the production process. This is to ensure the data is fully used to constantly improve the development of new products and adjustment and design production systems and processes.
One significant achievement has been AI-based quality adjustment on the production line, which has boosted production efficiency by 15%.

EIZO's proven strength is not only in realizing high quality and reliability but also creating a strong sense of unity in manufacturing that transcends barriers between departments and countries.
The Spirit of Manufacturing and Technologies
We have consistently incorporated state-of-the-art technologies into EIZO products, which requires the continual refining of our manufacturing technologies. At our factories, we focus on protecting the quality of EIZO products and nurturing human resources to be capable of handling these cutting-edge manufacturing technologies. We also organize annual factory tours for employees of Group companies to share EIZO's manufacturing spirit and technologies globally.
Manufacturing Circuit Boards Meeting High Quality Standards
| | |
| --- | --- |
| To maintain high quality standards in the mounting of electronic components, the latest equipment is used to adjust the mounting position at micron levels. X-ray inspection prevents defective components from leaving the line by checking areas that cannot be inspected visually, and automated optical inspection confirms the mounting status of all components. The EIZO logo is firmly engraved on all circuit boards made to prove the high reliability of EIZO monitors. | |
Advanced Production Facilities Using AI, Robotics, and IoT
| | |
| --- | --- |
| Approximately 80% of the EIZO monitors worldwide are produced at the headquarters factory in Japan. Here, monitors designed for business or office applications where large volumes are demanded are mass produced using line production processes on conveyor belts. Monitors for diverse applications such as healthcare, creative work and other vertical markets that require a lot of specialized adjustments and inspection are produced in smaller quantities using cell production processes. In addition, when we expanded our factory in 2016, we designed and created a hybrid production facility for more efficiently and simultaneously producing multiple models by selecting the optimal production method according to specific quality, grade, cost, and delivery requirements. | |
Hybrid production is a state-of-the-art production process that promotes automation, easing effects of the labor shortage by taking full advantage of AI, IoT and robotics. Assembled monitors are automatically transferred to an adjustment rack where an automated camera system automatically adjusts the brightness and color settings. This system supports the flexible and simultaneous manufacturing of products with varying sizes and applications.
Inspection System for Catching the Smallest Abnormality
| | |
| --- | --- |
| For every single unit we perform a thorough inspection, both visually and mechanically. In addition to automated inspection processes, such as screen uniformity, the final inspection is conducted visually. Monitors are products that people constantly use and see so we believe in the importance of inspection using the human eye, regardless of advances in automation. This requires a high level of competence that can only be performed by experienced staff. | |
Quality Assurance
The following Quality Management Policy was established to provide quality products and solutions that are comfortable to use in various environments and ensure we continue to provide products to the market with an uncompromising commitment to quality.
EIZO Group Quality Basic Policy
The EIZO Group is committed to continually fulfilling customers' expectations by proposing and offering high quality products, services, and solutions.

We therefore:
Aim to develop high quality products by pursuing the world's highest level of technology.
Carry out our responsibility for environmental preservation by actively reducing the effects on the environment in every business activity from product development to manufacturing to sales and service.
Set the quality target which are carried out and reviewed by all the employees in every business activity.
Establish a quality management system, review it periodically, and continually improve it to sustain its validity and suitability.
Meet the expectations of both healthcare professionals and those who receive medical treatment by providing medical devices with assured quality, effectiveness, and safety.
Comply with legal and social requirements.
Certifications
These certifications have been maintained and updated by third parties through external audits.
ISO9001 (Quality Management System)
| | |
| --- | --- |
| Standard | ISO 9001:2015 |
| Certificate Registr. No. | 09 100 3295 |
| First Certification | 1993 |
| Scope | Product planning, design/development, manufacturing, sales and service of display monitor equipment and peripherals used for computers, entertainment and computing systems |
| Certification Body | TÜV Rheinland Cert GmbH |
ISO13485 (Medical devices Quality management system)
| | |
| --- | --- |
| Standard | EN ISO 13485:2016 |
| Certificate Registr. No. | SX 601461700001 |
| First Certification | 2005 |
| Scope | Design and Development, Manufacture, Distribution, Installation and Service of Display monitor equipment and Peripherals for Medical systems (OR, IVR, Diagnostic imaging system and PACS) |
| Certification Body | TÜV Rheinland LGA Products GmbH |
Ensuring Quality in Planning and Development
At the planning and development stages, in addition to complying with the laws, regulations and industrial standards of each country, we are rigorously assessing risks for each market and application. Moreover, we have achieved superior standards of quality through application of the Group's fully integrated in-house development system.

We also have our own in-house testing equipment for EMI, EMS and other safety standards, including reliability tests such as high and low temperature tests as well as vibration and drop tests. These tests were typically conducted at dedicated facilities externally, but in EIZO prompt and careful evaluations as well as efficiently delivered feedback to the R&D and manufacturing teams play major roles in continuously maintaining and improving quality. Therefore, EIZO now has proprietary testing equipment in-house with the idea of fulfilling the above-mentioned requirements.
Main Testing Equipment
MIL-STD-810 Environmental Testing and Assessment
EIZO in-house testing equipment and facilities are capable of conducting tests under harsh conditions such as extreme temperature/humidity, vibration, shock, etc. in accordance with the standards and assessment guidelines for materials procured by the U.S. Department of Defense. Passing the evaluation proves products are highly reliable.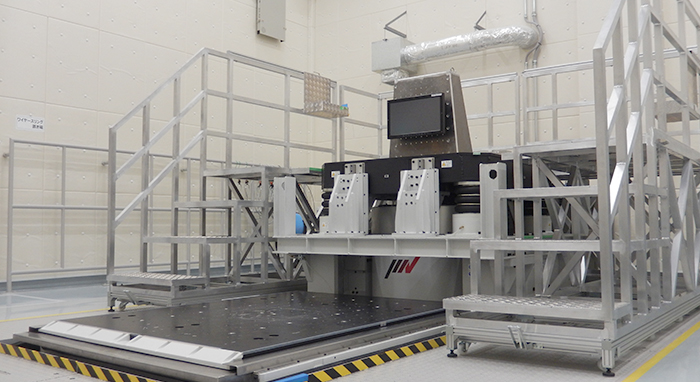 Anechoic Chamber

We obtained EMC testing facility certification in 2002 from the U.S. National Voluntary Laboratory Accreditation Program of the U.S. National Institute of Standards and Technology, based on ISO/IEC 17025 requirements. We also obtained certification from TUV in 2003.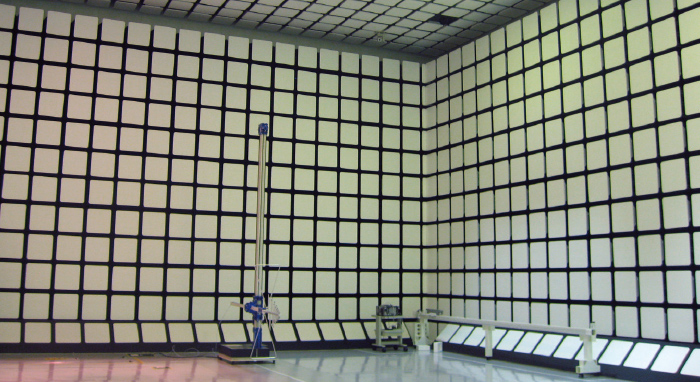 Ensuring Quality in Procurement
EIZO procures more than 10,000 parts from around the world. To guarantee the highest quality of products and services it is essential to source only quality components.

In addition to establishing procurement policies and guidelines and providing them to suppliers, we achieve our goals by collaborating with suppliers to ensure quality through the evaluation and verification of samples during the development stage. We also develop and share our knowhow and market feedback with suppliers as part of building a collaborative and mutually beneficial partnership enabling us to grow together.
Ensuring Quality in Production
At each stage of production, important key parameters such as brightness and contrast are automatically recorded and saved for real-time quality monitoring. We use this big data to improve production efficiency and provide feedback for new product development.
After-Sales Quality Management
We conduct sales and after-sales activities through a dedicated global network. Within this network of EIZO Group Companies and Authorized Distributors we are constantly sharing the latest information.

We collect data that is used to predict issues that could potentially impact product quality and the actual occurrence of these issues during daily business operations. In the unlikely event of an issue related to safety or quality occurs, we will take prompt and appropriate measures (e.g., cause investigation, countermeasure implementation, product repairing, information disclosure, etc.).