Sustainability
Governance
Promise 6: Strict Respect and Compliance with both the Letter and Spirit of the Law
We strive to be a company that builds and maintains relationships of trust with stakeholders who support us and that continuously enhances its corporate value. To this end, ensuring sound, transparent, and efficient management is essential.

Therefore, we position the ongoing enhancement of corporate governance as a vital management concern.
Corporate Governance
Overview of the Corporate Governance System
In June 2016, we adopted the organizational design of a Company with Audit and Supervisory Committee. With this structure, we have worked to accelerate decision-making, strengthen the execution of operations and, with the active participation of independent external directors, improved transparency of the audit and supervisory functions of the Board of Directors and corporate management.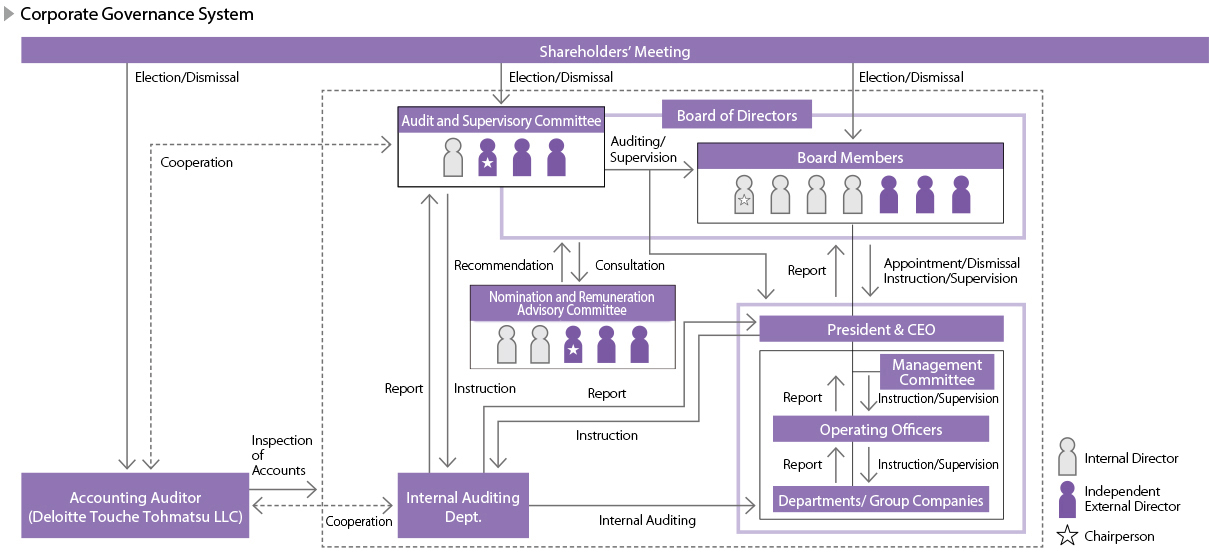 Board of Directors
The Board of Directors deliberates on key management decisions and periodically reports on the status of operational execution. Members engage in lively discussions for decisionmaking and reinforce the supervisory function for management.

Audit and Supervisory Committee
The Audit and Supervisory Committee, in accordance with its audit policy and plans, audits and supervises the conduct of the Directors by attending the Board of Directors and other important meetings, and examines corporate operations and assets.

Nomination and Remuneration Advisory Committee
A Nomination and Remuneration Advisory Committee (an optional committee) was established as an advisory body to the Board of Directors in order to ensure transparency and objectivity of nomination and remuneration for Directors. It deliberates and makes recommendations on the following matters.
Policy and procedures for appointing Directors
Election and dismissal of Directors
System and amounts of remuneration for Directors (excluding Directors serving as Audit and Supervisory Committee Members).
Management Committee
The Management Committee is mainly composed of internal directors and operating officers and is convened to accelerate strategic decision-making, respond to important issues, and deliberate or report on the status of operations and other matters. In addition to reporting on monthly consolidated business performance, it meets in a timely manner to ensure agile management.

Operating Officer
We have appointed Operating Officers to separate management supervision from operational execution and expedite implementation.

Internal Auditing System
Our Internal Auditing Department carries out internal audits based on the "Basic Annual Audit Plan," established in accordance with our audit policies and reports the results to our President & CEO.
| | |
| --- | --- |
| | Board of Directors Meetings are attended by the seven Directors as well as all Operating Officers and Presidents of group companies in Japan. |
Internal Control
We have the "Basic Policy on Internal Control System"* in order to ensure that Directors execute their tasks in compliance with laws and regulations and the Articles of Incorporation, and ensure the appropriateness of other business operations. We manage an internal control system under the Policy.
In addition, we have built and are operating an internal control system for financial reporting based on the Financial Instruments and Exchange Act.
* "Basic Policy on Internal Control System" is disclosed in the Corporate Governance Report and other reports (Japanese only).


Risk Management
As a group pursuing global operations in the VUCA age, risks are managed by the headquarters through an integrated, centralized system to enhance corporate value by appropriately addressing risks that are growing in diversity, scope, and speed.

We established the "Risk Management Committee" in accordance with the "Basic Regulations on Risk Management." The committee discusses risks compiled and analyzed by each department to consider countermeasures and report on progress. Any risk that may have a particularly severe impact on our business is identified as a material risk by the Management Committee, and appropriate countermeasures are discussed and implemented.

Business Continuity Plan (BCP)
In proactive preparation of material incidents such as natural disaster we have formulated and thoroughly disseminated a BCP throughout the company. In particular, our Disaster Response BCP stipulates procedures for confirming employee safety and facilitating necessary rescue operations in the immediate aftermath of a natural disaster and, within one month, restoring critical operations and resuming the supply of our products.

Natural disasters such as typhoons, heavy rain, and unexpected situations such as infectious diseases may
complicate material procurement. To address these risks, we strategically secure inventory of parts and select alternative parts at the design stage.
Information Security
To ensure proper handling of confidential and personal information, we established and have implemented regulations on information security. In addition to organizational, physical, and technological countermeasures, we have set up a dedicated contact point to deal with information leaks and other incidents to further reinforce our information security system.

Aggressive regulations to protect personal information are in effect, and we take proactive measures to adhere to them, including employee training in response to the General Data Protection Regulation (GDPR) (Europe) and the California Consumer Privacy Act (CCPA) (United States). In Japan, we are strengthening our efforts to protect personal information and have obtained JIS Q 15001 (Privacy Mark) certification.
Response to COVID-19
Measures to Prevent Infections in the Workplace
We have implemented the following measures globally.
Restrictions on business travel and visitors since mid-February 2020
Implemented teleworking and shift work
Thorough changes in flow lines, hygiene measures, and social distancing in all buildings such as warehouses, canteens, and offices

Impact on Business Activities
We have provided a stable supply of products and services throughout the spread of the pandemic.
Maintained operations at all EIZO production sites (7 in total globally)
Realized stable material procurement despite the impact on global supply chains
Compliance
We established the "EIZO Group Principles of Conduct" to guide our business decisions and actions toward achieving our corporate philosophy of "enriching future society through imaging solutions" as we promised stakeholders. We seek to instill a thorough awareness of the Principles of Conduct among all our executives and employees globally.

The full text of "EIZO Group Principles of Conduct"

We established the "Compliance Committee" in accordance with our "Regulations on Compliance" to continuously improve activities by following PDCA cycles in order to formulate our annual plan, promote our activities, and assess our own performance.
Compliance Training
As a group engaged in global operations, we must pay the utmost attention to Japanese and overseas laws and regulations, which are becoming increasingly borderless and complex year by year. We monitor local trends by regularly exchanging opinions with all group companies and provide appropriate training.

In Japan, we encourage executives and employees to update their knowledge of relevant laws and regulations on compliance by offering information through intranet articles and educational materials posted by the relevant departments. We organize regular study groups for each department and workshops for each job position, such as for executives, managers, and new employees, so they can develop the knowledge they need, and we provide online educational tools to confirm their progress.

We will continue to ensure that all group members are fully aware of the necessity and importance of compliance while also cultivating an ethical mindset.
Internal Whistle-Blowing System
In accordance with "Regulations on Internal Whistle-Blowing," we have established internal whistle-blowing systems in all our group companies. Also, we strive to ensure the early detection and prevention of serious incidents that could damage corporate value, such as illegal activity or misconduct.

Contact points have been set up inside the company and at independent law firms to provide consultation
regarding laws and ethical business matters. All EIZO members are expected to report any questions or activities that are in violation of laws immediately, regardless of their own involvement. We ensure that the privacy of the whistle-blower is protected and that the individual will not be placed at any disadvantage for reporting the violation.