Corporate Social Responsibility
Promise 7
Broadminded Corporate Culture
People are the key to supporting the EIZO brand. Upholding our free and open corporate culture, we constantly work to create an environment in which each employee can demonstrate their abilities and thrive.
Motivating Workplace
Success of a Diverse Workforce
EIZO comprises 17 companies globally (as of August 2020) and we harness the talents of our diverse workforce. While respecting the human rights of each employee and promoting a mutual understanding of different cultures, the entire group strives to develop our business with a sense of unity.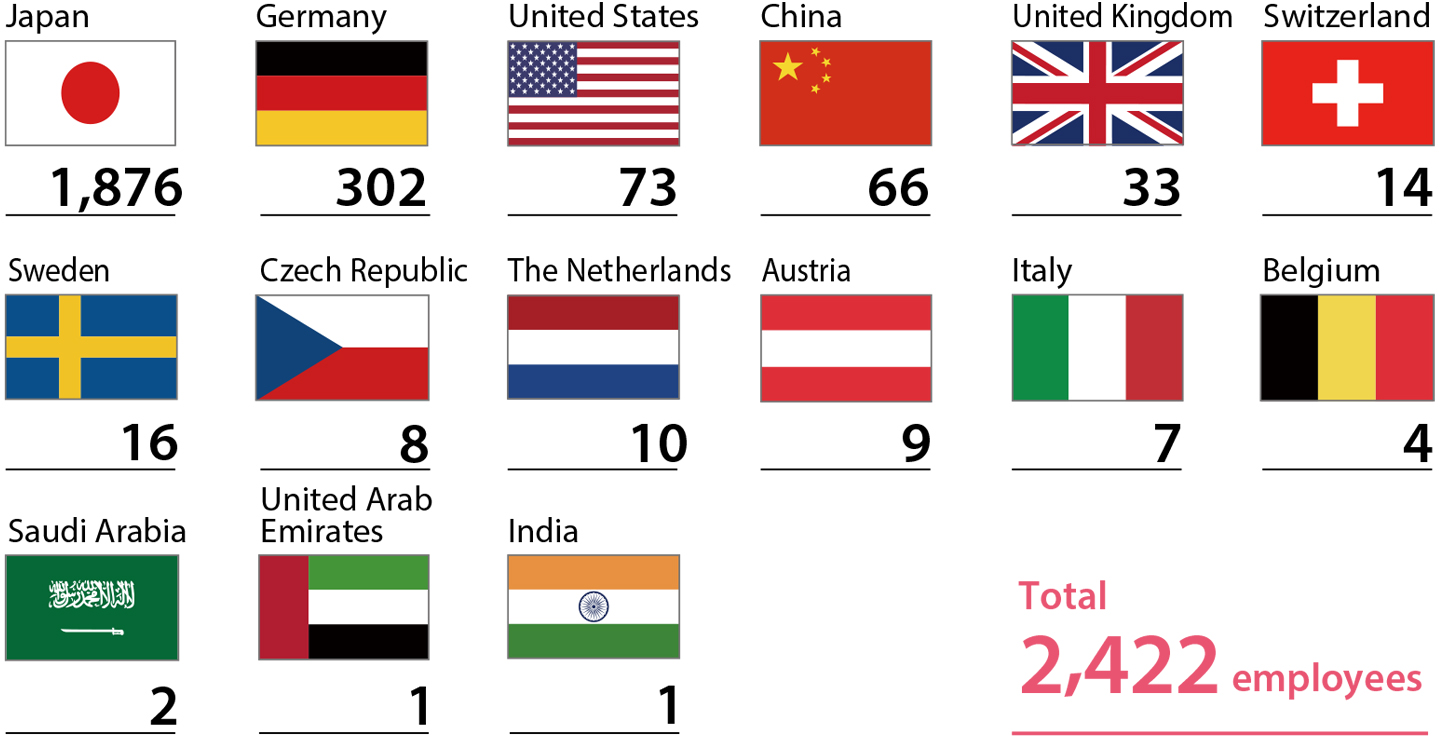 Overseas group companies are led by local managers, and we pay careful consideration to the circumstances, cultures and customs of each country creating the most suitable working environment.
Respect for Human Rights
To maintain our stance on unacceptable behavior such as forced or child labor, discriminatory remarks or actions and sexual or power harassment we all strictly adhere to our "Principles of Conduct." We also participate in the United Nations Global Compact and RBA, which are guided by labor principles laid out by the "International Labor Organization"(ILO) "Declaration on Fundamental Principles and Rights at Work." We are committed to protecting and respecting human rights within EIZO and our partners.
Broadminded Corporate Culture
We have been cultivating a free and open corporate culture that encourages flexible and active communication between departments. Open exchanges take place between EIZO members regardless of position. Employees are encouraged to freely voice their opinions and are given opportunities to take on challenges. Our broadminded corporate culture is one of our strengths, which enables individual employees to fully demonstrate their abilities and in turn allows us to provide excellent products and services in addition to reforming our internal environment quickly.
Developing Trust-Based Labor-Management Relations
Mutual understanding is the cornerstone of labormanagement relations. In keeping with this fundamental
point, we encourage dialog between labor and management. We have established a consultation conference and a labor committee in each group company under the laws and specific circumstances of each respective country. We take advantage of these opportunities to develop good labormanagement relationships.
Cultivating the EIZO Mindset
We are working to nurture and sharing the "EIZO mindset" of creating the "world's best" to unite EIZO in creating and delivering stateof-the-art products and services to customers globally.


EIZO United

Around 100 participants from Group Companies and EIZO Authorized Distributors gather once a year at EIZO Corporation (Japan) to attend the "EIZO United" conference, where we share our latest technologies, the status of sales in each country, various initiatives and the overall product and business direction. Not only does this deepen everyone's understanding of our future direction, it fosters a strong sense of unity in the group through mutual exchanges. This also provides opportunities for employees in various departments to present their department's initiatives to cultivate a sense of belonging to "One EIZO."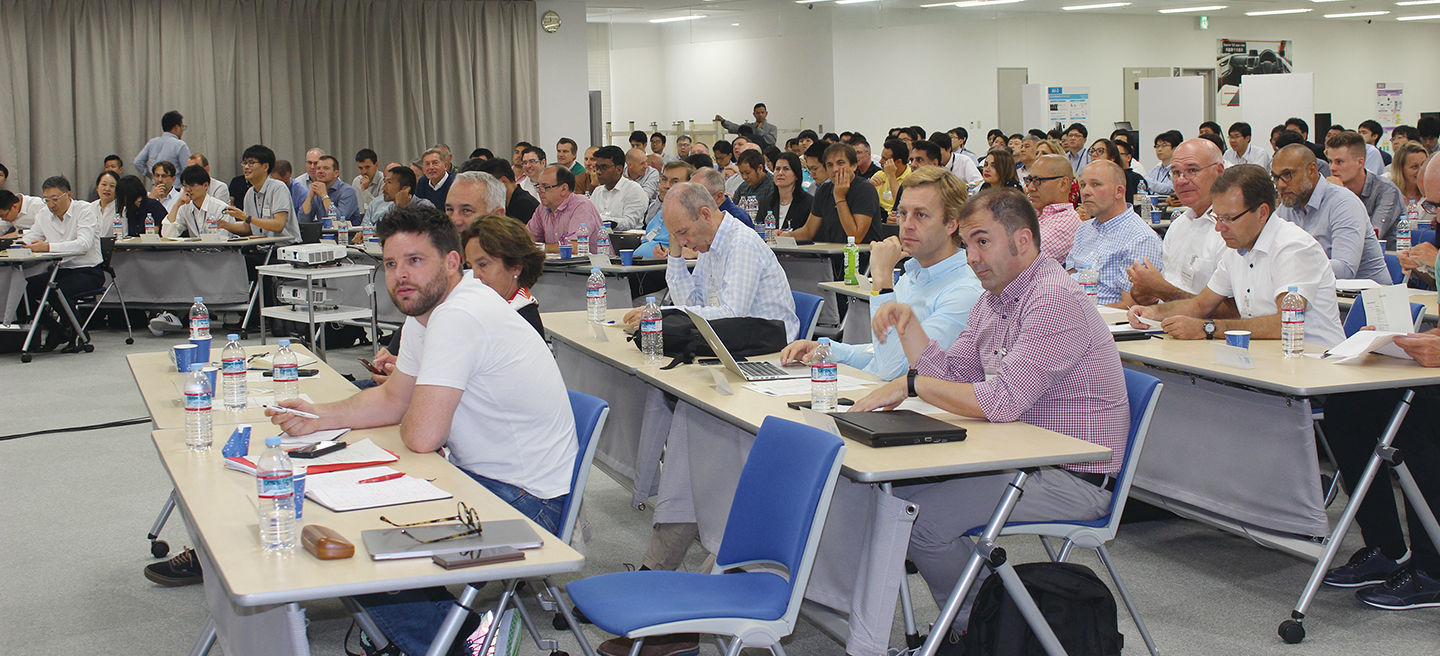 Global Meetings

We carry out a variety of meetings across EIZO every year. These include global meetings for raising the level of quality control throughout EIZO, a EURO Meeting for discussing sales strategies within EIZO (in Europe), and other business unit meetings.
Joint Participation in Trade Shows

EIZO participation in international trade shows includes staff from the exhibiting company as well as from other group companies to share market information and conduct coordinated global sales and development activities.
In fiscal year 2020, we refrained from holding international meetings, including EIZO United and canceled our participation in trade shows to help prevent the spread of COVID-19 and protect our employees. International meetings were held via teleconferencing and other means.
Safe Working Environment
To enable employees to work with energy and demonstrate their abilities clearly, it is important to create a workplace environment in which they feel comfortable and can maintain sound physical and mental health. EIZO has established an "Occupational Health and Safety Policy" under which we implement various initiatives.
EIZO Group Occupational Health and Saftey Basic Policy
The EIZO Group will create workplaces where all members are able to work safely and in good health. We established the following policies, endeavor to eradicate occupational incidents, and establish and implement activities concerning occupational health and safety.

We therefore:
Conduct periodic assessments to identify occupational health and safety risks and implement appropriate countermeasures.
Raise awareness of maintaining and improving physical, mental, and emotional health and continually improve the health and safety of our members through on-going collaboration between the companies and its employees.
Establish an occupational health and safety management system and occupational health and safety goals, implement, review and continually improve performance.
Create opportunities for participation and consultation on occupational health and safety issues between members and the companies and ensure open communication between them.
Regularly educate members about occupational health and safety.
Comply with legal, moral and all other requirements regarding occupational health and safety.
Investigate and analyze the cause of any occupational accidents that may occurs and ensure corrective action is taken.
Prepare and provide training so that prompt measures are taken should an accident occur.
Occupational Health and Safety Management System
To consistently maintain and develop activities for occupational health and safety, we have introduced an
occupational health and safety management system at EIZO Corporation (Japan) and EIZO MS Corporation (Japan), which account for approximately 80% of total EIZO production.

We promote health and safety activities that cover allonsite staff based on this system, and have obtained the
ISO 45001 certification in 2019.
ISO45001(Occupational Health and Safety Management System)
These certification has been maintained and updated by third parties through external audits.
ISO45001
| | |
| --- | --- |
| Standard | ISO 45001:2018 |
| Certificate Registr. No. | 01 213 1934327 |
| First Certification | 2019 |
| Scope | Product Planning, Design/Development, Manufacturing, Sales and Service of Display Monitor Equipment and Peripherals Used for Computers, Entertainment and Computing Systems |
| Certification Body | TÜV Rheinland Cert GmbH |
Risk Assessment and Prevention of Industrial Accidents
EIZO (Japan) seeks to educate employees and increase safety awareness through periodic workplace patrols and hazard prediction training. In addition, we strive to mitigate risks by applying a risk assessment method to investigate potential hazards and toxicity as well as implement countermeasures, assess the risks involved in handling chemical substances, check targeted substances using safety data sheets and enforce the use of appropriate protective gear for onsite work.

Furthermore, we seek to prevent industrial accidents at EIZO (Overseas) through initiatives such as organizing employee training and distributing handbooks on industrial accidents.
Activities for Employee Health
We actively pursue measures for safeguarding employee health and improving workplace environments. These include conducting regular health checkups, follow-up guidance, mental stress checks and holding events for maintaining good employee health. For staff who frequently work overtime, we provide one-on-one consultation and guidance to improve work processes and reduce mental stress. In Japan, we also work to maintain employee mental health by assigning in-house staff as contact points for responding to employee concerns and issues.
Anti-Smoking Activities (Globally)
All Group companies prohibit smoking inside company facilities to prevent exposure to passive smoking. In addition, EIZO (Japan) in April 2020 introduced a total ban on smoking during working hours and on company premises.
| | |
| --- | --- |
| | EIZO Europe GmbH (Germany) |
Health Day

We held a health event for employees with assistance of experts from external companies and medical institutions.Employees became even more health-conscious through activities such as exercising, massage, self-examinations and byinteracting with experts.
| | |
| --- | --- |
| | EIZO GmbH (Germany) |
Health Mobile

We conducted a health event in cooperation with a major health insurance company in Germany. Employees checked their stress levels, levels of nutrition, sleep using equipment inside a camping car and received personal advice on daily routines to improve their health.