Corporate Information
50 Episodes about EIZO
In April 2018, EIZO celebrated its 50th anniversary.
To commemorate this milestone, we shared 50 stories about our company and its history across social media platforms from April 2018 to March 2019. This page is an archive of those episodes as we look forward to another successful 50 years.

Episode 1
The beginning of EIZO (the group) dates back to 1967. Nanao Electric Co., Ltd. was founded in Nanao City, Ishikawa Prefecture, and started by subcontracting production of a 14-inch monochrome TV the following year. Through the production of this monochrome television, the company gained a thorough quality control and mass production technique, and the starting point for its adherence to high-quality manufacturing was established.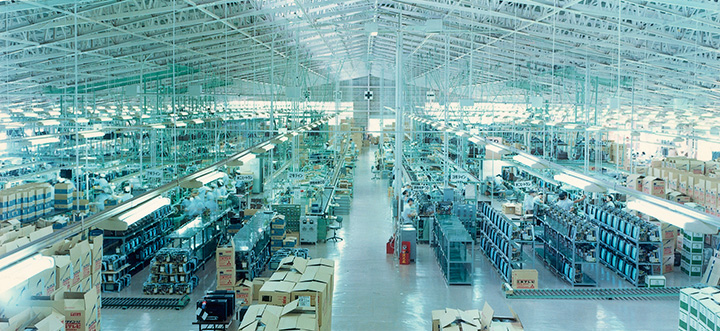 Episode 2
In 1978, we began OEM (original equipment manufacturer) production for the smash hit arcade game Space Invaders. This game was originally in black and white, but did you know that it's EIZO that colorized it? This was a demonstration of the development capabilities we had cultivated in TVs and other products.
Episode 3
In 1981, we built a factory in Hakusan City, Ishikawa Prefecture, where EIZO Corporation is now located. We expanded our production scale including our factory in Nanao, and started OEM production of video cassette recorders (VCRs) and radio cassette TVs in addition to CRT monitors for video games.

Episode 4
In the 1980s, PC use began to spread. In 1981, EIZO began OEM production of computer monitors, but as time passed our desire grew to release them to the world using our own brand name. Finally in 1985 we did just that with the release of a 12-inch CRT monitor called the "7030."
Episode 5

The first market we chose for the EIZO brand of CRT monitors was Europe because it is a culture that recognizes good quality. We decided to name our brand "EIZO" which is the Japanese word for "image." With the imaging technology we had cultivated as our foundation, we were determined to produce superb imaging products from then on.
Episode 6
In 1984, prior to completing our own brand of products, we went looking for distributors in Europe who would sell EIZO products. The most important consideration was whether or not they embraced the idea of selling "a good product at a reasonable price." We first signed contracts with distributors in Germany, Switzerland, Denmark, and the Netherlands. We then expanded our sales network into Austria, Sweden and Greece. A part of these distributors form the base of our current group companies and continue to sell EIZO products today.
Episode 7
In 1985, we expanded into the US by opening an office in California. Balancing quality and price in such a large country proved difficult, which made selling a challenge. But selling graphics boards with monitors that could display high resolutions proved to be a winning strategy and sales gradually improved.
Episode 8
The EIZO Group currently consists of 7 companies in Japan and 10 outside of Japan. Once every year, representatives from all EIZO group companies and sales distributors gather at the EIZO headquarters in Japan for an event called "EIZO United" where they can deepen their understanding of EIZO by seeing the latest products under development and having face-to-face meetings. In 2017, 86 people from 29 countries attended.

Episode 9
We have our own system for naming the meeting rooms at our headquarters in Japan. Each room is named after a city where one of our group companies is located. So, we are apt to say something like "The meeting will be held in Vienna." (Wien in German.)
Episode 10
At EIZO Europe GmbH, one of our group companies in Germany, meeting rooms are named after cities in Japan. These cities include Hakusan (where the EIZO home office is located) and more well-known cities like Kyoto and Osaka.


Episode 11
Now we return to introducing events from our past. PCs in the 1980s and 1990s only supported low resolutions so graphics boards that could display high-resolution images were necessary. We developed our own graphics board and sold it as a set with the 9070S CRT monitor. In an era where 14 inches was the normal size we offered a 16-inch monitor which proved to be a hit in not only Europe, but the US as well.
Episode 12

By the end of the 1980s, EIZO CRT monitors had become highly regarded overseas and began to appear in Japan as reverse imports. Since the image quality of CRT monitors is affected by geomagnetism, we set up an area at our factory in Japan that reproduces the geomagnetism of the region the monitors were to be shipped to, and adjusted the image quality of each monitor individually. If used outside the intended area, color would not be displayed correctly which meant the EIZO monitors imported back to Japan may not have worked as intended. In 1991, we began the manufacture and sales of monitors for Japan under the brand name "NANAO" which was also the name of our company at the time.
Episode 13
In the early 1990s, CRT monitors reigned supreme. The transition to LCDs was anticipated, but commercialization was still a ways off in terms of technology and cost. However, EIZO got a head start by developing and producing the FA-1020 LCD monitor in 1993. The price at the time was one million Japanese yen (about 8,900 in today's US dollars), and the product was a commercial flop, but our penchant for actively embracing the latest technology was embedded in our DNA 25 years ago with this product.

Episode 14

In the 1990s, we were engulfed in intense price competition due to the influence that the introduction of the Euro had on exchange rates and to the entry of major PC makers into the monitor market. In addition, shifting production to Southeast Asia where personnel expenses were lower was common. Prices declined worldwide and our business suffered. As a countermeasure, we decided to design a manufacturing line and train local workers as part of a plan to outsource production of monitors to Singapore. But then something happened.
Episode 15

We decided to cancel our plan to outsource production to Singapore just before implementation. The reason was that a company that emphasizes cost and shifts production overseas is one that will come to rely on simple cost reduction measures in the future. We feared this would destroy the corporate culture we had built up from pursuing high quality and high reliability. Instead of changing our production base, we switched to a policy of reducing costs by fundamentally changing the design. As a result of this incident in 1994, we succeeded in greatly lowering the price of our monitors while maintaining the quality and being chosen by even more customers.
Episode 16
In 1996, we unified our brand worldwide as EIZO after being known as EIZO in Europe and NANAO in Japan and North America. This brand unification led to further global expansion.
Episode 17

The color of the EIZO logo used since 1996 represents RGB (Red, Green, Blue) constituting the three primary colors of light. In addition, various meanings and thoughts were included in the design. Take a detailed look here.
Episode 18
In addition to renewing the EIZO brand logo in 1996, we also changed the product design. We changed not only the appearance, but also reviewed the internal design of the monitor from the ground up. In order to give it a more "human friendly" design* we incorporated the idea of ergonomics. This CRT monitor design received the Good Design Award's "Long Life Design Award" in 2007 from the Japan Institute of Design Promotion.

When the monitor was installed with its back parallel to the wall (perpendicular to the floor), the screen slightly angled upwards to incorporate the fact that one's natural line of sight faces downward.

Episode 19
In March 1997 we launched full-scale marketing of LCD monitors. The first model, the 13.8-inch FlexScan L23, had a standard price of about $3500 in today's US dollars. In November of the same year, we released the 15-inch FlexScan L34. Because LCD monitors at the time had low resolutions and high prices compared to CRTs, initial sales were sluggish but they were gradually adopted for use in dealing rooms of financial institutions. Because one user used multiple monitors, adopting LCD monitors was much more effective in reducing installation space and power consumption compared to CRT monitors.
Episode 20
Based on the needs of financial institutions, in 1998 we developed and began selling the world's first 18-inch 1280 x 1024 resolution monitor, the FlexScan L66, aiming for larger size and higher resolution. In anticipation of use in dealing rooms, the L66 was available in the free mount type for attaching to an arm mount as well as the usual desktop type.
Episode 21
In 2001, we released the 18.1-inch FlexScan L675 which realized the world's narrowest bezel width at the time of just 19 mm. It became a hit product with financial institutions. In addition to the narrow bezel width, it realized a height adjustable stand and screen rotation mechanism. In terms of image quality, it used an IPS panel with a wide viewing angle, so it had specifications that could be considered as a prototype of today's LCD monitor.
Episode 22

We achieved a bezel width of 19 mm in 2001, then we achieved 11 mm in 2004, 6.9 mm in 2006, and finally 1 mm in 2015. Changing the structure of the liquid crystal panel as well as the evolution of the mechanical design of the monitor made it possible to narrow the frame to this point. The immersive feeling on the screen increases, and when you arrange multiple monitors side by side the non-display area between the screens becomes smaller allowing for use without any discomfort.


Episode 23
In commemoration of our fifth anniversary of the full-scale introduction of LCD monitors in 1997, we released 3,000 units worldwide of a limited edition 17-inch monitor called the FlexScan PLACEO in 2002. We overcame many challenges with the cabinet and surface such as making it from aluminum, with hair-line processing, shot blasting, and diamond cut processing.
Episode 24
Based on the trend of transferring X-rays and other medical images from film to data, we developed LCD monitors for medical image display and began selling them in 2002. Doing so required accurately expressing the subtle shading of X-ray images. In order to learn the basics of medical imaging we did things such as invite radiologists to give lectures to our employees.
Episode 25

EIZO not only develops and produces monitors for mammography but also sponsors seminars for doctors in countries such as Japan, the USA and Russia.
EIZO-Sponsored Seminars Supporting Early Detection of Breast Cancer
Also, on Pink Ribbon Day in October, not only Japan but EIZO employees from around the world wear pink and conduct educational activities for breast cancer screening.
Episode 26

In 2003 we began developing and marketing LCD monitors for creative work markets such as photography and printing. At the time, it was still commonly recognized that the image quality of LCD monitors was inferior to that of CRT monitors, so we developed advanced functions such as hardware calibration to realize excellent image quality.
Episode 27

In the camera industry there are three major camera awards - TIPA and EISA in Europe and the Camera Grand Prix (DGP) in Japan. EIZO ColorEdge monitors have won all three - TIPA in 2005/2007/2009/2010, EISA in 2017, and the Grand Prix in 2008.
Episode 28
EIZO introduced a "working casual" (smart casual) dress code in 2003 in Japan. At the time, most companies in Japan had an informal dress code where suits were the norm. The idea behind this new dress code was to promote a work environment with more free thought.

Episode 29
In 2004, we began the development, production and sale of home LCD TVs in Japan with the aim of enhancing our video display technology. From this, FORIS.TV was born, with a fixation on "natural image," "natural sound," and "functional design with presence". The blue body color was based on the azure blue used in an important cultural asset called the "Seisonkaku Villa" in the city of Kanazawa which is next to the city of Hakusan where the EIZO headquarters is located.
Episode 30
In 2007 we established a 6-story research and development building at our headquarters in Hakusan city, Ishikawa prefecture. The purpose was to enhance development capacity, mobility, and efficiency, as well as to improve design quality. From the top floor, both Mt. Hakusan and the Sea of Japan are visible. The first floor serves as our company cafeteria where everyone from general employees to executives have lunch.
Episode 31
In 2007, we acquired Tech Source (currently EIZO Rugged Solutions Inc.) in the USA. At the time, the company primarily developed graphics boards for air traffic control. With this acquisition, we made a full-fledged entry into the air traffic control market.
Episode 32
In 2007 we acquired the medical monitor business from Siemens AG in Germany and founded EIZO GmbH. The company has strengths in the field of medical image devices and operating rooms. By combining them with the expertise in reference viewing of diagnostic images we had at that time, it became possible to further strengthen our position in the healthcare market.
Episode 33
In 2009, we acquired the monitor and controller board business from eg-electronic of Germany. This company was engaged in the development, production, and sales of industrial monitors and air traffic control (ATC) monitors. This acquisition and the acquisition of Tech Source (developer of graphics boards for ATC) in 2007, allowed us to further strengthen our business in the ATC market.
Episode 34

On April 1, 2013, we changed our company name from EIZO Nanao Corporation to EIZO Corporation. The purpose of matching the brand name and the company name was to increase our global name recognition and achieve further growth. It was also a commitment to continue to respond to market expectations with video technology at our core.
Episode 35

In October of 2015, we acquired Imation Corporation's medical system integration business in Japan through EIZO Medical Solutions Inc. The goal was to create a strong synergy by taking the hardware and software technology from our monitors and combining it with our expertise in quality control.


Episode 36
In 2016, we acquired the endoscopy monitor business from Panasonic Healthcare Co., Ltd. In 2017, we developed and began selling our first 3D surgical monitors under the EIZO brand.
Episode 37
EIZO offers products and services to various markets today which are loved by customers around the world. We introduce a small number of them on our case studies page so please have a look and see how customers around the world use EIZO.
Episode 38
EIZO MS Corporation in Hakui City, Ishikawa Prefecture, manufactures circuit boards used for EIZO monitors. Hundreds of tiny electronic parts such as capacitors are attached to the printed circuit boards and various inspections are carried out. The manufacturing of this circuit board is actually a very important point for the high reliability of EIZO monitors, so we undertake it ourselves within our company. The EIZO mark is stamped firmly on the board.

Episode 39

More than 80% of EIZO products are produced in Ishikawa, Japan. In order to produce a wide range of products ranging from mass produced models to models produced in small quantities such as custom-made products, multiple types of production environments are used. One of them is an assembly process with a conveyor belt at the head office factory. It is suitable for mass production of the same model, mainly producing FlexScan monitors.
Episode 40

After assembly, the monitor is still not ready to be shipped. It first goes through a process called "aging." By turning on the power to the monitor for a certain period of time and displaying the screen, the aim is to stabilize the circuit inside the monitor and detect any initial failure. By the way, can you see that the brightness and color of each monitor's screen is different in the picture? Actually, there are individual differences in the liquid crystal panel, and the difference comes out like this just by assembling. Therefore, the process of "adjustment" that follows this is very important.


Episode 41
After the aging process, we adjust each monitor and then inspect them one by one. Through this survey and inspection process, the variation between products mentioned in last week's post are removed. Even when using multiple EIZO monitors side by side, the difference in color and brightness between each screen is small, so you can use it with little discomfort.


Episode 42
Another one of the multiple production methods is cell production, which involves the aging, adjustment, and inspection of each unit. This is a production method suitable for high-variety, low-volume production, and what we use to produce RadiForce monitors for the healthcare market and ColorEdge for creative work. Color and brightness adjustments are much more detailed than for FlexScan and take more time. A special adjustment process to eliminate differences in brightness across the screen is also part of this production method.
Episode 43
In a new factory which began operation in July 2016 at our headquarters in Japan, we employ a hybrid production method which adopts the good points of the conveyor belt method and the cell production method. After the assembly process, the monitor is automatically transported to a 3-story adjustment rack, where a movable adjustment camera system adjusts each monitor individually. By using this system, we can produce various types of monitors more flexibly.


Episode 44
We have introduced various processes for producing our monitors. Many of these processes are automated, but the last one is a visual check conducted by our employees. Only experienced workers may conduct this check.
Episode 45
Before working on the factory floor, an employee must undergo education at our "Training Center." The educational content ranges from understanding the structure of the monitor to practical training on how to use an electronic screwdriver. For trainee practice, we have software called "Screwdriver Master" that gauges a worker's skill level by measuring how many seconds it takes to insert a certain number of screws. These skills are managed by each worker individually and tracked on a chart which is posted in the factory for motivation.
Episode 46
"Stop looking for the reasons why you cannot do it. Think seriously how you can do it!"
This motto embodies our "manufacturing spirit" and is written on the walls of one of our Japanese factories in both English and in the local Japanese dialect. It expresses an attitude that is prevalent in our factories for thinking about how to eliminate waste in the production process.
Episode 47

To meet the requirements of the maritime market and the healthcare market, we have processing facilities for optical bonding in our company. Optical bonding is a technique that fills the gap between an LCD module and panel with a layer of resin to adhere them together. By minimizing the refractive index of light, you can improve visibility, and reduce glare caused by the reflection of external light on the screen. Please check this out for details.
Episode 48

We also conduct various tests at the product development stage. One is an electromagnetic compatibility (EMC) test to examine the resistance to radio waves from the outside of the product and the magnitude of interference emitted from the product. Previously, we asked an external specialty agency to conduct this test, but in 2001 we set up our own facility at EIZO. In this facility, called an anechoic chamber, we take measurements by shielding out radio waves from the outside. You won't be receiving any mobile phone calls in this room!
Episode 49

One of our special test facilities has a dedicated test evaluation building for conducting tests assuming use in very harsh environments. We can carry out special durability tests such as vibration, temperature, humidity, dust, and water resistance. By doing this in house, we are aiming to improve development efficiency to include high quality retention and test evaluation.
Episode 50
Well, this is the 50th and final episode about EIZO which we have been delivering since April of last year. Have you enjoyed learning about the evolution of EIZO's business that started with OEM black and white TVs 50th Anniversary ago, and various traits that make EIZO what it is today?



We will continue to evolve and do our best to be a Visual Technology Company in various ways related to images.