EIZO to Showcase the Latest in HDR Monitor Solutions for Professional Video Creation at the NAB Show 2018
EIZO will be exhibiting its full line of HDR (High Dynamic Range) monitor solutions for professional video creation – from shooting to color grading – at the National Association of Broadcasters (NAB) Show 2018 in Las Vegas, USA. We invite you to see the latest innovative HDR developments at the EIZO booth.
NAB Show 2018
Date: April 9 – 12, 2018
Location: Las Vegas Convention Center, NV, USA
Booth: SL15713
True HDR Reference Monitor – 1000 cd/m2 Brightness and 1,000,000:1 Contrast Ratio

EIZO will be exhibiting its astonishing ColorEdge PROMINENCE CG3145 HDR reference monitor, which premiered at NAB in 2017. This monitor is the first to overcome the severe drawbacks of other HDR technologies that are available in the market today so it can be used reliably for post production work. With 1000 cd/m2 brightness and 1,000,000:1 contrast ratio, it achieves a true HDR visual experience without ABL (Auto Brightness Limiter) or the "halo" effect caused by local dimming backlight systems.

New HDR Video Editing Monitor – DCI-4K Resolution and HLG/PQ Curve
New at EIZO's booth this year is the ColorEdge CG319X color management monitor for HDR video editing and color-accurate photo display. Featuring 4096 x 2160 resolution, and equipped with both HLG (hybrid log-gamma) and PQ (perceptual quantization) gamma curves for displaying HDR content, this monitor provides an immersive experience for editing video within the HDR workflow. It also features an improved built-in calibration sensor that self-calibrates even while you work.
HDR Workflow
In addition to the ColorEdge PROMINENCE CG3145 HDR reference monitor and the ColorEdge CG319X color management monitor, EIZO offers optional HLG and PQ gamma curves for many of its current CG Series monitors. The optimized gamma curves render images to appear more true to how the human eye perceives the real world compared to SDR (Standard Dynamic Range). Check out the full range of products at EIZO's booth.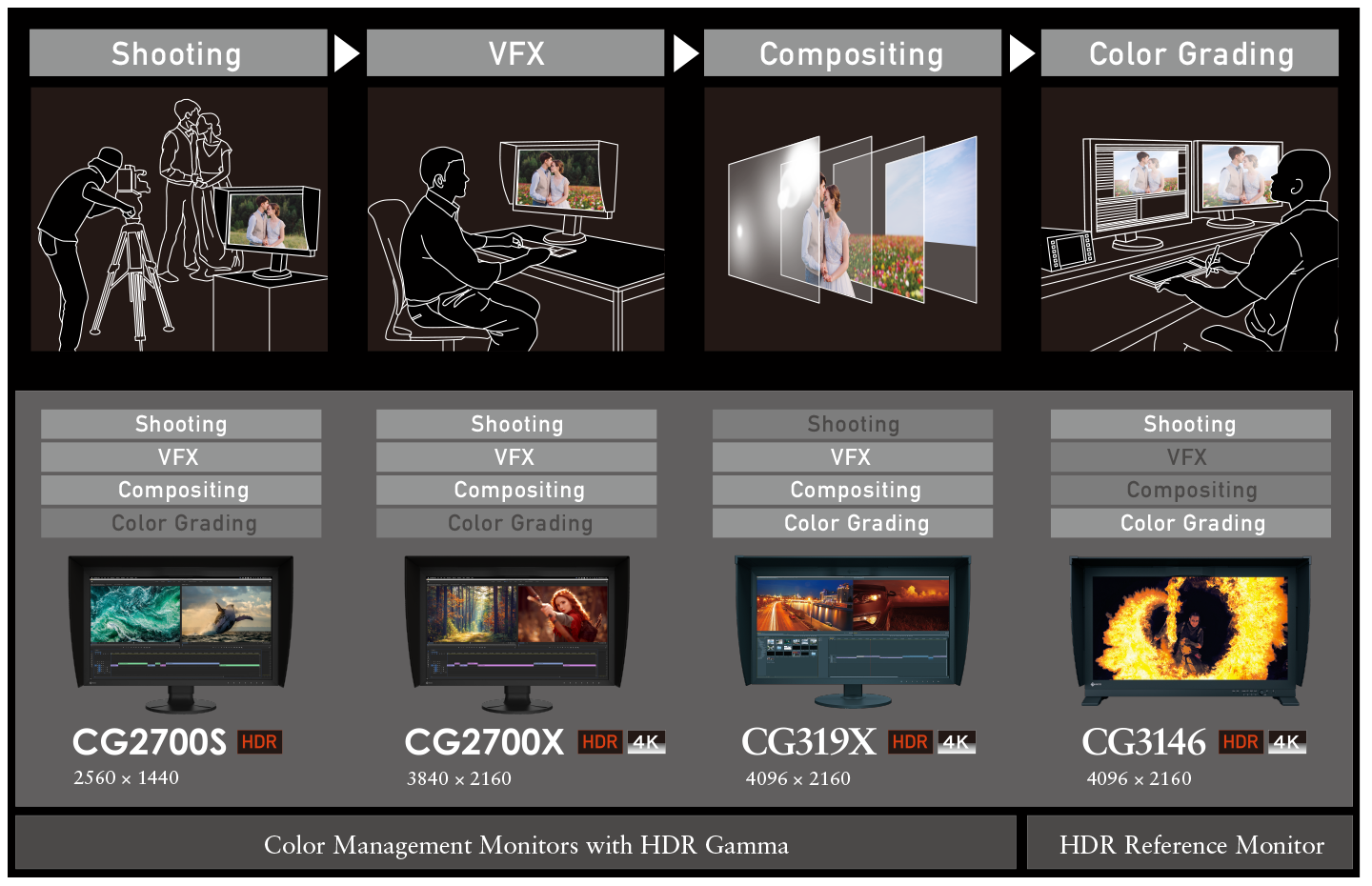 We look forward to seeing you!