Healthcare Resources
EIZO Offers a Comprehensive Range of Products for All Medical Imaging Needs

Recently hospitals have seen many changes. Minimally invasive surgery is becoming more common and there have been numerous innovations in surgical environments such as interventional radiology (IVR) and hybrid surgery. Many IT improvements have also lead to seamless information sharing between outpatient care, examinations, diagnoses, admissions, surgery and discharges. EIZO has worked toward providing quality display devices and technology to keep up with this ever changing field.
In 2002 EIZO launched RadiForce, a series of high definition medical LCD monitors for diagnostics and examinations. Then in 2011 EIZO launched 4K large video management systems for the IVR market. In 2014, in order to provide the optimum display environment for surgeries, CuratOR was developed, offering a full-scale video solution for the operating room.
Going forward, EIZO will continue to respond to the various changes in the medical scene by offering a comprehensive range of products and solutions for the display needs of medical environments. Read what products EIZO currently has to offer below.
1. Diagnostics and Examinations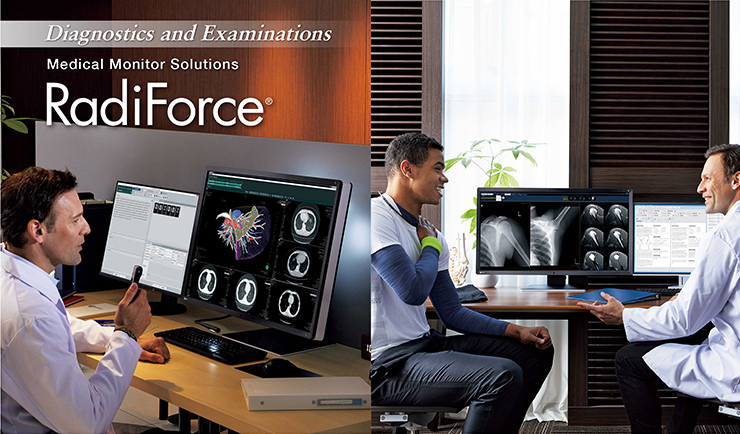 Since 2002 EIZO has been developing and marketing monitors to meet the high requirements of the diagnostics and examinations fields, under the RadiForce brand.
Comprehensive Lineup
In the medical field, different imaging modalities display images in various resolutions in either monochrome or color. For example mammography is displayed in monochrome with a resolution of 1914 (W) x 2294 (H), whereas ultrasound is displayed in color with a resolution of 800 (W) x 600 (H). For this reason, EIZO offers a lineup of monitors with various resolutions and display options to optimize the viewing of each modality. In this way mammography images can be viewed in full size on a 5 megapixel monochrome monitor, while other modalities like ultrasound can be viewed on a 2 megapixel color monitor.
Multi-Modality Options
In recent years however, the number of different modalities being used in conjunction with each other has increased. Various monitors are required to view these different modality images, from reading rooms to outpatient consultations to laboratories. Therefore in response to this demand for multi-image viewing, EIZO deployed the bezel-less, wide-screen 8 megapixel and 6 megapixel RadiForce Multi-Series to allow for side-by-side comparison of color and monochrome images of different resolutions, with various layout options. EIZO even offers a multi-modality monitor suitable for monochrome mammography.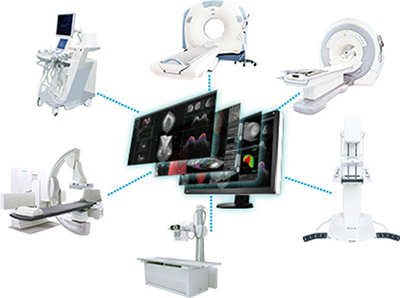 EIZO offers the following series of monitors:
The RadiForce Multi-Series is a series aimed at displaying both monochrome and color images side by side on the one screen. The models are large – at 8 megapixel and 6 megapixel – in order to display large amounts of information.
The RadiForce G&R-Series is a series for diagnostic use. They come in either 3 megapixel or 2 megapixel in both color and monochrome. They are DICOM Part 14 standard calibration and perfect for displaying chest X-ray, CR, DR, MRI and CT images.
The RadiForce Mammo-Series is a series designed for displaying breast screening images. They come in both monochrome and color in 8 megapixel or 5 megapixel sizes. With high contrast and brightness, they provide the optimum viewing conditions for tomosynthesis and mammography.
The RadiForce MX-Series offers cost performance for clinical review. These monitors are ideal for viewing patient charts with MRI and CT images in DICOM Part 14 standard. They are available in color, in a wide variety of resolutions, with touch screen options available.
A New Way of Interpretation
With the transition to digital and higher performance medical imaging, examinations are now requiring more images for softcopy interpretation using computers. This has led to radiologists having to interpret more data than ever before. In order to reduce this increasing burden on radiologists, EIZO has developed Work-and-Flow functions to improve work efficiency and make the interpretation environment more comfortable. These functions allow the radiologist to, for example, more the cursor to view the inspection list only as needed, keeping it hidden when not required.
Learn more about the Work-and-Flow functions: Hide-and-Seek, Switch-and-Go, and Point-and-Focus.
2. Treatment and Surgery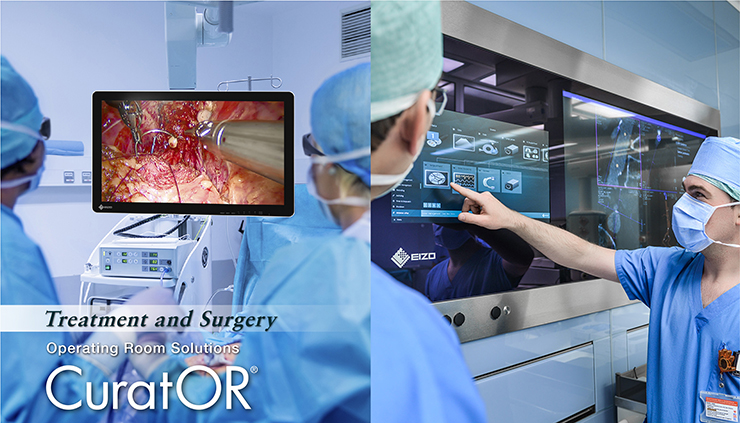 Modern operating rooms are fitted with various imaging information to ensure safe and efficient surgery. In fields like IVR, hybrid surgery, endoscope surgery, etc. depending on the surgical content, a variety of imagery is required as shown below.
| Display Equipment | Information to be Displayed | Users |
| --- | --- | --- |
| Large screen monitor | X-ray fluoroscopy, ultrasound, CT, MRI, electrocardiogram, HIS, RIS, PACS, 3D work station, surgical camera | Surgeon, assistant, radiologist, allied health professional, students/visitors |
| Surgical monitor | Endoscopy, micro-mirror surgery, robotic surgery | Surgeon, assistant, allied health professional, students/visitors |
| Operation monitor | X-ray fluoroscopy, ultrasound, CT, MRI, electrocardiogram, HIS, RIS, PACS, 3D work station, surgical camera | Radiologist, allied health professional |
| Monitoring display | Anesthesia information, electrocardiogram, surgical camera | Anesthetist, allied health professional, students/visitors |
With all these different images, information, and users, the unanimous goal is to promote safe and efficient surgery. For this reason, display manufacturers such as EIZO are required to solve the problem of displaying images and information for each user at the appropriate time and place.
Therefore in order to solve the problems of smoothly managing all this information, we have continued to expand our lineup to offer solutions for all operating room display needs.
Main Lineup:
3. General Administration
Even outside the fields of diagnosis/examination and treatment/surgery, EIZO's wide range of products and solutions solve various other medical problems.
Ease of Use
Workers in areas such as general wards, clinical consultation rooms, reception desks and information system rooms typically spend a long time viewing their monitor screen, which leads to eye fatigue. For this reason, EIZO's FlexScan series is used for its eye-friendly features(1) which prevent eye fatigue.
(1): Eye-friendly functions and design features include blue light cut (Paper Mode), flicker prevention (EyeCare dimming), automatic brightness adjustment (Auto EcoView), anti-glare treatment, narrow bezels and an ergonomic stand.
Stable Operation
Medical facilities like hospitals with beds and lifesaving emergency wards provide medical treatment 24 hours a day, meaning that monitors are also required 24 hours a day in areas like nurse centers and emergency wards. For many monitors, these harsh operating conditions can lead the monitors to breakdown. For this reason, the reliable and stable FlexScan line is chosen by many hospitals for use in areas like nurse centers and emergency wards.
Useful Tools for Efficient Management
By using the network QC management server provider RadiNET Pro Web Hosting(2), even without purchasing a server of your own you can efficiently manage (asset management, power management, quality control) many monitors installed in a hospital, ultimately reducing management running costs. By utilizing RadiNET Pro Web Hosting, you can visualize the aging of monitors and seamlessly budget for a replacement.
(2): RadiNET Web Pro Hosting is connected to about 20,000 monitors worldwide, supporting stable operation of monitors in medical facilities.
Future Direction of EIZO
EIZO is committed to developing quality and reliable display technology. In addition to what EIZO has produced so far, we will continue to develop 4K and super-resolution displays, and improve our optical bonding and AR (Anti-Reflection) film lamination technology.
From the standpoint of medical staff and patients, in order to improve medical quality and patient QOL, and to the stable operation of hospital systems, EIZO will continue to realize a prosperous future society as a "Visual Technology Company".