Press Releases
EIZO will be showing its state-of-the-art medical monitor solutions at ECR 2013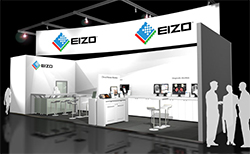 EIZO Nanao Corporation, a leading global manufacturer of high-end visual displays, will be showing its state-of-the-art medical monitor solutions at the European Congress of Radiology in Vienna.

Date: March 8 - 11, 2013
Location: Austria Center, Vienna, Austria
EIZO Booth Number: Extension Expo A, #10


All-LED Lineup of Diagnostic Monitors
All new monitors come with LED backlights. The result: long-term reassurance, less power consumption, and more eco-friendliness because they are mercury-free. Come by and see the full lineup of EIZO RadiForce medical monitors with LED backlights.
Large Enough for Even the Smallest Details
To make the right decisions, you need a reliable image. Thanks to its large screen and high resolution of 4096 x 2160, EIZO's RadiForce RX840 for radiological diagnostics is capable of detecting even the smallest details.
We hope to see you at ECR!