During Interventional Radiology (IR), a wide range of medical information and images are required all at once. With its size and resolution, EIZO's large-scale monitors for operating rooms can display images from multiple modalities simultaneously. This improves work efficiency while solving common issues encountered in multi-monitor environments like differences in panel color.

In the control room there is a need for high quality diagnostic monitors with larger screens and intelligent picture management to watch and control all applications and images used in the operating room from one centralized working place.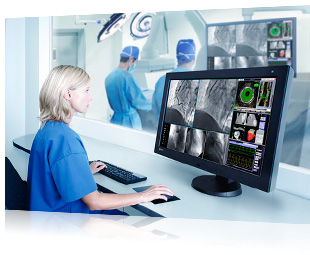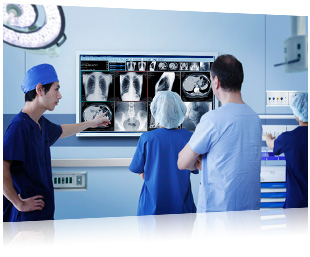 EIZO's large monitors reduce the overall equipment footprint in the operating room while increasing flexibility and efficiency for procedures. It can be quickly and easily set-up to display many gamma models, including DICOM Part 14 for a seamless extension of PACS (Picture Archiving and Communication System) into the operating room.

The advances in endoscopic video cameras used in procedures have increased demands placed on monitors deployed with these systems. EIZO monitors offer smooth rendering of the movements and variable color adjustments for easier tissue recognition.