Environment
TCFD Disclosure
| | |
| --- | --- |
| In May 2021, EIZO has annouced its support for the recommendations of the TCFD (Task Force on Climate-related Financial Disclosure)*1. | |
Since the launch of our own brand, we have been consistently working on the most advanced environmental measures, pursuing the energy-saving performance of our products, setting targets for reducing GHG emission across all business activities, and taking other actions to combat climate change*2.
1The Task Force on Climate-related Financial Disclosures
In response to a request from the G20, the Financial Stability Board (FSB) established the TCFD to examine climate-related disclosure and responses by financial institutions. TCFD encourages companies and other organizations to disclose their governance, strategy, risk management, indicators and targets with respect to climate change-related risks and opportunities.
2Greenhouse Gas
Kyoto Protocol defines seven types of greenhouse gases to be reduced: carbon dioxide (CO2), methane (CH4), dinitrogen monoxide (N2O), hydrofluorocarbons (HFCs), perfluorocarbons (PFCs), sulfur hexafluoride (SF6), and nitrogen trifluoride (NF3) in the second commitment period starting in 2013.
Governance
The Sustainability Committee has been established to address issues related to climate change. In addition, the Climate Change Response Subcommittee has been established to evaluate and respond to climate-related risks and opportunities bacause of their specialized characteristics. The President and CEO, who chairs the Sustainability Committee, is responsible for addressing issues related to sustainability.

The Board of Directors monitors and supervises the progress of the goals and targets for addressing climate-related issues through the formulation of strategies for realizing opportunities based on GHG emission reductions and scenario analysis by the Sustainability Committee, and through quarterly reports on the status of business execution.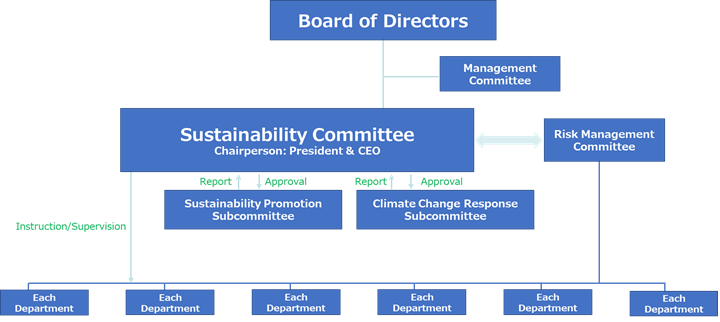 Strategy
The Sustainability Committee is in the process of assessing materiality, which is an important issue for the EIZO Group.
In the process, we have come to the conclusion that climate change is one of the important issues we face, so we have identified the following climate change-related risks and opportunities from a long-term perspective (Click image to enlarge).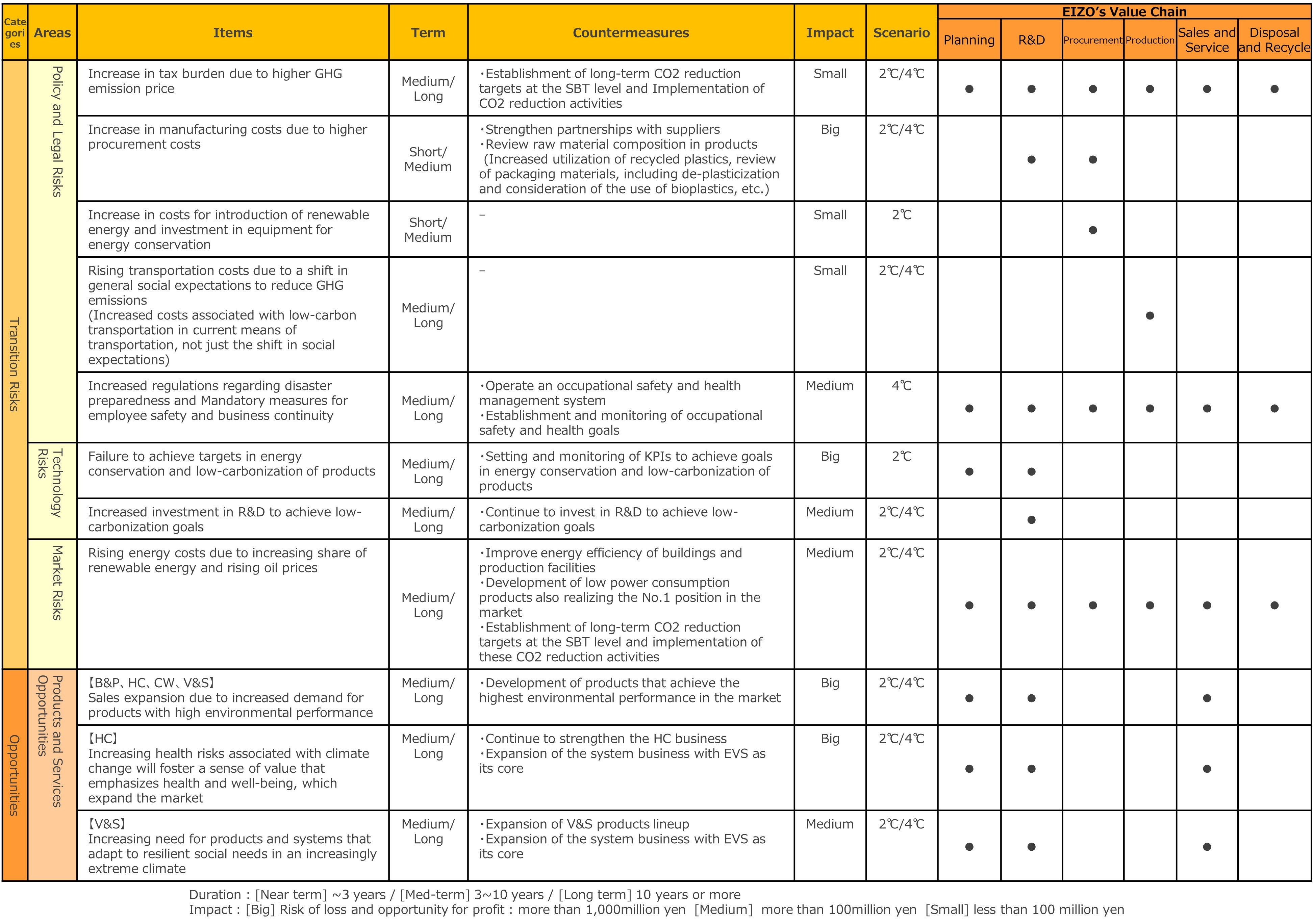 Duration Short term: ~3 years / Medium term: 3~10 years / Long term: 10 years or more

As part of our scenario analysis on climate change, we are currently analyzing and identifying the impact of climate change in 2030 using multiple scenarios, including one in which the global average temperature is limited to an increase of less than 2℃ as per the Paris Agreement. We will incorporate the results obtained from this scenario analysis into the EIZO Group's decarbonization strategy.
Risk Management
We have established and are operating a company-wide risk management system to manage risks in an integrated and unified way, recognizing that the appropriate management of risks surrounding the EIZO group is essential for achieving management goals and implementing business strategies.

Climate-related risks and opportunities are analyzed and evaluated by the Sustainability Committee and the Climate Change Response Subcommittee in order to encompass responses to long-term and specialized risks and opportunities indicated by TCFD in conjunction with company-wide risk management, and countermeasures are discussed.


Metrics and Targets
As an indicator for managing the climate-related risks and opportunities, we have set carbon neutral in our business activities as a target, and will calculate and set targets for GHG emissions including product lifecycles.

At the global level, EIZO Group has calculated the following emissions in accordance with the GHG Protocol for fiscal year 2020 at our major production sites (Japan, Germany and China).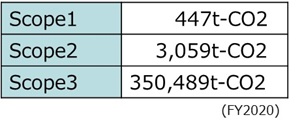 In contrast, in our mid-term sustainability goals, we have set an ambitious target for Scope 1+2 emissions. By fiscal year 2030, we will reduce GHG emissions by 70%, and also set the goal to achieve Net-Zero GHG emission by fiscal year 2040 compared to fiscal year 2017.

In addition, we plan to set a long-term greenhouse gas emission reduction target aligning with the Science Business Targets initiative's (SBTi) Business Ambition for 1.5°C and obtain certification from SBTi by the end of fiscal year 2021.