Software
About Compatibility Issue on macOS Sierra (10.12.4-10.12.6)/High Sierra (10.13)
1. Outline
There are two compatibility issues between ColorEdge and macOS Sierra 10.12.4 - 10.12.6/High Sierra 10.13 as follows.
Note: There is a possibility that the issues may be improved by updating the OS in the future.
Issue 1: ColorEdge is calibrated to abnormal color when you adjust gray balance by ColorNavigator 6.
| | |
| --- | --- |
| Adjusting gray balance | Displaying calibration result |
| | |
Issue 2: After restarting OS, color temperature of the display is changed (to blue).
| | |
| --- | --- |
| After calibration | After restarting OS |
| | |
2. Applicable Monitors
CG303W, CG301W, CG223W*, CG222W, CG221, CG220, CG211, CG210
* With DVI connection only
3. Countermeasures
Both issue 1 and 2 can be avoided with the following two setting changes.
1 "Night Shift" Off
Applicable Mac: 2012 and newer ("Night Shift" tab is displayed.)
Select "Off" in the Schedule pull-down menu in [System Preferences] – [Display] – [Night Shift] tab (Default setting: Off)
Uncheck [Turn on Until Tomorrow].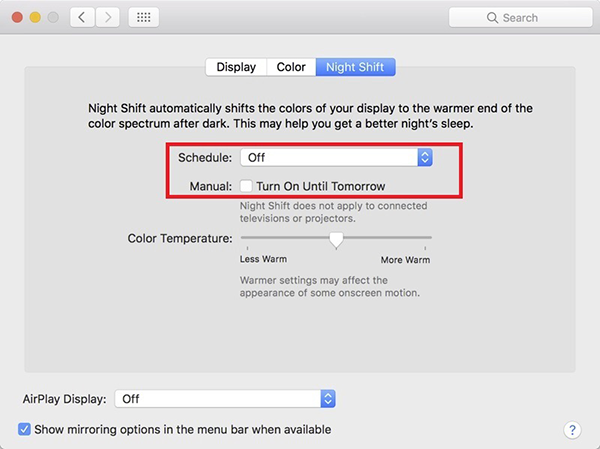 Applicable Mac: 2011 and older ("Night Shift" tab is NOT displayed.)
The Night Shift function is not available with old Macs. You do not need to change the setting.
2. Restart OS
After restarting OS, do NOT change "Night Shift" setting. If you changed it, please restart OS again. Also, please restart OS again when you disconnect the cable or turn off/on the 2nd power of the monitor.
3. Change ColorNavigator setting
Even when you set the Night Shift function to Off, this issue is caused by monitor's color changing due to OS's issue. At this time, we cannot avoid it by the setting of OS side, so please change priority setting of gamma adjustment of ColorNavigator to "Contrast".
Preset targets of ColorNavigator 6 is "Gray balance" or "Standard" and you have to create a new target when you use a sensor other than EX/Spyder series and built-in sensor of CG2420/CG2730.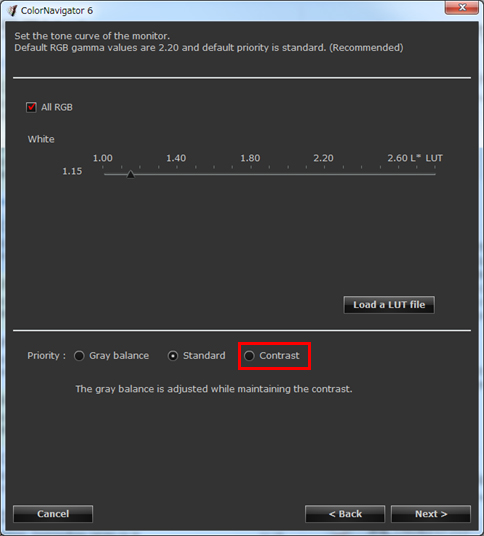 4. Re-calibrate
Applicable case: Whenissue 2 occurs
Calibration may have been executed before the step 1 and 2 have been done. In this case, excecute the steps 1 and 2 first and re-calibrate all targets created in step 3.
* Do NOT re-calibrate the target of "Gray balance" or "Standard" because the color will be abnormal.
4. Cause
New function, "Night Shift" is available from macOS Sierra 10.12.4 (Night Shift is compatible with 2012 and newer Macs). This function changes color temperature of the monitor automatically, so it might affect monitor adjustment. When you calibrate the monitor, above applicable monitors display color patches by software. Therefore, ColorNavigator cannot adjust gray balance correctly due to color temperature change of Night Shift.
Also, if you calibrated the monitor before executing the step 1 and 2 of the counter measure, the display color turns blue as compared to the color after calibration, because the OS changes color temperature of the monitor automatically after restarting OS.