Monitor Basics in Plain English
Efficient Telecommuting with a Laptop and Monitor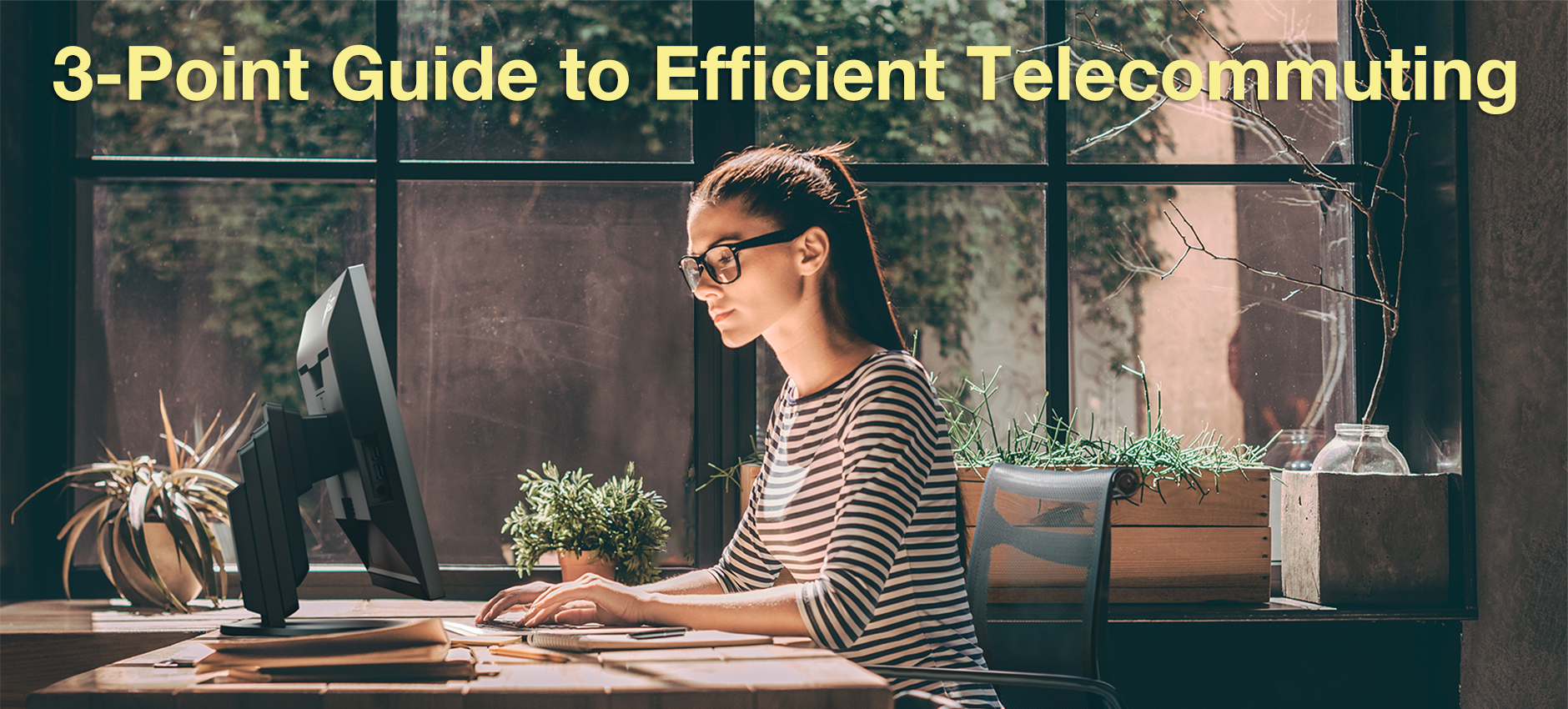 In today's workplace, working remotely or from home is becoming more commonplace. Businesses and organizations are starting to implement telecommuting work practices as a means of maintaining employee engagement with accessibility to workplace tools and information without needing to be in a specific physical location. While an easy-to-carry laptop is often the go-to option to work from home due to its mobility, working on a small screen may mean drawbacks in efficiency and comfort. Telecommuting can become more comfortable and efficient by changing this setup from just a laptop, to a laptop with monitor.
01
Working Right
Posture, Eye Care, and Concentration
When working on a laptop, users tend to hunch forward to see the screen. This causes stiff shoulders and back pain, which can negatively impact the ability to concentrate.

A monitor with a wide range of adjustment can be set to the optimal position to the user. By working more comfortably, users will feel less tired and concentration and work efficiency will naturally increase.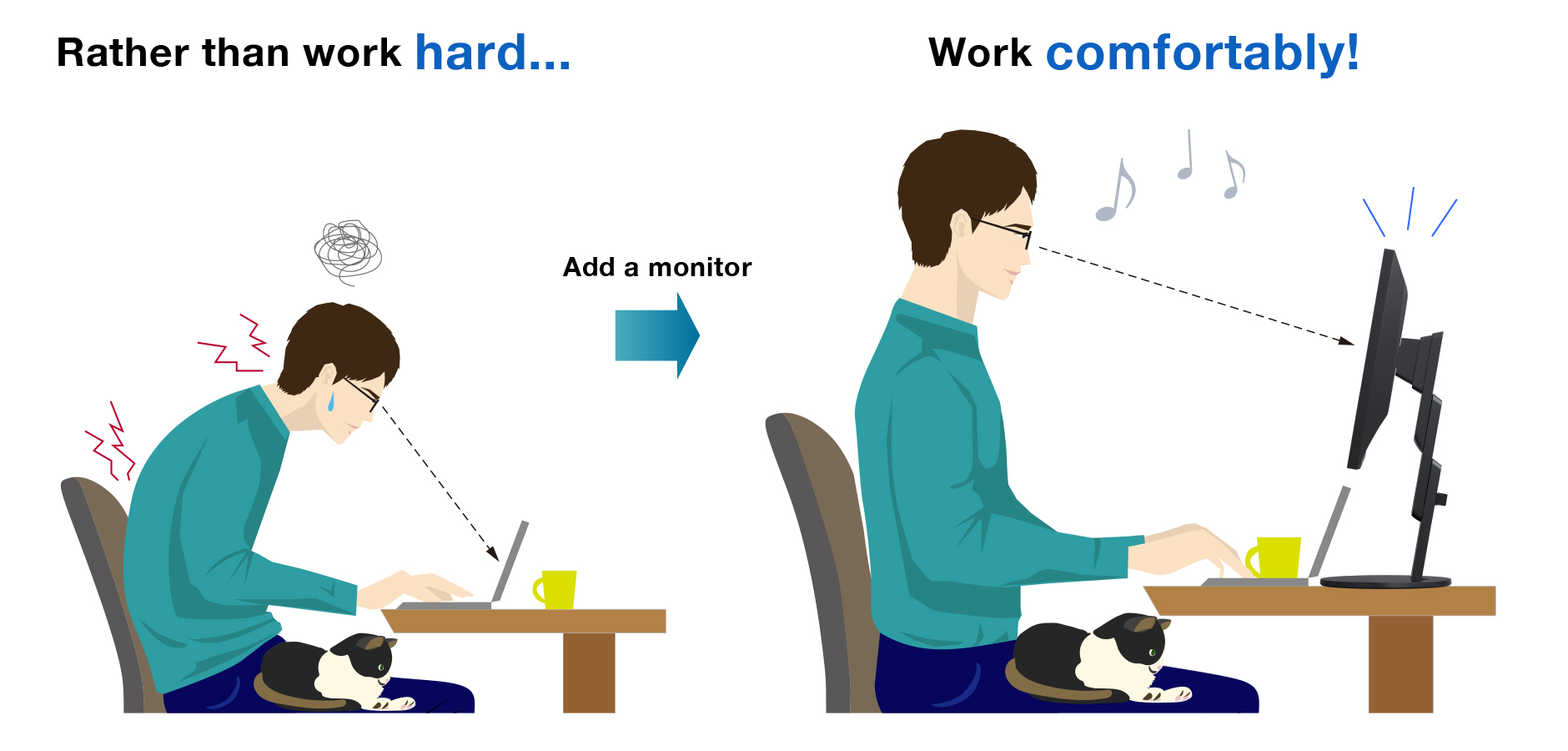 02
Easy Multitasking
Taking Advantage of Multiple Screens
It is common to open and work with multiple applications, such as Outlook and Excel, at the same time. However, the small display area of a laptop screen provides limited space to see multiple windows easily. So when working on just a laptop, users have to frequently switch windows to different applications, which tends not to be efficient.

Using an external monitor with a laptop provides more than double the space to work with. Since multiple windows can be displayed at the same time, users can work comfortably in one application while quickly referring to others without needing to constantly hide and show windows.

03
Working Vertically
Eliminate Excessive Scrolling
Reports, programming, chat applications – a lot of the content viewed in the workplace is laid out vertically. Laptops are only able to display in landscape, meaning that the information that is viewable at any given time is limited. In many cases extra blank space also appears on the left and right sides of the screen where no content is displayed.

With a monitor that can rotate and display vertically, content that is best viewed in this format becomes much easier to work with. Depending on the content, more information can be viewed at once compared to landscape.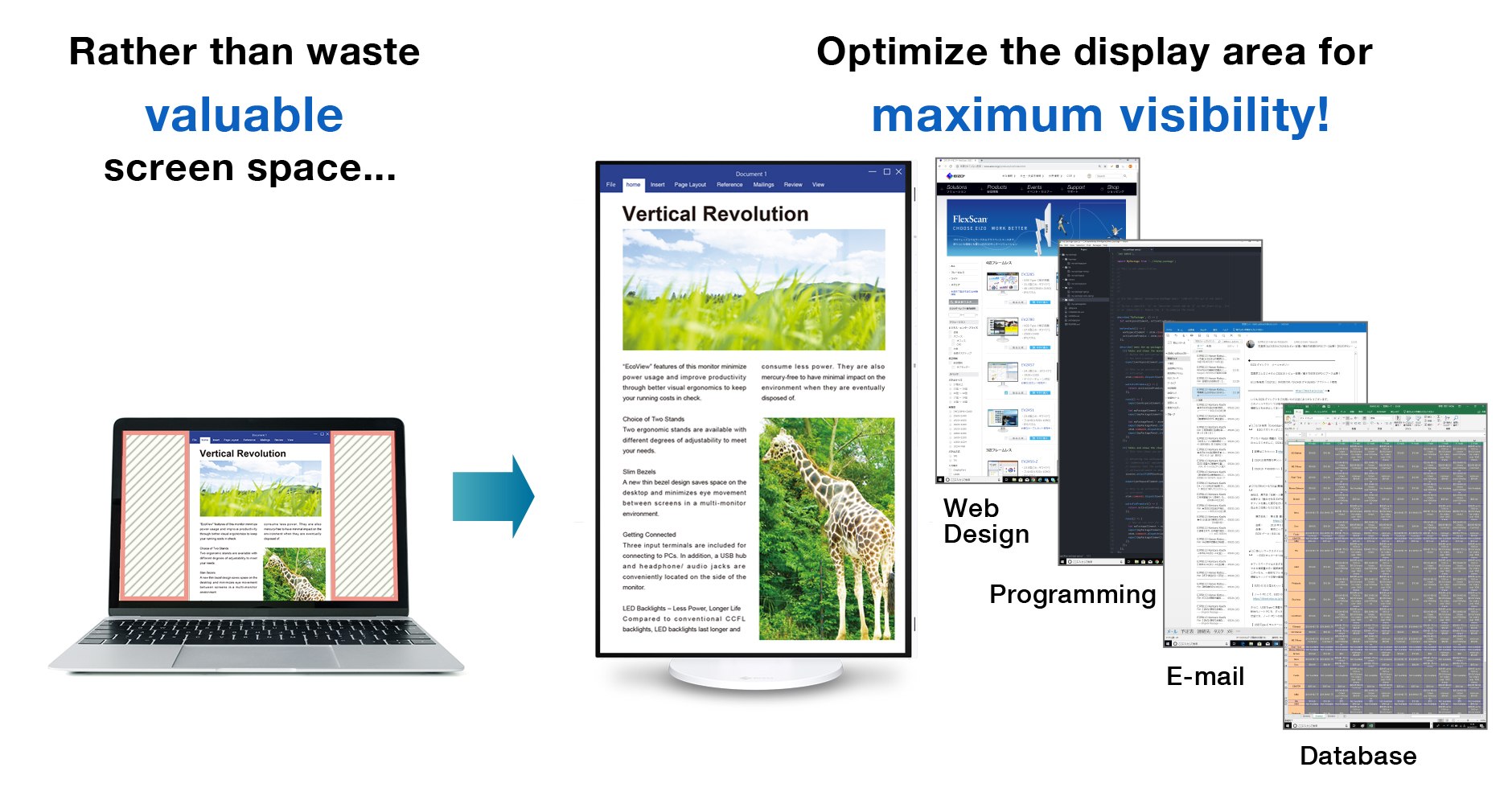 Smart Workspace that Doesn't Encroach on Your Home
EIZO's monitor stands feature a wide range of adjustment so a laptop can be placed comfortably under the screen. This space-saving layout allows even the most limited workspaces to take advantage of a multi-screen environment, further optimizing efficiency and comfort.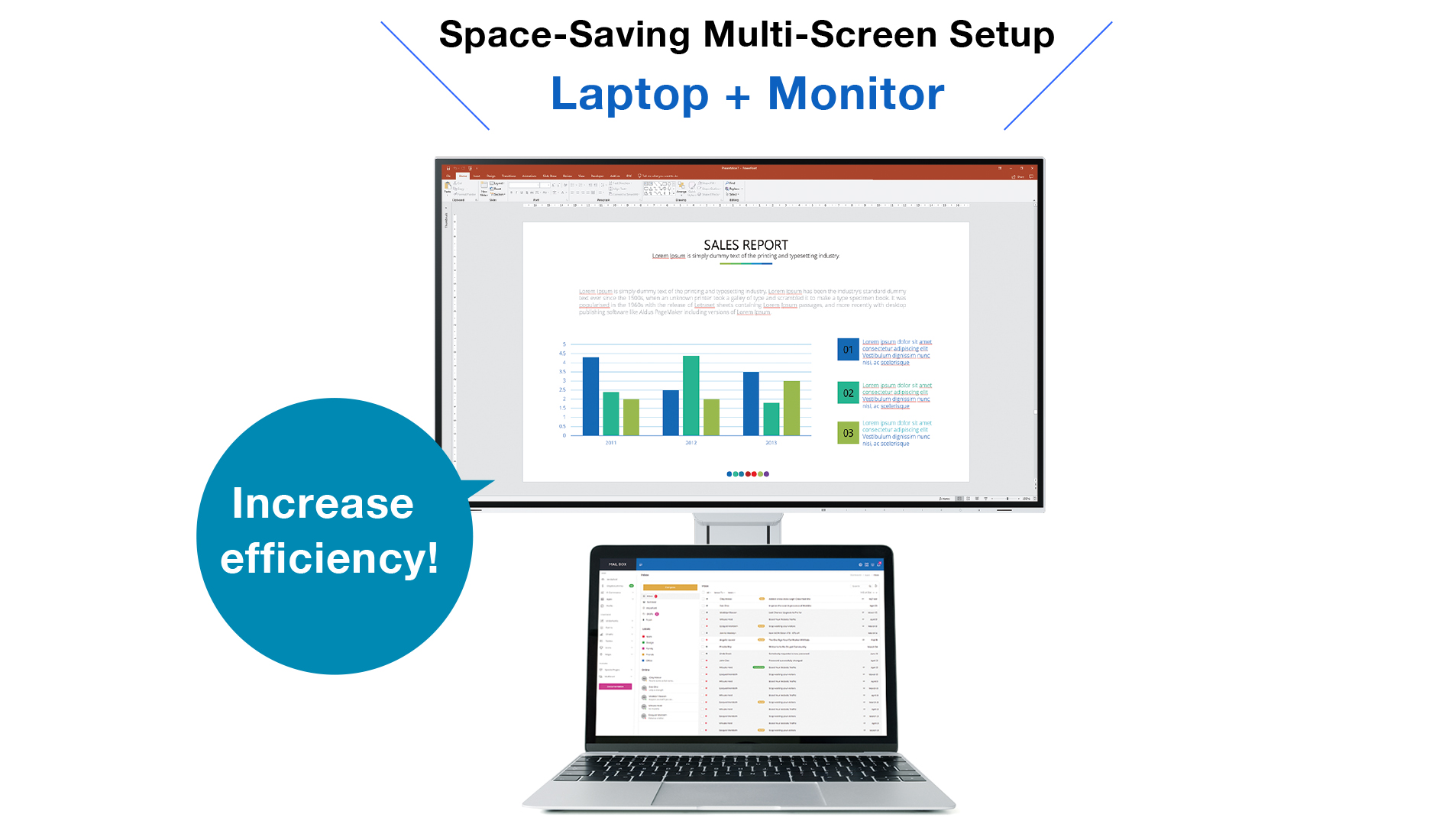 Furthermore, with USB Type-C equipped EIZO monitors can supply power to the connected laptop, eliminating the need for the AC adapter. USB devices such as a mouse and keyboard can also be connected directly to the monitor rather than a docking station. This eliminates unnecessary cabling and hardware, keeping the workspace clean.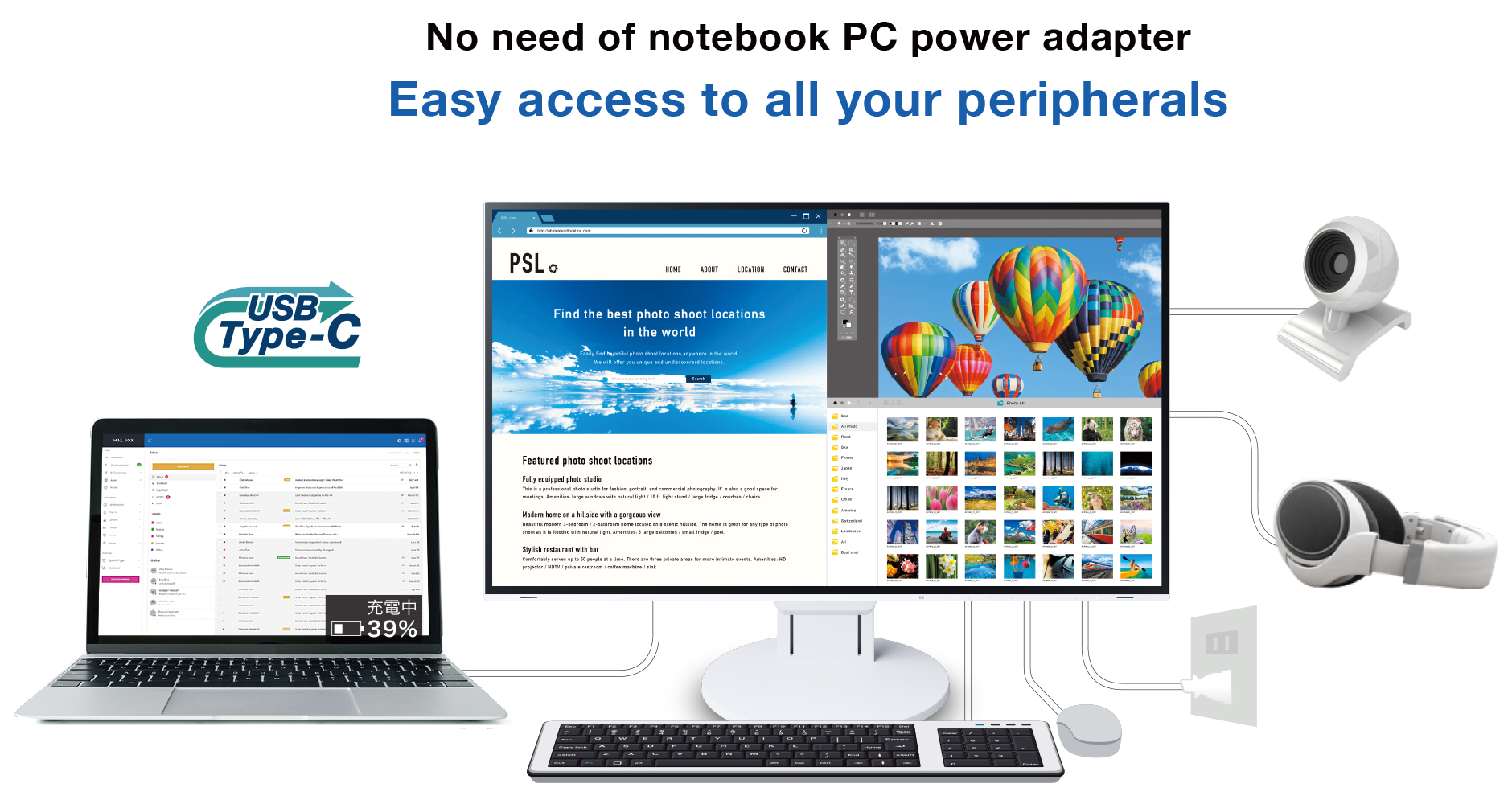 Recommended Models
USB Type-C for daisy chaining and
docking capabilities

USB Type-C connectivity and 4K
resolution for high detail

USB Type-C connectivity
for simple use

USB Type-C connectivity and color
accuracy for creatives