Press Releases
EIZO Releases 24.1-Inch LCD Monitor Combining a Frameless Design with Daisy Chain Compatibility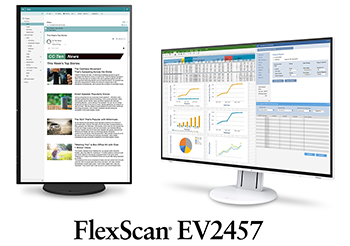 Hakusan, Japan, November 29, 2018 – EIZO Corporation (TSE: 6737) today announced the release of the FlexScan EV2457, a 24.1-inch LCD monitor featuring a frameless and fully-flat stylish cabinet design with DisplayPort daisy chain compatibility for improved work efficiency and style in the office.

The EV2457, a 24.1-inch 1920 x 1200 resolution LCD monitor, has a frameless and fully-flat design for improved multi-monitor use. With the super thin bezels, several monitors can be arranged side-by-side with minimal space between screens, improving work efficiency and saving space on the desk. Furthermore the monitor comes in either white or black with matching cable colors, for a fully coordinated and stylish office.

With DisplayPort 1.2 daisy chain compatibility, several monitors can be connected in a row using a single connection between each. This removes the need for an external docking station or MST hub on PCs with limited outputs. Furthermore without the need for several long signal cables, cable clutter is reduced, leading to a neater and more work-efficient space.

The monitor also comes with four USB 3.1 Type-A ports with 5V power supply, allowing several devices such as a mouse, keyboard, and/or headset to be connected to the conveniently accessible monitor rather than the PC.

The FlexScan EV2457 is also compatible with EIZO's proprietary software Screen InStyle, which lets users control multiple monitors at once, including synced brightness and power settings. An additional feature allows switching of the monitor inputs using user-defined hot keys rather than the switches on the front of the monitor. A server app for Screen InStyle gives an administrator control over the settings of all FlexScan EV2457 units in an installation from a central location. This is especially helpful for enterprises that want to ensure all units are adjusted properly and the power-save settings are activated.

Availability
The FlexScan EV2457 will begin shipping in December 2018. Date of availability varies by country so contact the EIZO group company or distributor in your country for details.
About EIZO
EIZO, which means image in Japanese, is a visual technology company that develops and manufactures high-end display solutions. EIZO integrates hardware and software technologies with consulting, web hosting, and other services to help customers in business, graphics, gaming, medicine, maritime, air traffic control, and other fields work more comfortably, efficiently, and creatively. Headquartered in Hakusan, Japan, EIZO has R&D and manufacturing facilities in Japan, China, Germany, and the US, and representation in more than 80 countries.
For more information, please contact:
EIZO Corporation
153 Shimokashiwano
Hakusan, Ishikawa 924-8566
Japan
Phone: +81 76 277-6794
www.eizoglobal.com

All product names are trademarks or registered trademarks of their respective companies. EIZO, the EIZO logo, and FlexScan are registered trademarks, and Screen InStyle is a trademark of EIZO Corporation in Japan and other countries.