Warranty Term by Product Type
FlexScan
Models
Warranty Term
Pixel Policy
EV3895, EV3285, EV3237, EV2795, EV2785, EV2780, EV2760, EV2750, EV2736W, EV2730Q, EV2495, EV2457, EV2456, EV2455, EV2460, EV2451, EV2450, EV2436W, EV2430, EV2336W, EV2360
5 years (main body and LCD panel)
Usage time is limited to 30,000 hours or less
Zero bright (fully-lit) sub-pixels for six months for units purchased on September 1, 2015 or later.

EV2416W, EV2316W, EV2216W, S2133, S1933, S1923, S1903, S1703-A, S1703, S1503-A, S1503
5 years (main body and LCD panel)
Usage time is limited to 30,000 hours or less
-
All FlexScan monitors 17" and greater (except touch panels) announced between June 1, 2003 and May 31, 2012 and the following models: S1501-B, S1501, L557, L695, L767, L985E
5 years (main body)
3 years (LCD panel)
Usage time is limited to 30,000 hours or less
-
All models (including touch panels) not listed above.
3 years (main body and LCD panel)
-
ColorEdge
Models
Warranty Term
Brightness & Color Warranty
Pixel Policy
CG3146, CG3145
5 years (main body and LCD panel)
Usage time is limited to 30,000 hours or less (10,000 hours for the LCD panel).
5 years subject to the usage time being limited to 10,000 hours. When used at a color temperature of 6500K, a brightness level of at least 800 cd/m2 is warranted.
Zero bright (fully-lit) sub-pixels for six months from the date of purchase.

CG319X
CG279X
5 years (main body and LCD panel)
Usage time is limited to 30,000 hours or less.
5 years subject to the usage time being limited to 10,000 hours. When used at a color temperature of 5000 - 6500K, a brightness level of at least 120 cd/m2 is warranted.
Zero bright (fully-lit) sub-pixels for six months from the date of purchase.

CG318-4K, CG248-4K, CG277, CG2730, CG247x, CG247, CG2420
5 years (main body and LCD panel)
Usage time is limited to 30,000 hours or less
5 years subject to the usage time being limited to 10,000 hours. When used at a color temperature of 5000 - 6500K, a brightness level of at least 120 cd/m2 is warranted.
Zero bright (fully-lit) sub-pixels for six months for units purchased on September 1, 2015 or later.

CG276, CG246
5 years subject to the usage time being limited to 10,000 hours. When used at a color temperature of 5000 - 6500K, a brightness level of at least 120 cd/m2 is warranted.
-
CX271, CX241, CS2740, CS2731, CS2730, CS270, CS240, CS2420, CS230
-
Zero bright (fully-lit) sub-pixels for six months for units purchased on September 1, 2015 or later.
CX270, CX240
-
-
CG303W, CG301W, CG275W, CG245W, CG243W, CG242W, CG241W, CG223W
5 years (main body)
3 years (LCD panel)
Usage time is limited to 30,000 hours or less
3 years subject to the usage time being limited to 10,000 hours. When used at a color temperature of 5000 - 6500K, a brightness level of at least 120 cd/m2 is warranted.
-
CG211, CG221, CG232W
5 years (main body)
3 years (LCD panel)
Usage time is limited to 30,000 hours or less
3 years subject to the usage time being limited to 10,000 hours. When used at a color temperature of 5000 - 6500K, a brightness level of at least 100 cd/m2 is warranted.
-
CG222W
5 years (main body)
3 years (LCD panel)
Usage time is limited to 30,000 hours or less
3 years subject to the usage time being limited to 10,000 hours. When used at a color temperature of 5000 - 6500K, a brightness level of at least 80 cd/m2 is warranted.
‐
CE240W, CE210W, CG220,
CG19
5 years (main body)
3 years except for the backlight of the CG220 which is 2 years (LCD panel)
Usage time is limited to 30,000 hours or less
‐
‐
FORIS
Models
Warranty Term
Pixel Policy
NOVA
3 years (main body and LCD panel)

Zero bright (fully-lit) sub-pixels for six months from the date of purchase.

FS2735, FS2434, FG2421
5 years (main body and LCD panel)
Usage time is limited to 30,000 hours or less

Zero bright (fully-lit) sub-pixels Six months from purchase date for purchases made on September 1, 2015 or later.

FS2333
5 years (main body and LCD panel)
Usage time is limited to 30,000 hours or less
‐
All models launched before June 1, 2012.
5 years (main body)
3 years (LCD panel)
Usage time is limited to 30,000 hours or less
‐
RadiForce
Models
Warranty Term
Breast Imaging Monitors
RadiForce GX560, RX560

Multi-Modality Monitors
RadiForce RX1270, RX850, RX660

Medical Monitors
RadiForce GX340, GX240, RX360, RX250
RadiForce MX315W, MX242W, MX216, MX194
5 years
Medical Monitors
RadiForce MS236WT
3 years
DuraVision
| Models | Warranty Term |
| --- | --- |
| MDF4601WT, FDF2382WT, FDU2603W, FDU2603WT, FDU2602W, FDU2602WT, FDF2121WT-A, FDU2101, FDU2101T, FDS1921T, FDS1904, FDS1904T, FDS1782T, FDS1721T, FDX1501-A, FDX1501T-A | 3 years |
| All models not listed above | 2 years |
Raptor / Re/Vue
Models
Warranty Term
Raptor WS3001
5 years (main body)
3 years (LCD panel)
Usage time is limited to 30,000 hours or less
Raptor monitors (except the WS3001)

Raptor graphics boards

Re/Vue video recording and streaming solutions
2 years
eClient
| Models | Warranty Term |
| --- | --- |
| All models | 3 years |
Accessories
| Models | Warranty Term |
| --- | --- |
| i·Sound speaker unit | 3 years |
| Optional LCD monitor arms, stands, and hoods sold separately from the monitors | 1 year |
All warranties are valid only in countries or territories where EIZO group companies and authorized distributors are located.

For further warranty details, please visit our Contact EIZO page to get in touch with the EIZO group company or authorized EIZO distributor in your region.

Exceeding the standard limited warranty for FlexScan or FORIS products, EIZO will offer an additional three (3) year warranty option at an extra fee from the date of expiration of the standard limited warranty (United States only). Please contact our office in the USA for more details.

General Provisions
Notwithstanding any other provision of this Warranty, EIZO and Distributors shall have no obligation under this Warranty whatsoever in any of the cases as set forth below:
(a) Any defect of the Product caused by freight damage, modification, alteration, abuse, misuse, accident, incorrect installation, disaster, faulty maintenance and/or improper repair by third party other than EIZO and Distributors;
(b) Any incompatibility of the Product due to possible technical innovations and/or regulations;
(c) Any deterioration of sensor, including measurement value of the sensor;
(d) Any defect of the Product caused by external equipments;
(e) Any defect of the Product caused by the use under environmental conditions other than EIZO and Distributors' estimation;
(f) Any deterioration of the attachments of the Product (e.g. cables, User's Manual, CD-ROM, etc.);
(g) Any deterioration of the consumables, and/or accessories of the Product (e.g. batteries, remote controller, touch pen, etc.);
(h) Any deformation, discoloration, and/or warp of the exterior of the Product including that of the surface of the OLED panel or the LCD panel;
(i) Any defect of the Product caused by placement in a location where it may be affected by strong vibration or shocks;
(j) Any defect of the Product caused by liquid leaking from battery;
(k) Any deterioration of the Product caused by the use at higher brightness than the recommended brightness described in the User's Manual;
(l) Any deterioration of display performance caused by the deterioration of expendable parts such as the OLED panel, LCD panel and/or backlight, etc. (e.g. changes in brightness uniformity, changes in color, changes in color uniformity, defects in pixels including burnt pixels, etc.).
EIZO FlexScan, ColorEdge, and FORIS Bright Pixel Policy
EIZO Bright Pixel Policy Conditions
EIZO's policy covers visible, bright (fully-lit) sub-pixels as detailed in the following table.
Bright sub-pixel defects
Zero bright pixels
Bright sub-pixel defined

A red, blue, and green pixel that is always lit on a black background of an LCD screen is deemed a bright sub-pixel.
A pixel that is always dark or colored on a white background of an LCD screen is deemed a dark pixel. Dark sub-pixels are not covered by this policy.

Usage conditions

Ambient illuminance is more than 500 lux (typical office environment)
Viewing distance is more than 35 cm

Applicable models
Warranty period
Six months from purchase date for purchases made on September 1, 2015 or later.
Pixel Structure
A full pixel (white) consists of one red, green, and blue sub-pixel.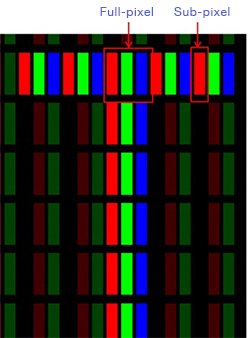 What Is a Bright Sub-Pixel?
A bright sub-pixel is one that is fully lit. In the example below the red sub-pixel remains lit even when the surrounding sub-pixels are unlit.
Bright sub-pixel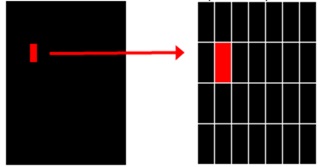 EIZO's Bright Pixel Policy Does Not Cover the Following Conditions.
Partially lit, type 1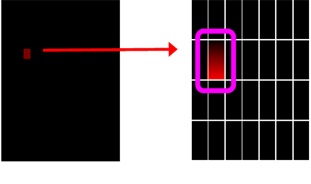 Partially lit, type 2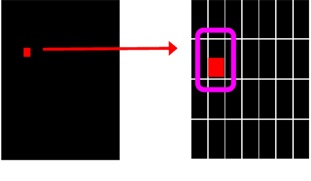 Foreign substance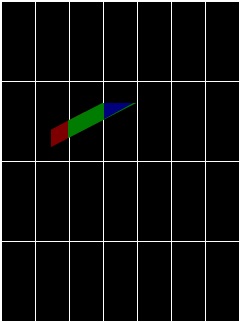 Dark Sub-Pixels
A sub-pixel that is always colored on a white background.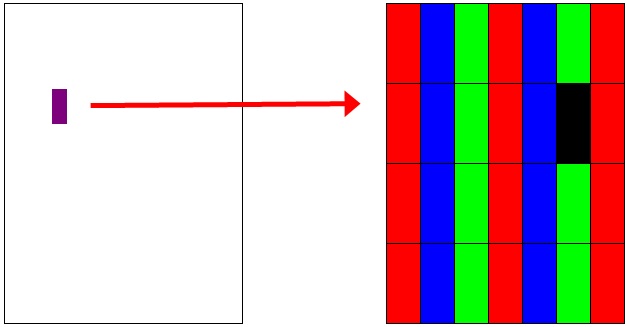 Replacement Parts List & Instructions on Installation
You can request any of the following replacement parts for EIZO products for self-installation. Please contact us from here.
Power cable
Signal cable
USB cable
Stand
Cable cover
Please refer to the User manual or Setup guide of your purchased product for identifying part numbers, and/or for detailed instructions on the installation for each replacement part. Product parts are available until up to three years after the monitor's production has ended. If the requested item is unavailable, EIZO reserves the right to offer a substitute.
Repair Service
If your EIZO product requires repair, please contact us here. Repair/replacement of LCD panels is supported for minimum 5 years from the date of purchase. Please note that LCD panels cannot be upgraded with this repair service.