Press Releases
EIZO Releases 24.1-inch sRGB Hardware Calibration Monitor for Creative Hobbyists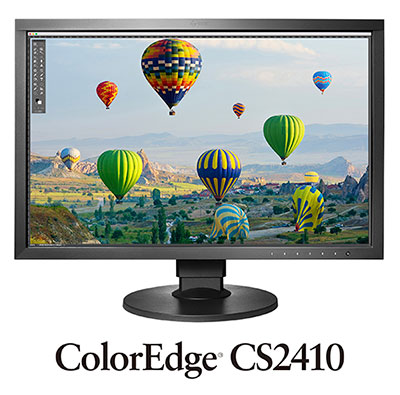 Hakusan, Japan, May 9, 2019 – EIZO Corporation (TSE: 6737) today announced the new ColorEdge CS2410 – a 24.1-inch sRGB hardware calibration monitor for hobbyists who enjoy creating and editing digital content such as photos, illustrations, and more. It is the successor to the ColorEdge CS230. It includes many of the advanced features of the ColorEdge lineup while also meeting the varying needs and budgets of hobbyists.

The monitor covers more than 100% of the sRGB color space, so content intended for viewing in an sRGB environment is reproduced faithfully. To counter fluctuations in brightness and chromaticity characteristic of LCD monitors, EIZO's unique digital uniformity equalizer (DUE) corrects deviations in every tone across the screen for stable display.

Compared to its predecessor, the screen size is increased from 23 to 24.1 inches and resolution from 1920 x 1080 to 1920 x 1200, providing more space and pixels to work creatively. The ColorEdge CS2410 also features a sleek new cabinet design characteristic of the latest ColorEdge models.

The ColorEdge CS2410 supports EIZO's ColorNavigator 7 color management software, so users can regularly calibrate (hardware calibration) their monitor quickly and reliably for predictable color results. Hardware calibration controls the hardware of the monitor directly by utilizing the LUT (look-up-table) for higher precision and better gradation characteristics compared to software calibration. The monitor also supports EIZO's Quick Color Match software, which simplifies the screen-to-print color matching process to just a few steps.
Additional Features
• HDMI, DisplayPort, and DVI-D inputs
• Optional light-shielding hood
• 5-year manufacturer's warranty1
Availability
The ColorEdge CS2410 is now shipping. Date of availability varies by country so contact the EIZO group company or distributor in your country for details.
About EIZO
EIZO (TSE:6737), which means image in Japanese, is a visual technology company that develops and manufactures high-end display solutions. EIZO integrates hardware and software technologies with consulting, web hosting, and other services to help customers in business, graphics, gaming, medicine, maritime, air traffic control, and other fields work more comfortably, efficiently, and creatively. Headquartered in Hakusan, Japan, EIZO has R&D and manufacturing facilities in Japan, China, Germany, and the US, and representation in more than 80 countries.


1 Usage time is limited to 30,000 hours.

EIZO, the EIZO logo, and ColorEdge are registered trademarks of EIZO Corporation in Japan and other countries.