Press Releases
EIZO Monitors Among the First to Fulfill Updated ENERGY STAR International Environment Standard Criteria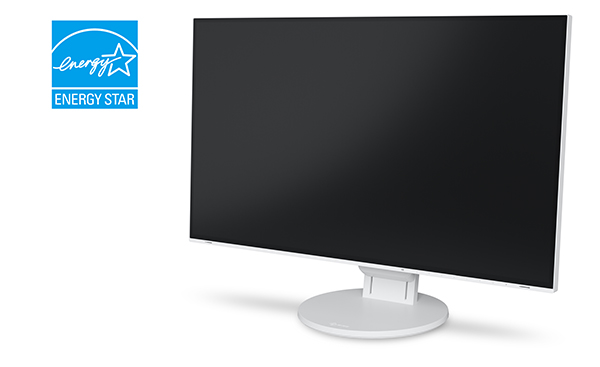 Hakusan, Japan, January 29, 2020 – EIZO Corporation (TSE: 6737) today announced that it is one of the first companies to become registered under ENERGY STAR version 8.0, published in the US on January 28, 2020. Thirteen of EIZO's FlexScan monitors are among the first products to meet the updated criteria.

ENERGY STAR is the leading global ecolabel for PCs and monitors operated by the U.S. Environmental Protection Agency (EPA), and has existed since 1992. EIZO is the first monitor manufacturer to have been registered with ENERGY STAR since its establishment and has confirmed the standards for all its target monitors.

Under the new version 8.0, the criteria for monitor power consumption has become stricter, requiring as much as 10 to 20%* lower power consumption than before. Most FlexScan monitors for business enterprise meet the requirements as a result of EIZO's efforts in developing power-saving technology. The following thirteen monitors are certified to be compliant with version 8.0.
Certified Monitors:
FlexScan EV3285, EV2785
FlexScan EV2460, EV2457, EV2456, EV2451, EV2450, EV2430
FlexScan EV2360, EV2316W, EV2216W
FlexScan S2133, S1934
In addition to the above listed models, EIZO plans to register future products and will also continue to maintain environmentally friendly production.
About EIZO
EIZO (TSE:6737), which means image in Japanese, is a visual technology company that develops and manufactures high-end display solutions. EIZO integrates hardware and software technologies with consulting, web hosting, and other services to help customers in business, graphics, gaming, medicine, maritime, air traffic control, and other fields work more comfortably, efficiently, and creatively. Headquartered in Hakusan, Japan, EIZO has R&D and manufacturing facilities in Japan, China, Germany, and the US, and representation in more than 90 countries.
*The percentage is calculated for EIZO's FlexScan monitors and depends on monitor specifications such as a screen size and resolution.
All product names are trademarks or registered trademarks of their respective companies. EIZO, the EIZO logo, and FlexScan are registered trademarks of EIZO Corporation in Japan and other countries.