Press Releases
EIZO Announces Its First Ultrawide, Curved Monitor for Trading Room and Office Professionals
Hakusan, Japan, September 17, 2020 – EIZO Corporation (TSE:6737) today announced the release of the 37.5-inch FlexScan EV3895 – its first ultrawide, curved monitor. The monitor is developed to reflect the needs and workstyles of professionals working in trading rooms, home trading stations, and back offices.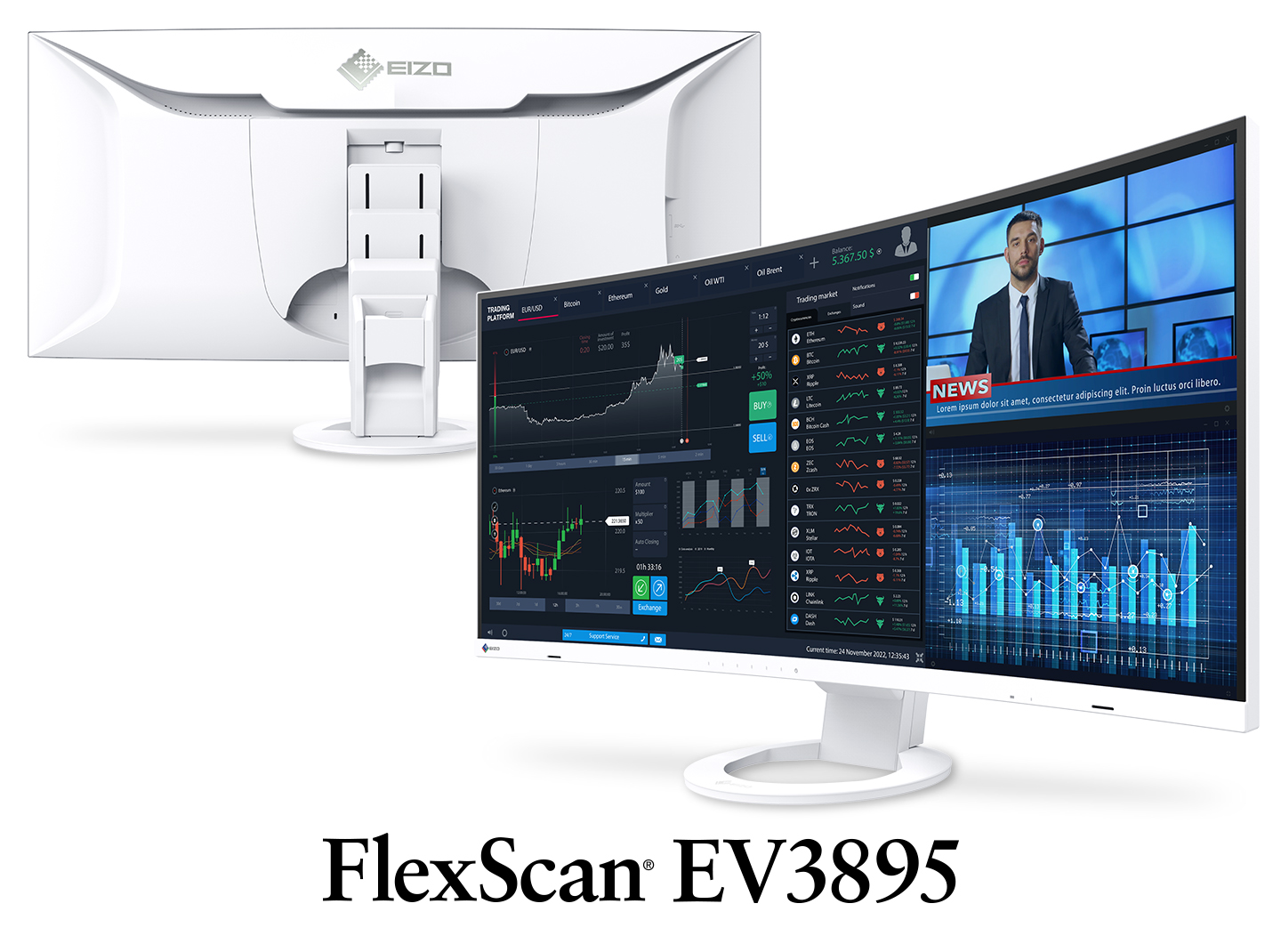 The ultrawide 3840 x 1600 (UWQHD+) resolution affords nearly triple the pixels compared to Full HD so users can freely arrange multiple applications across the vast screen. The closer a user sits to a large monitor, the greater the distance between their eyes and the far edges of the screen. The FlexScan EV3895's gentle concave brings those edges in to a more comfortable distance, improving visibility, focus, and immersion.

The FlexScan EV3895 reflects the needs of enterprises and workplace professionals that require ready-to-use solutions to facilitate multitasking and task switching. The Picture-by-Picture (PbyP) function displays images from up to three video input sources simultaneously, saving the time and hassle of switching between sources when operating more than one computer. Furthermore, users can choose from six predefined layouts to suit their individual workstyle. The monitor's integrated USB Selection function also allows users to use a single mouse and keyboard to operate each PbyP window, eliminating the need for additional peripherals in the workspace.

The monitor is equipped with a USB Type-C input for streamlined connectivity. This allows users to display video, playback audio, transmit USB signals, and even access a network signal using a single cable. Furthermore, the USB Type-C connection reliably charges laptops and small desktop PCs with 85 watt power delivery. In addition to USB Type-C, the monitor is equipped with a DisplayPort and two HDMI inputs.

The FlexScan EV3895's slim and frameless design allows it to fit naturally in any environment. In addition to sleek black, the cabinet is available in white for a color option that keeps the work area feeling bright. EIZO also provides matching cables for full color coordination. The monitor's stand has a cable duct with a detachable backplate to simplify cable management for a clean workspace.

The monitor is equipped with EIZO's proprietary EcoView technologies which cut power consumption by as much as 40%, while also facilitating eye comfort. The monitor is certified by major comprehensive sustainability standards such as TCO Certified Generation 8, EPEAT, and EnergyStar. It also meets several of the categories set forth by the United Nations' Sustainable Development Goals (SDGs) for environmentally friendliness and higher work efficiency.
Additional Features
Eye care functions including flicker-free display and dimming range from 1 cd/m2
Five-year warranty and six-month no bright pixel guarantee
Availability
The FlexScan EV3895 will begin shipping in November. The date of availability varies by country. Contact the EIZO group company or distributor in your country for more details.
Product Information
About EIZO
EIZO (TSE:6737), which means image in Japanese, is a visual technology company that develops and manufactures high-end visual solutions to enrich people in their professional and personal lives. EIZO offers total imaging solutions with a range of monitors, software, video capture, processing, and distribution solutions, cameras, and advanced integrated technologies to meet the specialized needs of customers in business, creative fields, healthcare, air traffic control, maritime, security & surveillance, and more. Headquartered in Hakusan, Japan, EIZO has R&D and manufacturing facilities in Japan, China, Germany, and the United States, and representation in more than 90 countries.

EIZO, the EIZO logo, and FlexScan are registered trademarks of EIZO Corporation in Japan and other countries. The terms HDMI and HDMI High-Definition Multimedia Interface, and the HDMI Logo are trademarks or registered trademarks of HDMI Licensing, LLC in the United States and other countries. USB Type-C is a registered trademark of USB Implementers Forum, Inc. All other company names, product names, and logos are trademarks or registered trademarks of their respective companies.