Press Releases
EIZO RadiForce RX1270 12 Megapixel Color Medical Monitor Receives FDA 510(k) Clearance for Breast Tomosynthesis and Mammography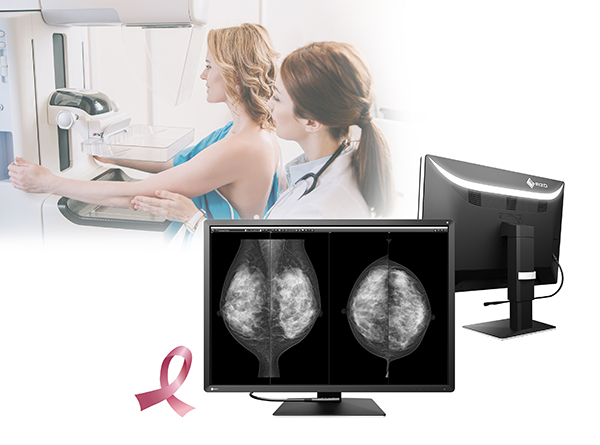 Hakusan, Japan, April 16, 2020 – EIZO Corporation (TSE: 6737) announced that it has received FDA 510(k) clearance for digital breast tomosynthesis and digital mammography from the U.S. Food and Drug Administration for its 12 megapixel color medical monitor, the RadiForce RX1270.

The RX1270 is EIZO's highest resolution monitor at 12 megapixels (4200 x 2800 pixels) and it is ideal for multi-modality medical applications. The monitor offers a brightness of up to 1200 cd/m2, high contrast ratio of 1500:1, and a tight pixel pitch of 0.1554 mm making it suitable to distinguish even the smallest structures within breast tissue.

With FDA 510(k) clearance for tomosynthesis, mammography, and general radiography, EIZO continues to provide a high degree of customer assurance to medical breast screening professionals and their patients.

Product Information
About EIZO
EIZO (TSE:6737), which means image in Japanese, is a visual technology company that develops and manufactures high-end visual solutions to enrich people in their professional and personal lives. EIZO offers total imaging solutions with a range of monitors, software, video capture, processing, and distribution solutions, cameras, and advanced integrated technologies, to meet the specialized needs of customers in business, creative fields, healthcare, air traffic control, maritime, security & surveillance, and more. Headquartered in Hakusan, Japan, EIZO has R&D and manufacturing facilities in Japan, China, Germany, and the United States, and representation in more than 90 countries.
EIZO, the EIZO Logo, and RadiForce are registered trademarks of EIZO Corporation in Japan and other countries. All other company names, product names, and logos are trademarks or registered trademarks of their respective companies.