Press Releases
EIZO Expands Lineup of USB Type-C Monitors with WUXGA Resolution Model for the Workplace or Home Office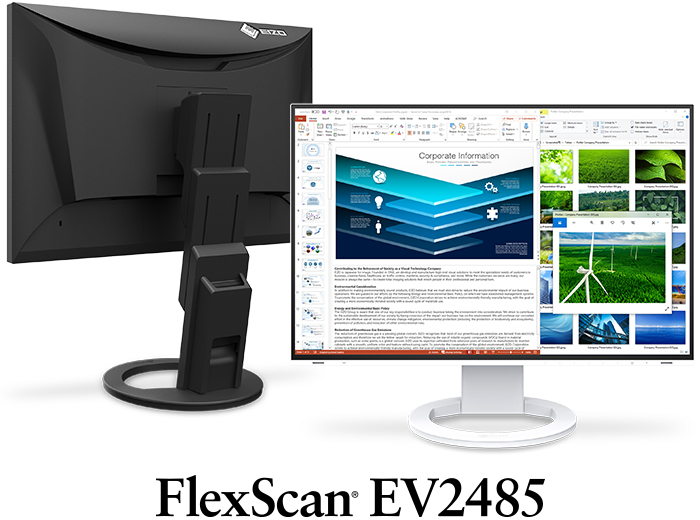 Hakusan, Japan, August 31, 2021 – EIZO Corporation (TSE: 6737) today announced the release of the 24.1-inch FlexScan EV2485 – a frameless WUXGA (1920 x 1200) IPS monitor equipped with a USB Type-C terminal for improving productivity and comfort at the workplace or home office.
The EV2485 is the sister model to the FlexScan EV2480 (1920 x 1080) and implements the same concept and features for productivity and comfort, but with an extended resolution of 1920 x 1200. This provides a solution for users to view web pages, documents, spreadsheets, and a range of business applications with minimal loss of screen real estate.
The monitor's 24.1-inch screen provides additional screen space when compared to only using a laptop screen, which contributes to improving efficiency by reducing the need to scroll or switch windows frequently. For example, when used together with a 14-inch laptop, users can effectively triple the screen space available to them.
The FlexScan EV2485 is equipped with a USB Type-C connection that allows users to display video, playback audio, transmit USB signals, and supply power to connected devices. This convenient multi-purpose connectivity makes it faster and easier to connect a laptop when moving between workstations or when working away from the office. It is also equipped with HDMI and DisplayPort inputs to provide users further flexibility.
Modern laptops are often limited in their connectivity options as a tradeoff for their enhanced portability. The EV2485's USB Type-C terminal provides users access to four USB Type-A ports for easily connecting peripherals such as an external keyboard, mouse, web camera, or storage device. In addition, the USB Type-C terminal delivers up to 70 watts for conveniently charging small desktop PCs and laptops, eliminating the need for an additional power supply unit.
Printing out work-related documents is less common in recent years due to increases in home offices, telecommuting, and security measures. To make reading digital documents more comfortable, Paper Mode reduces the amount of blue light emitted by the monitor, helping to prevent eye fatigue. When used in conjunction with the monitor's Auto EcoView dimming function, blue light is reduced by as much as 80%.
The EV2485 implements a virtually frameless design for a minimalistic aesthetic. In addition to sleek black, the cabinet is available in white for a color option that keeps the workspace feeling bright. Furthermore, EIZO provides cables to match the cabinet for full color coordination.
EIZO does not use paint or harmful chemicals in the EV2485's cabinet or stand. The monitor also made using recycled plastics and sustainable procured materials, boxed in recyclable packaging, and supported by a responsible after-service recycling system. These are part of EIZO's corporate efforts to maintain environmentally responsible business and manufacturing processes.
Additional Features
Eye care functions including flicker-free display and dimming range from 1 cd/m2
Versatile stand with height adjustment, tilt, swivel, and pivot
Five-year warranty and six-month no bright pixel guarantee
Availability
The FlexScan EV2485 will begin shipping in September 2021. The date of availability varies by country. Contact the EIZO group company or distributor in your country for more details.
Product Information
About EIZO
EIZO (TSE:6737), which means image in Japanese, is a visual technology company that develops and manufactures high-end visual solutions to enrich people in their professional and personal lives. EIZO offers total imaging solutions with a range of monitors, software, video capture, processing, and distribution solutions, cameras, and advanced integrated technologies to meet the specialized needs of customers in business, creative fields, healthcare, air traffic control, maritime, security & surveillance, and more. Headquartered in Hakusan, Japan, EIZO has R&D and manufacturing facilities in Japan, China, Germany, and the United States, and representation in more than 100 countries.
EIZO, the EIZO logo, and FlexScan are registered trademarks of EIZO Corporation in Japan and other countries. The terms HDMI and HDMI High-Definition Multimedia Interface, and the HDMI Logo are trademarks or registered trademarks of HDMI Licensing, LLC in the United States and other countries. USB Type-C is a registered trademark of USB Implementers Forum, Inc. All other company names, product names, and logos are trademarks or registered trademarks of their respective companies.