Press Releases
EIZO Adds New 23-Inch Model to Its Line of 10-Point Multitouch Monitors for Industrial, Medical, and Public Access Environments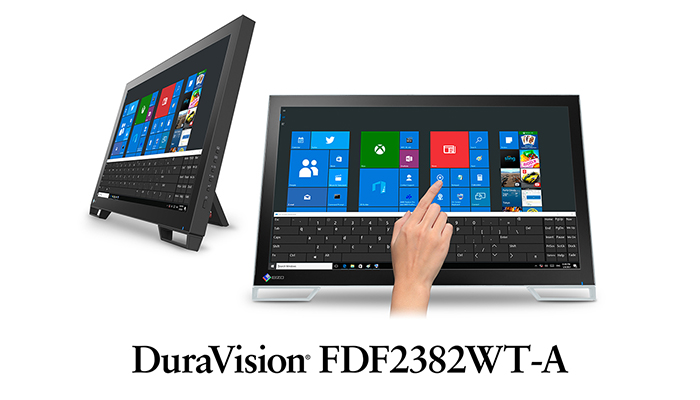 Hakusan, Japan, May 19, 2022 – EIZO Corporation (TSE: 6737) today announced the DuraVision FDF2382WT-A – a 23-inch multitouch monitor featuring projected capacitive (PCAP) touch technology for seamless operation in industrial, medical, and public access environments.
The DuraVision FDF2382WT-A joins EIZO's line of multitouch monitors – DuraVision FDF2182WT and FDF2121WT – offering the same innovative touch experience in a 23-inch variation with Full HD (1920 x 1080) resolution. The monitor accepts touch input from a bare finger or stylus and can detect up to 10 simultaneous touches. High responsiveness to tapping, swiping, and flicking motions makes touch operation intuitive and smooth.
The monitor is equipped with palm rejection which allows users to rest their hand directly on the screen without causing any unintended touch input. Furthermore, the DuraVision FDF2382WT-A is equipped with technology which calibrates the touch sensitivity to minimize incorrect touch response due to environmental factors and electromagnetic noise. This ensures that the screen maintains accurate touch interaction during use.
The fully flat design enables seamless touch operation across the screen and allows for easy cleaning. The reclining stand provides flexible positioning that allows the monitor to rest on the desk and recline back by 15 to 70 degrees. This makes it easy to place in the ideal position for comfortable use in any environment.
The DuraVision FDF2382WT-A's screen has a non-scratch surface made of reinforced glass with a hardness of 5H, making it durable for long-term use in environments which require frequent touch interaction, such as in kiosks or as part of a touch console in factories and other industrial applications. In addition, the monitor can withstand temperatures ranging from 5 - 35°C for reliable use in harsh environments.

Additional Features
DisplayPort, HDMI, and D-sub inputs
IPS panel with 178° viewing angles
Flicker-free
3-year manufacturer's warranty

Product Information
Availability
The DuraVision FDF2382WT-A will begin shipping in June 2022. The date of availability varies by country or region. Contact the nearest EIZO group company or distributor for more details.

About EIZO
EIZO (TSE:6737), which means image in Japanese, is a visual technology company that develops and manufactures high-end visual solutions to enrich people in their professional and personal lives. EIZO offers total imaging solutions with a range of monitors, software, video capture, processing, and distribution solutions, cameras, and advanced integrated technologies to meet the specialized needs of customers in business, creative fields, healthcare, air traffic control, maritime, security & surveillance, and more. Headquartered in Hakusan, Japan, EIZO has R&D and manufacturing facilities in Japan, China, Germany, and the United States, and representation in more than 100 countries.
EIZO, the EIZO logo, and DuraVision are registered trademarks of EIZO Corporation in Japan and other countries. The terms HDMI and HDMI High-Definition Multimedia Interface, and the HDMI Logo are trademarks or registered trademarks of HDMI Licensing, LLC in the United States and other countries. All other company names, product names, and logos are trademarks or registered trademarks of their respective owners.