Press Releases
EIZO Accelerates Sustainability Efforts by Transitioning to Cardboard and Molded Pulp Packaging for Several of Its Monitors
Hakusan, Japan, June 2, 2022 – EIZO Corporation (TSE: 6737) today announced that the company will begin to transition from using environmentally-unfriendly packaging materials, such as styrofoam and plastic, to more sustainable cardboard and molded pulp. A total of seven models from the RadiForce and FlexScan monitor lineups, including the most recently announced FlexScan monitors, utilize to the environmentally-friendly packaging.

In June 2021, EIZO released the medical monitor RadiForce RX370, which was the first of its products to use recycled molded pulp in its packaging instead of conventional recycled styrofoam or plastic. Following this product, FlexScan business monitors which are expected to be produced in high volumes will follow suit and utilize sustainable packing material – the latest models, FlexScan EV2781 and EV2490, as well as four earlier announced models: EV2795, EV2495, EV2485, and EV2480.

The processes needed to produce petroleum-derived polystyrene foam and plastics emit more CO2 compared to plant-derived paper materials. Based on EIZO's calculations of CO2 emissions, transitioning to sustainable packaging utilizing paper materials reduces related CO2 emissions by approximately 21% for the 27-inch EV2795, 4% for the 24.1-inch EV2495 and EV2485, and 6% for the 23.8-inch EV2480 compared to a conventional packing material.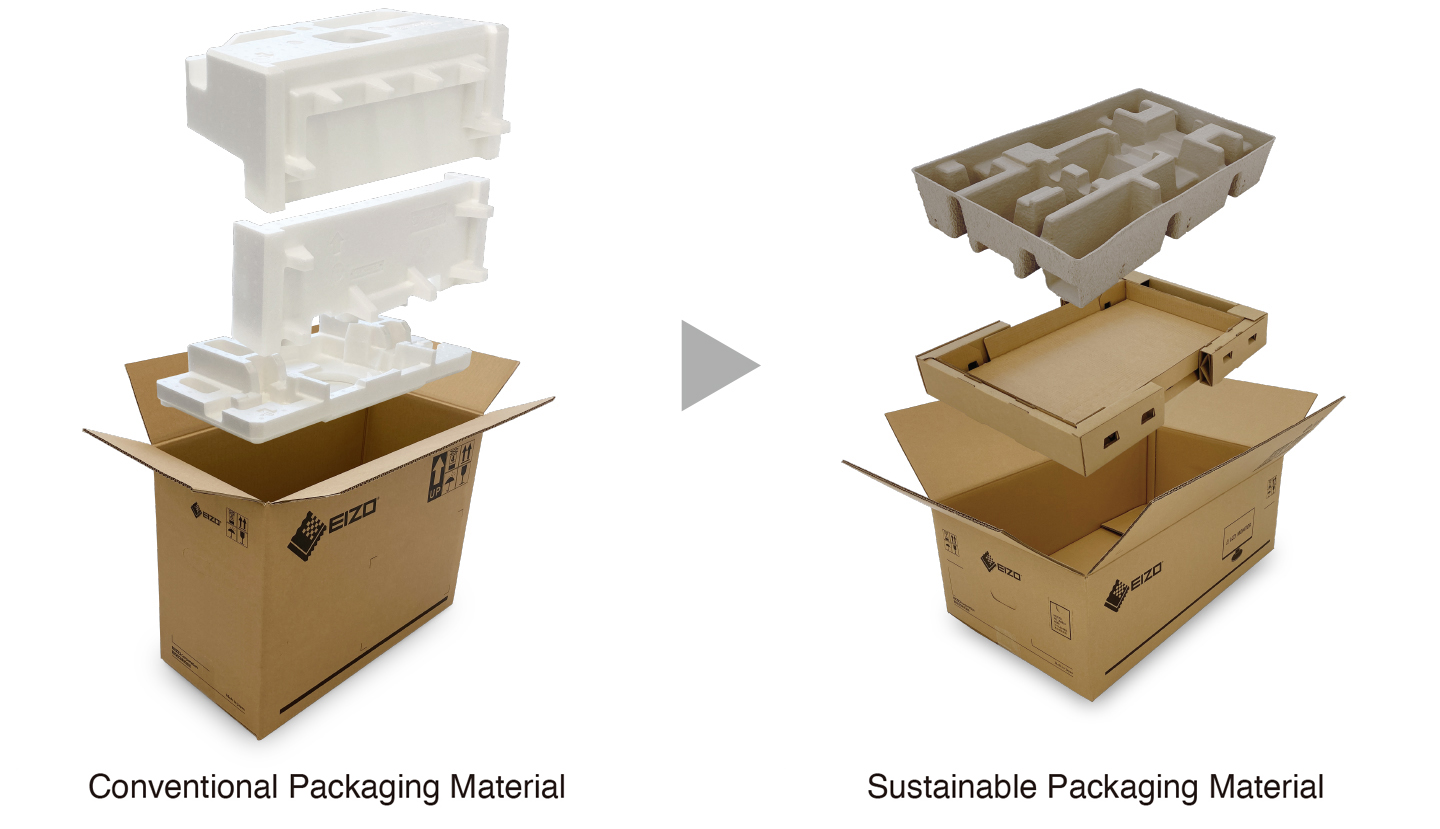 Some cables may be non-essential depending on the user's configuration. Each monitor includes an AC power cord and the most essential signal cables in an aim to reduce unused, excess cables and eliminate unnecessary waste. Furthermore, the cables are wrapped in environmentally-friendly pulp sheet instead of plastic bags.

The monitor cabinets also boast sustainability as part of their design. For example, the EV2485's housing is made of 66.6% recycled plastic. This cuts down on the amount of plastic waste going into the environment, conserves resources, and promotes reuse of materials for preserving the natural ecosystem.

Availability
The RadiForce RX370, FlexScan EV2781, and EV2490 have implemented sustainable packaging since their initial production. FlexScan EV2795, EV2495, EV2485, and EV2480 will transition to the new packaging for models produced from July 2022 onward. The date of availability may vary by country or region. Contact the nearest EIZO group company or distributor for details.

Related Information
About EIZO
EIZO (TSE:6737), which means image in Japanese, is a visual technology company that develops and manufactures high-end visual solutions to enrich people in their professional and personal lives. EIZO offers total imaging solutions with a range of monitors, software, video capture, processing, and distribution solutions, cameras, and advanced integrated technologies to meet the specialized needs of customers in business, creative fields, healthcare, air traffic control, maritime, security & surveillance, and more. Headquartered in Hakusan, Japan, EIZO has R&D and manufacturing facilities in Japan, China, Germany, and the United States, and representation in more than 100 countries.
EIZO, the EIZO logo, RadiForce, and FlexScan are registered trademarks of EIZO Corporation in Japan and other countries. All other company names, product names, and logos are trademarks or registered trademarks of their respective owners.