Press Releases
EIZO Releases 24.1-Inch Medical Monitor for Patient Chart Display and Diagnostic Image Review in Hospitals and Clinics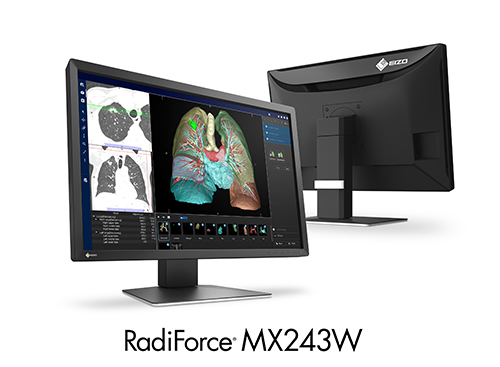 Hakusan, Japan, June 23, 2022 – EIZO Corporation (TSE: 6737) today announced the release of the RadiForce MX243W – a 24.1-inch 2.3 megapixel (1920 x 1200 pixels) monitor for displaying patient charts and reviewing diagnostic imaging in hospital and clinic environments.

Hospitals and clinics host a range of specialized environments, such as reading rooms, where high-precision monitors are used by radiologists for diagnosis. After interpretation, images are often shared with and accessed by doctors, physicians, and medical staff in other areas for purposes such as review and display alongside detailed patient records. The RadiForce MX243W is designed for displaying both medical charts and referencing medical images to ensure the most important information is accurately represented in different viewing environments.

EIZO carefully measures and sets each grayscale tone at the factory for compliance with DICOM® Part 14 so gradations remain consistent in monochrome medical images such as chest X-ray, CT, or MRI. The monitor also supports color display for reviewing images used in endoscopy, nuclear medicine, 3D rendering, and fusion imaging. This provides flexibility for displaying and reviewing data from various modalities.

The monitor also comes with EIZO's unique Hybrid Gamma PXL function which automatically distinguishes between monochrome and color images, pixel by pixel, creating a hybrid display. Monochrome pixels are displayed with the optimum DICOM Part 14 grayscale, while color pixels are displayed with the ideal Gamma 2.2 grayscale. In this way both color and monochrome images can be correctly displayed side by side on the same monitor.
Users can configure a multi-monitor setup using the DisplayPort connection to drive additional monitors in a daisy chain sequence. This provides streamlined viewing of multiple applications, such as patient charts and medical images, without excess cabling.

The RadiForce MX243W is the successor model to the MX242W. Compared to its predecessor, the monitor's width and depth are reduced by 23 mm and 45 mm respectively, taking up 24% less space to save room for other tasks. The MX243W implements the RadiForce line's latest design concept, featuring rounded corners and an elegantly curved back to present a gentle aesthetic and facilitate a comforting environment for patients and medical staff.

EIZO strives to be a leader in responsible business and manufacturing process to protect the environment for a more sustainable future. The RadiForce MX243W is made of approximately 19% recycled plastic. This mitigates on the amount of plastic waste going into the environment, conserves resources, and promotes reuse of materials for preserving the natural ecosystems.
In addition, EIZO is moving away from using plastic and styrofoam in its packaging to reduce environmental impact. In June 2021, EIZO released the medical monitor RadiForce RX370, which was the first of its products to use molded pulp made from recycled cardboard and newspaper in its packaging instead of conventional recycled styrofoam or plastic. Starting in April 2022, several FlexScan business monitors have followed suit, and now the new MX243W is also safely packed using molded pulp and cables are wrapped in environmentally friendly pulp sheet instead of plastic bags.

Availability
The RadiForce MX243W will begin shipping in July. The date of availability may vary by country or region. Contact the nearest EIZO group company or distributor for details.

Product Information
About EIZO
EIZO (TSE:6737), which means image in Japanese, is a visual technology company that develops and manufactures high-end visual solutions to enrich people in their professional and personal lives. EIZO offers total imaging solutions with a range of monitors, software, video capture, processing, and distribution solutions, cameras, and advanced integrated technologies to meet the specialized needs of customers in business, creative fields, healthcare, air traffic control, maritime, security & surveillance, and more. Headquartered in Hakusan, Japan, EIZO has R&D and manufacturing facilities in Japan, China, Germany, and the United States, and representation in more than 100 countries.
EIZO, the EIZO logo, RadiForce, and FlexScan are registered trademarks of EIZO Corporation in Japan and other countries. DICOM is the registered trademark of the National Electrical Manufacturers Association for its standards publications relating to digital communications of medical information. All other company names, product names, and logos are trademarks or registered trademarks of their respective owners.