Press Releases
EIZO Offers Collective Packaging for 11 FlexScan Models to Corporate Customers for Sustainability and Loading Efficiency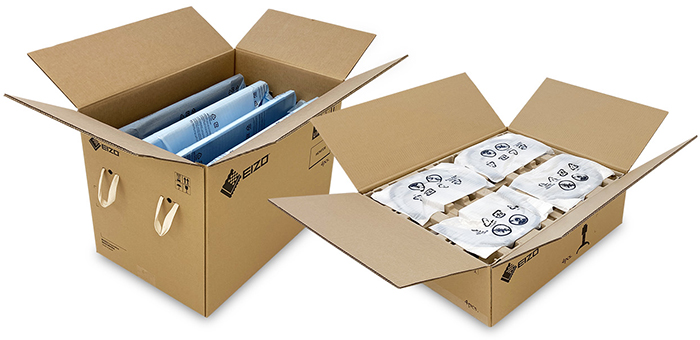 Hakusan, Japan, October 12, 2023 – EIZO Corporation (TSE: 6737) today announced that it will offer collective packaging for 11 of its FlexScan EV-Series business monitors as part of its sustainability efforts.

In 2018, EIZO began offering collective packaging for select FlexScan models to corporate customers with large installation projects. This option packages four monitors in a single box, reducing the overall packaging material used, improving loading efficiency during shipping, and streamlining unpacking and installation time. This gives corporate customers a more sustainable and streamlined option when deploying a mass installation.

To date, EIZO has delivered over 15,000 monitors in collective packaging worldwide. Now, EIZO has expanded the models that offer collective packaging to include 11 additional FlexScan EV-Series business monitors. In addition, collective packaging is offered for monitor stands, allowing four stands to be packaged in a single box. As part of EIZO's efforts to transition from plastic to more sustainable packaging materials, recycled pulp mold is used for cushioning instead of conventional recycled styrofoam.

Collective packaging reduces the space required in transport vehicles and the overall weight of the shipment for more efficient loading and transportation. For example, the 31.5-inch EV3240X monitor, which is the largest size monitor available with collective packaging, reduces overall package size by approximately 47% and package weight by approximately 40% compared to individual packaging for the same number of monitors.

As FlexScan EV-Series business monitors are often sold in large quantities to corporate customers, EIZO expects that offering collective packaging for more models will result in significant waste reduction and contribute to a more sustainable future.

Applicable Monitors
FlexScan Premium models: EV3240X, EV2740X, EV2795, EV2495, EV2490
FlexScan New Standard models: EV2781, EV2485, EV2480
FlexScan Basic models: EV2760, EV2460, EV2360

Availability
Collective packaging for FlexScan EV2460 and EV2360 is available from December 2023. Collective packaging for all other applicable models is available from January 2024. The date of availability may vary by country or region. Contact the nearest EIZO group company or distributor for details.

Related Information
Read more about EIZO FlexScan Sustainable Monitors

About EIZO
EIZO (TSE:6737), which means image in Japanese, is a visual technology company that develops and manufactures high-end visual solutions to enrich people in their professional and personal lives. EIZO offers total imaging solutions with a range of monitors, software, video capture, processing, and distribution solutions, cameras, and advanced integrated technologies to meet the specialized needs of customers in business, creative fields, healthcare, air traffic control, maritime, security & surveillance, and more. Headquartered in Hakusan, Japan, EIZO has R&D and manufacturing facilities in Japan, China, Germany, and the United States, and representation in more than 120 countries.

EIZO, the EIZO logo, and FlexScan are registered trademarks of EIZO Corporation in Japan and other countries. All other company names, product names, and logos are trademarks or registered trademarks of their respective owners.