Press Releases
EIZO SMD 19102 DL Monitor Reduces Radiation Exposure from Legacy Radiography Systems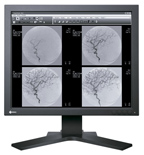 Karlsruhe, Germany, November 7, 2011 – EIZO GmbH presents the SMD 19102 DL, a grayscale monitor with a Last Image Hold (LIH) function. This 1 megapixel monitor is specially designed for connecting to legacy radiography systems that do not have an LIH function. This function reduces radiation exposure for patients and radiologists.
The SMD 19102 DL grayscale monitor features a 1280 x 1024 pixel native resolution and 19 inch screen in classic 5:4 format. The integrated LIH function saves the last image displayed in internal image memory. After the radiographic exposure, the X-ray tube can be switched off and the still image evaluated. This represents a significant reduction in radiation exposure for the patient and physician, and allows for more time to view individual exposures.
By upgrading legacy systems with this monitor, the purchase of an expensive external image memory is unnecessary because the monitor performs the LIH function. Through an additional switching output, other devices such as a printer or recorder can be controlled as well.
The SMD 19102 DL can process various digital and analog input signals and therefore can be connected to new and legacy systems alike. Various tonal value curves are stored in the monitor at the factory, enabling image rendition that is both DICOM/CIE compliant and adapted to the medical practice. The monitor also has a Force Mode function so it can be adapted to the very complex timing of legacy systems.
Availability
The SMD 19102 DL is already in production. Availability varies by country so please contact the EIZO subsidiary or distributor in your country for details. Visitors to Medica 2011 in Düsseldorf, Germany will be able to see the new product for the first time in the EIZO booth, Hall 10, #G41.
Valid Regulations and Ordinances
In Germany, the X-ray ordinance (Röntgenverordnung) has mandated the use of the Last Image Hold Function since March 1, 2011, even for legacy systems. In the USA, the Food and Drug Administration (FDA) regulates the use of LIH in Document 21CFR1020.32(j). The Nuclear Regulatory Commission regulates the permissible radiation dose in Federal Regulation 10CFR20.1301.
About EIZO GmbH
EIZO GmbH, Display Technologies is based in Karlsruhe, Germany and is a leading manufacturer of visual display solutions for medical imaging applications. The company portfolio includes color and grayscale monitors of 1 to 10 megapixels, image management systems, and accessories. EIZO GmbH is a subsidiary of Eizo Nanao Corporation, a global leader in the manufacture of high end monitors for medical and graphic design applications, financial trading, and other markets.
For more information, please contact:
EIZO GmbH
Display Technologies
Siemensallee 84
76187 Karlsruhe
Germany
Phone: +49 721 20321-0
Fax: +49 721 20321-474
http://www.eizo.eu
dt-contact@eizo.com
EIZO and RadiForce are registered trademarks of the Eizo Nanao Corporation.