Press Releases
EIZO Introduces Next Generation of 24.1" Graphics Monitors with Sleek Cabinet Design for Aspiring and Professional Creatives
Hakusan, Japan, February 16, 2016 – EIZO Corporation (TSE: 6737) today announced the release of the ColorEdge CG2420 and CS2420, two 24.1-inch monitors with 1920 x 1200 resolution for use in various creative industries.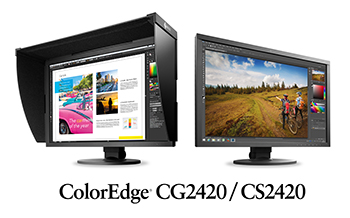 Both the monitors feature a sleek new cabinet design with slim bezels which are 39% smaller than their predecessors'. A carrying handle is built-in for easily moving the monitor between locations or within the studio. The flat design uses electrostatic switches on the front bezel in place of traditional buttons for seamless access to monitor settings. The switches light up using an LED for viewing in dimly-lit work environments.
The ColorEdge CG2420 is the professional-level model for use in photography, design, print, and post production. It features a built-in self-calibration sensor for hassle-free monitor maintenance that ensures optimal color reproduction and image consistency throughout the creative workflow. The ColorEdge CS2420 includes many of the advanced features of EIZO's ColorEdge lineup while meeting the varying needs and budgets of hobbyists and prosumers that want to create, edit, and enjoy photography, illustration, and more.
EIZO bundles its proprietary ColorNavigator 6 software with both monitors for users that require a wide variety of calibration functionality. Users can select preset target values for photography, printing, and web design or set their own target values for brightness, gamma, and white point and generate an ICC profile. Because ColorNavigator 6 is proprietary software, EIZO has ensured it is compatible with a wide range of calibration devices from X-Rite, Datacolor, and other manufacturers1.
The ColorEdge CG2420 and CS2420 feature a wide-gamut IPS (in-plane-switching) panel with a 1920 x 1200 native resolution. The wide gamut ensures 99% Adobe RGB coverage so photos of vibrant blue skies and lush green forests are reproduced faithfully in a way that monitors limited to the sRGB color space cannot display. The ColorEdge CG2420's panel also covers 98% of the DCI-P3 color space used in post-production.
Both monitors are backed by a five-year manufacturer's warranty including the LCD panel2. This is at least two years more than the warranty of most monitors to ensure a long service life and low total cost of ownership.
Shared Additional Features
Smooth gradations with 10-bit display from a 16-bit LUT (look-up-table)3
DisplayPort, HDMI, and DVI input terminals
3-port USB hub including 1 USB battery charge port
Ergonomic stand that offers height, tilt, and swivel adjustments
ColorEdge CG2420 Additional Features
High contrast ratio of 1500:1
Delta-E difference of 3 or less across the screen with EIZO's DUE (digital uniformity equalizer) technology
Brightness, chromaticity, and tone characteristics stabilize in just 3 minutes
Quickly attachable and removable shading hood
Supports ColorNavigator NX and ColorNavigator Network quality control software
ColorEdge CS2420
High contrast ratio of 1000:1
Shading hood optional

Availability
The ColorEdge CG2420 and CS2420 will be shipping from February. Date of availability varies by country so contact the EIZO group company or distributor in your country for details.
About EIZO
EIZO (TSE:6737), which means image in Japanese, is a visual technology company that develops and manufactures high-end display solutions. EIZO integrates hardware and software technologies with consulting, web hosting, and other services to help customers in business, graphics, gaming, medicine, maritime, air traffic control, and other fields work more comfortably, efficiently, and creatively. Headquartered in Hakusan, Japan, EIZO has R&D and manufacturing facilities in Japan, China, Germany, and the US, and representation in more than 80 countries.
Click for a complete listing of compatible calibration devices

1 Click for a complete listing of compatible calibration devices
2 The usage time is limited to 30,000 hours.
3 A graphics board and software which support 10-bit output are also necessary for 10-bit display.


All product names are trademarks or registered trademarks of their respective companies. EIZO and ColorEdge are registered trademarks of EIZO Corporation.