Press Releases
EIZO ColorEdge CG318-4K Wins NewBay Media's Best of Show Award at NAB 2015
Hakusan, Japan, April 23, 2015 – EIZO Corporation (EIZO) today announced that its ColorEdge CG318-4K monitor received the NewBay Media Best of Show Award, presented at the 2015 NAB Show in Las Vegas by Digital Video magazine.
NewBay Media's Best of Show Awards are evaluated by a panel of engineers and industry experts, and are selected based on innovation, feature set, cost efficiency and performance in serving the industry.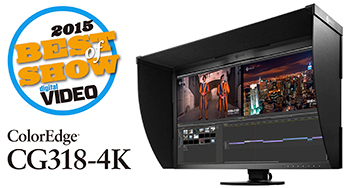 The ColorEdge CG318-4K is a self-calibrating DCI 4K monitor for 2D and 3D CGI, visual effects, compositing, and color grading. It is ideal for both editing and reference work and comes with several preset modes including DCI, EBU, Rec.709, and SMPTE-C. It also integrates 3D LUT data from Imagica for working with Rec. 2020 content.
NewBay Media cited the ColorEdge CG318-4K as notable for its design, features, cost efficiency and performance in serving professional users.
"Recognition with an award at the NAB Show from NewBay Media's Broadcast & Video Group is a strong vote of confidence and admiration from our leading industry publications," said NewBay Media Broadcast & Video Group Vice President & Group Publisher Eric Trabb.
Product Information
About EIZO
EIZO (TSE:6737), which means image in Japanese, is a visual technology company that develops and manufactures high-end display solutions. EIZO integrates hardware and software technologies with consulting, web hosting, and other services to help customers in business, graphics, gaming, medicine, maritime, air traffic control, and other fields work more comfortably, efficiently, and creatively. Headquartered in Hakusan, Japan, EIZO has R&D and manufacturing facilities in Japan, China, Germany, and the US, and representation in more than 70 countries. For more information, please visit www.eizoglobal.com.

For more information, please contact:
EIZO Corporation
153 Shimokashiwano
Hakusan, Ishikawa 924-8566
Japan
Phone: +81 76 277-6792
www.eizoglobal.com

All product names are trademarks or registered trademarks of their respective companies. EIZO and Raptor are registered trademarks of EIZO Corporation.