Press Releases
EIZO Releases 31.1" DCI-4K Monitor with HDR Gamma Support for Media and Entertainment
Hakusan, Japan, April 5, 2018 – EIZO Corporation (TSE: 6737) today announced the new ColorEdge CG319X – a 31.1-inch monitor with DCI-4K resolution (4096 x 2160) and HDR gamma support for the professional post production workflow. It is the successor model to the CG318-4K with several upgraded features.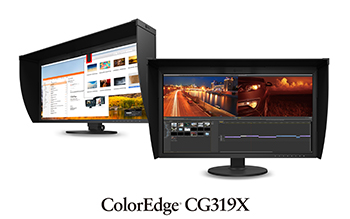 Distinguishing it from its predecessor, the ColorEdge CG319X comes equipped with HLG (hybrid log-gamma) and the PQ (perceptual quantization) curve for displaying and editing HDR (high dynamic range) video content. The optimized gamma curves render images to appear more true to how the human eye perceives the real world compared to SDR (standard dynamic range). Having a monitor equipped with HDR gamma support ensures professional creators can reliably display HDR content during the editing process so it is ready for color grading at the end of the workflow.
ColorEdge CG319X is equipped with an upgraded built-in calibration sensor, which allows the user to continue to operate the monitor even during recalibration. The sensor swings onto the screen at a time designated by the user and takes up minimal space so work remains uninterrupted.1 A built-in sensor eliminates the need for a third-party calibration device and ensures the screen stays color-accurate.
The monitor's wide color gamut reproduces 98% of the DCI-P3 color space used in the media and entertainment industry. In compliance with the DCI standard, the ColorEdge CG319X offers a high contrast ratio of 1500:1 for producing true blacks that are otherwise difficult to display on a typical LCD monitor. In addition, it is equipped with a retardation film which allows tones to retain their depth even when viewed from an angle.
The color and brightness of an LCD monitor can be affected by changes in ambient temperature of the monitor itself. The ColorEdge CG319X is equipped with an internal temperature sensor which detects those changes and adjusts the monitor so gradations, color, brightness, and other characteristics continue to be displayed accurately. The algorithm used in the AI (artificial intelligence) 2 of the monitor allows it to perform this temperature detection and adjustment even at high brightness levels for providing a truly accurate viewing environment. In addition, EIZO's patented digital uniformity equalizer (DUE) technology also counterbalances the influences that a fluctuating temperature may have on color temperature and brightness for stable image display across the entire screen. The monitor also provides noiseless, fanless operation while still maintaining low heat output without impacting performance.
Additional Features
3D LUT for individual color adjustment on an RGB cubic table
10-bit simultaneous display from a 24-bit LUT for smooth color gradations 3
DCI-4K resolution at 60 Hz via DisplayPort 1.2 or HDMI input
Broadcast and cinema preset modes: EBU, Rec. 2020, Rec. 709, SMPTE-C, DCI, PQ, and HLG
Two DisplayPort and two HDMI inputs
Ergonomic stand which meets IEC/EN 62368-1
Light-shielding hood included
5-year manufacturer's warranty 4
EIZO will be showing the ColorEdge CG319X for the first time at the NAB Show 2018 in Las Vegas, USA from April 9 – 12. Visit Booth SL15713 to see the product.
Product Information
Availability
The ColorEdge CG319X will begin shipping in May, 2018. Date of availability varies by country so contact the EIZO group company or distributor in your country for details.
About EIZO
EIZO (TSE:6737), which means image in Japanese, is a visual technology company that develops and manufactures high-end display solutions. EIZO integrates hardware and software technologies with consulting, web hosting, and other services to help customers in business, graphics, gaming, medicine, maritime, air traffic control, and other fields work more comfortably, efficiently, and creatively. Headquartered in Hakusan, Japan, EIZO has R&D and manufacturing facilities in Japan, China, Germany, and the US, and representation in more than 80 countries. For more information, please visit www.eizoglobal.com.
1 It is not recommended to carry out color critical work during recalibration as the screen's colors will adjust during this process.
2 Patent pending.
3 A graphics board and software which support 10-bit output are also necessary for 10-bit display.
4 Usage time is limited to 30,000 hours.
All product names are trademarks or registered trademarks of their respective companies. EIZO and ColorEdge are registered trademarks of EIZO Corporation.