Press Releases
EIZO's ColorEdge Ambassador Program Grows to 31 Members from 17 Countries
Hakusan, Japan, March 30, 2017 – EIZO Corporation (TSE: 6737) today announced the addition of 6 Ambassadors to its ColorEdge Ambassador Program, bringing the program's membership to a total of 31 creatives from 17 countries since its launch in November 2015.
The ColorEdge Ambassador Program is a global collaboration that showcases professional creatives in a wide range of fields who use ColorEdge color management monitors as an integral part of their workflow. The Ambassadors – photographers, retouchers, filmmakers, and printers – are passionately dedicated to their craft and work closely with EIZO to provide informative and inspirational content for the graphics community on a global scale.
The newest additions to EIZO's ColorEdge Ambassador Program are six internationally-known creatives: post-production experts Azin Samarmand (UAE) and Paolo Baccolo (Italy), landscape photographer and filmmaker Stefan Forster (Switzerland), architecture photographer Omar Al Zaabi (UAE), and wildlife photographers Ahmed Al-Kassim (Saudi Arabia) and Marsel van Oosten (Netherlands). Each Ambassador has an individual profile on EIZO's dedicated ColorEdge Ambassador Program webpage which includes the Ambassador's bio, gallery of works, and experiences with their ColorEdge monitors.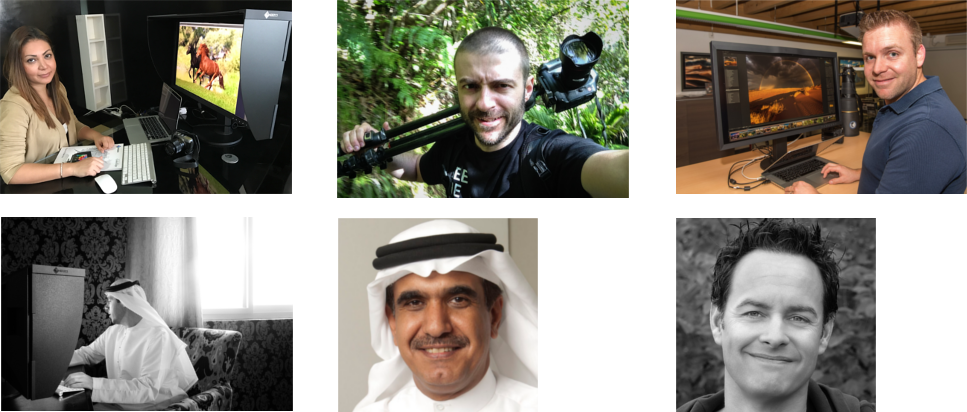 (left to right, top to bottom) Ambassadors Azin Samarmand, Paolo Baccolo, Stefan Forster, Omar Al Zaabi, Ahmed Al-Kassim, and Marsel van Oosten.
The ColorEdge series is EIZO's line of color management monitors for both professionals and aspiring creatives. Most ColorEdge monitors feature a built-in calibration or correction sensor and are supported by EIZO's own ColorNavigator 6 software to deliver predictable color results through hardware calibration and ease of use through completely automated screen adjustment.
ColorEdge Ambassador website: www.eizoglobal.com/i/ambassadors/
About EIZO
EIZO (TSE:6737), which means image in Japanese, is a visual technology company that develops and manufactures high-end display solutions. EIZO integrates hardware and software technologies with consulting, web hosting, and other services to help customers in business, graphics, gaming, medicine, maritime, air traffic control, and other fields work more comfortably, efficiently, and creatively. Headquartered in Hakusan, Japan, EIZO has R&D and manufacturing facilities in Japan, China, Germany, and the US, and representation in more than 80 countries.
All product names are trademarks or registered trademarks of their respective companies. EIZO and ColorEdge are registered trademarks of EIZO Corporation.