Press Releases
EIZO Releases 23" Full HD Monitor with 120 Hz Refresh Rate for Security and Surveillance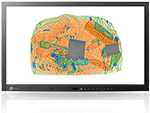 Wolfratshausen, Germany, March 7, 2013 – EIZO Technologies GmbH (EIZO) announced the release of the DuraVision DV2324-008, a 23-inch full HD monitor designed for security and surveillance.

The DV2324-008 offers superb image quality for security and surveillance applications where moving pictures need to be displayed clearly and sharply for precise observation. With a refresh rate of 120 Hz, the monitor is ideal for screening baggage or freight and cargo in security environments. 120 Hz capability allows moving pictures displayed on the screen to be examined much more efficiently without needing to constantly stop and restart conveyors often used with scanning equipment.

The monitor offers a 1920 x 1080 native resolution and can be viewed from a variety of positions with 170° horizontal and 160° vertical viewing angles. Non-native resolutions can be displayed in their actual size, scaled proportionately, or expanded to fill the screen. The maximum brightness and contrast ratio are 350 cd/m² and 1000:1 respectively. A VESA 100 adapter is included so the monitor can be mounted on a swivel arm or stand.

The DuraVision DV2324-008 comes with an HDMI interface, DVI-I (RGB analog + TMDS) and an additional analog 15 pin HD D-Sub input for connection to a computer. It also includes a CVBS composite (BNC) input for connection to video surveillance equipment such as closed-circuit televisions (CCTV), security cameras, and scanning equipment. The composite input supports NTSC, PAL, and SECAM signals.
About EIZO
EIZO is a leading global manufacturer of high-end visual display products. The image quality, long-term reliability, and innovative features of EIZO monitors make them the products of choice in many financial trading rooms, back offices, hospitals, air traffic control centers, and design studios throughout the world. Founded in 1968, EIZO is represented in over sixty countries by a network of subsidiaries and exclusive distributors.
For more information, please contact:
EIZO Technologies GmbH
Buergermeister-Seidl-Strasse 8
82515 Wolfratshausen
Germany
Phone: +49 (0) 8171 3492-0
Fax: +49 (0) 8171 3492-16
www.eizo.com
info@eizo-tech.com