Press Releases
EIZO Announces its Collaboration with SpectraCal to Provide Calibration and Direct-Load 3D LUT Support on ColorEdge Monitors
Cypress, CA, February 5, 2014 – EIZO Inc. announced the support of a new calibration technology within SpectraCal's CalMAN software for calibrating and loading 3D LUTs to EIZO's ColorEdge monitors.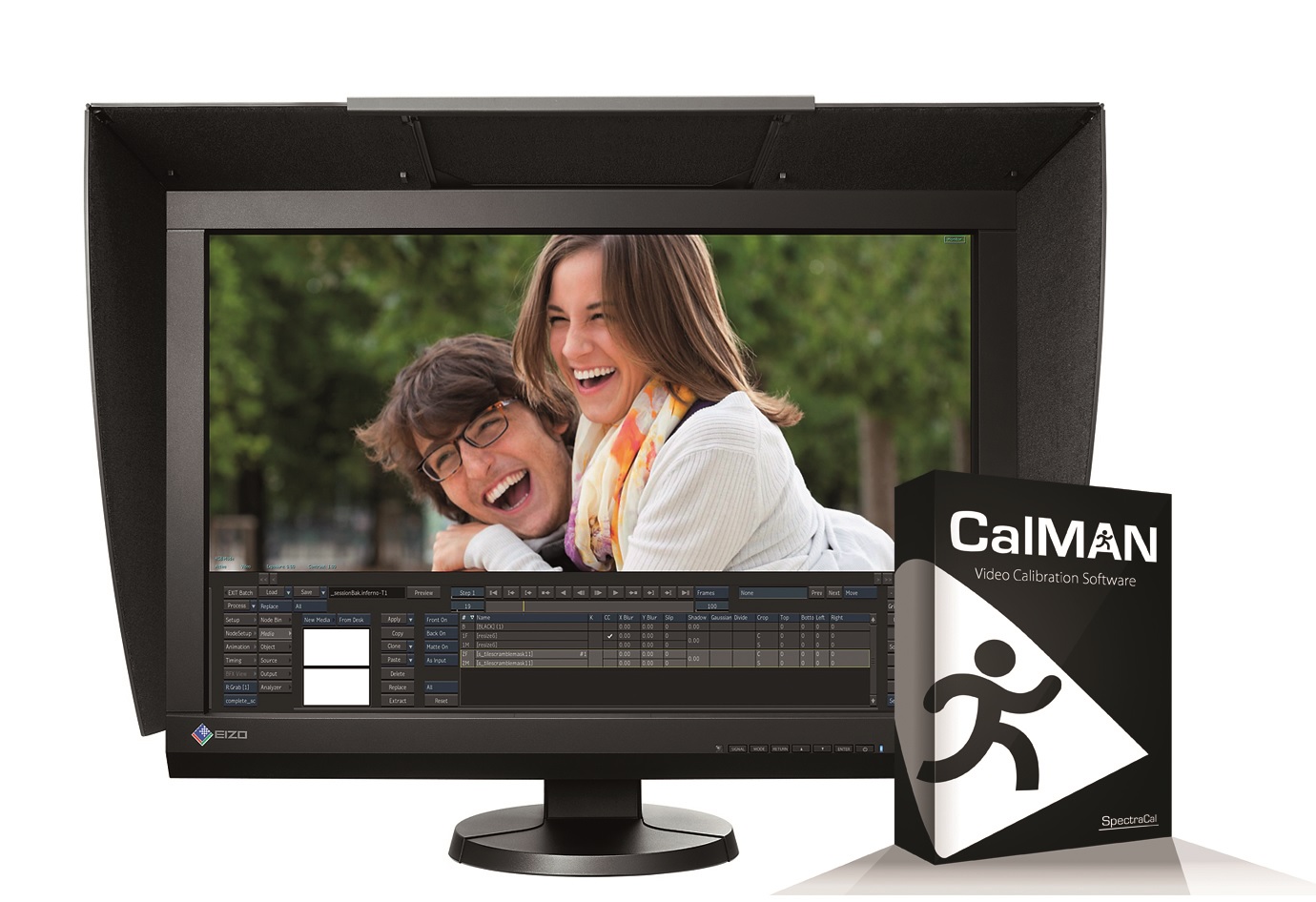 With CalMAN's new support for the ColorEdge monitors, the latest version of their software can be used for both monitor calibration and 3D LUT (three-dimensional look up table) creation.
The EIZO ColorEdge monitors with built-in colorimeters also act as a pattern generator for CalMAN.
"Because EIZO supplies all the hardware, CalMAN 5.3 is literally all you need for an effective calibration solution," explained SpectraCal's Director of Marketing, Joshua Quain.
"It's the wave of the future," added Derek Smith, SpectraCal Founder and Chief Technical Officer.
EIZO ColorEdge Monitors are the first monitors for what CalMAN is calling "direct-load 3D LUTs" – wherein 3D LUT calibrations are written directly to the device, eliminating the need for intermediary software. This new capability within CalMAN for loading LUT calibrations directly to the connected monitor is the first of its kind. No other calibration software is yet able to communicate with connected devices in this way.
EIZO and SpectraCal partnered to develop CalMAN's new capabilities. Hiroshi Nagai, EIZO's Global Product Manager, complimented SpectraCal on the new technology: "We're pleased to see SpectraCal bringing the power of their software to our monitors. We saw the need in the market for a joint solution that makes it easier for a user to keep their colors accurate and consistent on video applications."
Support for EIZO ColorEdge monitors is available with version 5.3 of CalMAN Studio and is available for download from SpectraCal's website:
http://studio.spectracal.com/calman-studio-software
Product Information
About EIZO
Founded in 1968, EIZO Corporation is a leading global manufacturer of high-end visual display products. The image quality, long-term reliability, and innovative features of EIZO monitors make them the products of choice in many financial trading rooms, back offices, hospitals, air traffic control centers, design studios, and eSports organizations throughout the world. EIZO is based in Japan and listed on the first section of the Tokyo Stock Exchange. It is represented in over 70 countries and regions by a network of group companies and exclusive distributors.
About SpectraCal
SpectraCal is the worldwide leader in image fidelity solutions. SpectraCal provides everything needed for calibrating video displays in broadcast, production, post-production, commercial A/V, home theater, and industry. SpectraCal's flagship product CalMAN is the mostly widely used video calibration software in the world. Please visit www.spectracal.com for more information.
Availability
CalMAN with EIZO monitor support is now available from version 5.3 and moving forward. CalMAN on EIZO monitors will be on display for the first time at NAB 2014, April 7-10 in Las Vegas in the SpectraCal Booth # SL14516.
For more information, please contact:
EIZO Inc.
5710 Warland Dr.
Cypress, CA 90630
USA
Phone: (562) 431-5011 x. 140
Fax: (562) 431-4811
www.eizo.com
All product names are trademarks or registered trademarks of their respective companies. EIZO and ColorEdge are registered trademarks of EIZO Corporation.