Press Releases
EIZO Helps Businesses Go Green with LED-Backlit 23" Monitors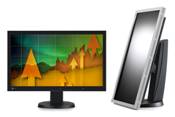 Hakusan, Japan, September 6, 2011– Eizo Nanao Corporation (TSE: 6737) today introduced two 23-inch full HD (1920 x 1080 native resolution) monitors for trading rooms, back offices, and other business environments, the FlexScan EV2335W and FlexScan EV2315W.
These models are the latest in EIZO's "EcoView" line of ecological, ergonomic and energy-efficient monitors. They both feature white LED backlights which are mercury free and reduce power consumption to just 16 watts during typical use.
The FlexScan EV2335W uses an IPS (in-plane switching) panel with 178° horizontal and vertical viewing angles. This makes it ideal for trading floors and other multi-monitor environments where the screen is often viewed from an acute angle. The FlexScan EV2335W has an overdrive circuit for a gray-to-gray response time of 6 ms to ensure real-time stock data and on-line videos are displayed without blurring or ghosting.
The FlexScan EV2315W comes with a TN (twisted neumatic) panel with 170° horizontal and 160° vertical viewing angles and is ideal for back office environments. For viewing environments where the monitor is placed above eye level, an "Up View" function minimizes any washing out of colors that may occur when looking up to view the screen.
Both monitors have 250 cd/m2 brightness, 1000:1 contrast ratio, and D-Sub and DVI-D for analog and digital connectivity. The FlexScan EV2335W also comes with a DisplayPort input for support for this increasingly popular digital display interface.
Two original EIZO features are included to obtain the optimal screen brightness for both monitors. Auto EcoView measures the ambient brightness and automatically adjusts the screen's brightness accordingly. A new function EIZO is introducing for the first time called EcoView Optimizer tempers changes in the white level (brightness) of the displayed contents by further adjusting the screen's brightness accordingly. These two features together trim power usage while reducing eye fatigue that would otherwise result from a screen that is too bright or too dark.
A preset called "Paper" mode simulates the look of printed paper and helps prevent eyestrain when reading documents. In addition, a function called "EyeCare Filter" that is available with the bundled ScreenManager Pro for LCD (DDC/CI) utility software1 software offers several filter patterns that resemble different types of paper. By adjusting the monitors' brightness and contrast the density of the filter patterns can be set to the level preferred by the user.
Other preset modes are sRGB, Movie, and two modes with user adjustable settings. With the bundled ScreenManager Pro software, any preset mode can be assigned to an application so that when the application is opened, the screen automatically changes to its assigned mode. This software can also be used for adjusting the monitor's color settings with the mouse or keyboard instead of the on-screen display menu.
For viewing comfort, EIZO has outfitted both models with an ergonomic stand it designed in house. The stand features 165 mm height adjustment, 30° tilt, and 344° swivel. The screen can also be rotated 90° for portrait mode viewing.
Additional Features
0.5 watt internal speaker and a headphone jack.
Zero watts of power consumed when the main power switch is off.
EcoView Index gauge that encourages environmental consciousness by indicating power savings accrued from using Auto EcoView.
Energy Star 5.1 and TCO Displays 5.1 compliance.
CAvailable with an all-black cabinet and stand or a gray and black combination.
Five-year manufacturer's limited warranty2.
Availability
The FlexScan EV2335W and FlexScan EV2315W are now shipping. Date of availability varies by country so contact the EIZO subsidiary or distributor in your country for details.
ScreenManager Pro for LCD (DDC/CI) can only be used with the Microsoft Windows 7/Vista operating systems
The usage time is limited to 30,000 hours and the warranty period of the LCD panel is limited to three years from the date of purchase.
All product names are trademarks or registered trademarks of their respective companies. EcoView NET is a trademark, and EIZO and FlexScan are registered trademarks of Eizo Nanao Corporation.