Press Releases
EIZO Releases 27" World's First Fully-Flat Bezel-Less Monitor
Hakusan, Japan, September 1, 2015 – EIZO Corporation (TSE: 6737) today announced the release of the FlexScan EV2750, a 27-inch IPS monitor with an LCD screen that is flush with the minimalist frame that surrounds it for a fully flat surface. The FlexScan EV2750 features picture-by-picture capability and numerous ergonomic and energy-saving features that make it ideal for business environments such as trading rooms, control rooms, and back offices.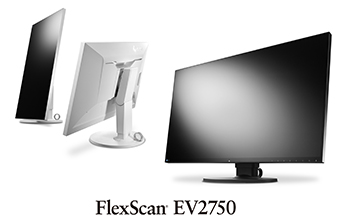 The cabinet is essentially bezel-less on the sides and top with a frame that is just 1 mm in width. The LCD panel's perimeter has black borders of 5.5 mm. The depth of the cabinet is a mere 48.5 mm. This minimalist design combined with a fully-flat surface makes for a seamless visual experience. Furthermore, the cabinet is available in white to blend in with modern desktop and office environments (black also available).
The 27" screen uses an LED-backlit IPS (in-plane switching) LCD panel with a native resolution of 2560 x 1440. Its 178° viewing angle minimizes color shift. The typical brightness is 350 cd/m2 and the contrast ratio is 1000:1.
The FlexScan EV2750 has an ergonomic stand with 155 mm height adjustment, 40° tilt (5° down, 35° up), and 344° swivel. It pivots 90° clockwise and counter-clockwise to take advantage of the ultra-slim bezels when using two or more monitors side-by-side in portrait mode. A quick-release button allows for easy removal of the monitor from the stand for reconfiguration on a VESA-compatible mounting device.
One DisplayPort, HDMI, and DVI-D input terminals are included for connection to various graphics boards. With picture-by-picture, content from two inputs can be displayed at once.
The brightness dimming methods of conventional LED-backlit monitors cause many people to see flicker which results in eye fatigue. EIZO uses a hybrid dimming technology that makes flicker unperceivable even at low brightness levels. Furthermore, in dimly-lit work environments, brightness is adjustable to 1 cd/m2 which is less than 1% of the maximum.
EIZO's incorporates its own EcoView technologies to reduce typical power consumption to 22 watts. Auto EcoView automatically adjusts the screen's brightness in accordance with the ambient brightness to trim power usage while reducing eye fatigue. EIZO has upgraded Auto EcoView so that it takes into account the human eye's sensitivity to changes in low brightness levels up to 100 cd/m2 and renders these changes less noticeable for more comfortable viewing.
EcoView Optimizer 2 saves power by reducing the backlight brightness and increasing the gain on screens consisting mostly of dark content.
EIZO backs the FlexScan EV2750 with its industry-leading five-year warranty to reduce total cost of ownership and ensure a long service life. The monitor is also guaranteed against bright pixels for six months from the purchase date.1
EIZO-developed software2 called ScreenManager Pro lets users adjust color and EcoView settings with the mouse and keyboard instead of the on-screen display menu. It also works with EIZO's EcoView NET power management software which lets network administrators control the brightness and power settings of all compliant monitors.
Six preset modes are included – sRGB, Movie, Paper, DICOM, and two modes with user-adjustable settings. Paper mode reduces the amount of blue light to help prevent eye fatigue.
Additional Features
USB 3.0 hub with one upstream and two downstream ports.
Dual 1-watt internal speakers and a headphone jack.
Overdrive circuit with 5 ms gray-to-gray response time for smooth display of moving images.
Energy Star 6.0 and TCO Certified Displays 6.0 compliance.
Product Information
Availability
The FlexScan EV2750 is now shipping. Date of availability varies by country so contact the EIZO subsidiary or distributor in your country for details.
About EIZO
EIZO, which means image in Japanese, is a visual technology company that develops and manufactures high-end display solutions. EIZO integrates hardware and software technologies with consulting, web hosting, and other services to help customers in business, graphics, gaming, medicine, maritime, air traffic control, and other fields work more comfortably, efficiently, and creatively. Headquartered in Hakusan, Japan, EIZO has R&D and manufacturing facilities in Japan, China, Germany, and the US, and representation in more than 80 countries.
For more information, please contact:
EIZO Corporation
153 Shimokashiwano
Hakusan, Ishikawa 924-8566
Japan
Phone: +81 76 277-6792
www.eizoglobal.com
# # #
1 Ambient illuminance must be more than 500 lux (typical office environment) and viewing distance more than 35 cm.
2 ScreenManager Pro is compatible with Microsoft Windows 10, 8.1, 8, 7, and Vista.
All product names are trademarks or registered trademarks of their respective companies. EIZO, FlexScan, and ScreenManager are registered trademarks of EIZO Corporation.