Press Releases
EIZO Releases EX3 External Calibration Sensor for Maintaining Color Accuracy with ColorEdge Monitors
Hakusan, Japan, July 07, 2015 – EIZO Corporation (TSE: 6737) today announced the EX3 calibration sensor for use with ColorEdge CS and CX series monitors.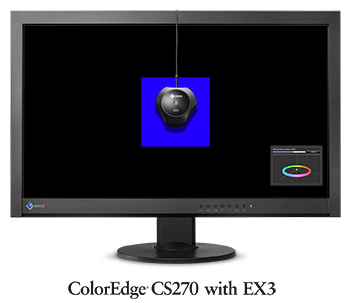 The EX3 sensor is the successor to the EX2 and can be used with EIZO's proprietary ColorNavigator 6 and ColorNavigator NX calibration software*. With ColorNavigator 6, preset target values for photography, print, and web design are included for individual users looking for a simple way to calibrate ColorEdge monitors. Experienced users can set their own target values for brightness, gamma, and white point, and generate an ICC profile. ColorNavigator NX is for organizations that want to centralize quality control of their monitors and covers calibration, film emulation, built-in sensor correlation, and color mode setting.
For more information on ColorNavigator 6 and ColorNavigator NX, visit these pages.
ColorNavigator 6
ColorNavigator NX
Product Information
About EIZO
EIZO (TSE:6737), which means image in Japanese, is a visual technology company that develops and manufactures high-end display solutions. EIZO integrates hardware and software technologies with consulting, web hosting, and other services to help customers in business, graphics, gaming, medicine, maritime, air traffic control, and other fields work more comfortably, efficiently, and creatively. Headquartered in Hakusan, Japan, EIZO has R&D and manufacturing facilities in Japan, China, Germany, and the US, and representation in more than 80 countries. For more information, please visit www.eizoglobal.com.
* ColorNavigator 6 Ver. 6.4.10 or ColorNavigator NX Ver. 1.1.4 or later required.
All product names are trademarks or registered trademarks of their respective companies. EIZO and ColorEdge are registered trademarks of EIZO Corporation.