Press Releases
EIZO Announces Web UI Control and Customizable Event Response to VMS for Its IP Decoding Monitor
Hakusan, Japan, May 17, 2016 – EIZO Corporation (TSE:6737) announced a firmware upgrade (version 4) for its IP decoding monitor, the DuraVision FDF2304W-IP, with a new web API that allows operators to maintain various settings via web browser or installed video management systems (VMS). The upgrade provides increased flexibility and efficiency in security and surveillance environments.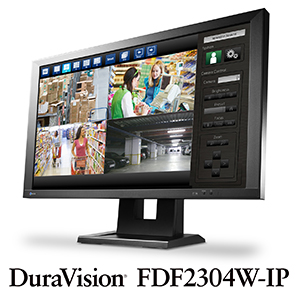 The DuraVision FDF2304W-IP displays video feed from up to sixteen IP security cameras at once. Settings, such as video layout and camera options, are adjustable manually using the included remote control. These settings can now be easily controlled via a user-friendly web UI, providing more flexible operation.
In addition, the new web API supports customized integration with the local VMS. This allows operators to assign a specific response from the monitor to automatically occur whenever a particular event takes place. For example, the monitor can be configured to automatically adjust screen layout when an individual enters the field of view of a connected IP camera. Various monitor and camera options can also be adjusted based on a preset time schedule according to the needs of the user environment.
The multitude of customizable options offered with the new web API ensures that the DuraVision FDF2304W-IP provides an intuitive and efficient monitoring solution with the flexibility to meet the needs of a range of security environments.
Additional Features
Decoding technology for high performance video playback
PC-less capability for reducing time, cost, and labor associated with installation
ONVIF camera support to ensure interoperability with a wide range of devices
EIZO's unique visibility-enhancing technology for viewing clear images
24-hour reliable use
About EIZO
EIZO (TSE:6737), which means image in Japanese, is a visual technology company that develops and manufactures high-end display solutions. EIZO integrates hardware and software technologies with consulting, web hosting, and other services to help customers in business, graphics, gaming, medicine, maritime, air traffic control, and other fields work more comfortably, efficiently, and creatively. Headquartered in Hakusan, Japan, EIZO has R&D and manufacturing facilities in Japan, China, Germany, and the US, and representation in more than 80 countries. For more information, please visit www.eizoglobal.com.

All product names are trademarks or registered trademarks of their respective companies. EIZO and DuraVision are registered trademarks of EIZO Corporation.