Press Releases
EIZO Releases 12.1" Durable, High-Brightness Monitors with 800 × 600 Resolution Panel for Industrial Workstation Terminals
Hakusan, Japan, March 13, 2014 – EIZO Corporation (TSE: 6737) announced the release of the DuraVision FDSV1201 and FDSV1201T, two durable, high-brightness monitors equipped with an SVGA panel for use in industrial workstation terminals.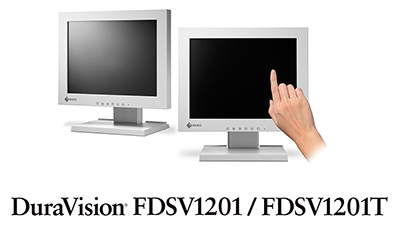 The monitors are built for high durability, capable of withstanding temperatures ranging from 0 - 50° C in industrial environments. In addition, the cabinets do not contain any ventilation holes and the perimeter of the control buttons are sealed to prevent dust and foreign objects from getting inside.
Equipped with an LED backlight, the DuraVision FDSV1201 has a high brightness of 450 cd/m2 and the FDSV1201T has high brightness of 350 cd/m2, offering exceptional visibility in bright ambient environments. LED backlights last longer and consume less power compared with conventional CCFL. They are also mercury-free for minimal impact on the environment.
The monitors can be installed facing up or down in positions from 0 - 90° for flexible placement. In addition, images can be viewed rotated at 180° using a function accessed via the monitor's front buttons for increased viewing flexibility.
The touch panel model, the DuraVision FDSV1201T is equipped with an analog resistive touch panel that has a minimum touch life of 10 million touches. It accepts touch input from bare and gloved hands as well as styluses, making it easy to use in almost any touch environment. Analog resistive touch technology also offers more resistance to dust and water compared to other touch technologies for high durability. The DuraVision FDSV1201T also comes equipped with a USB upstream and RS-232C port.
Additional Features
DVI-D 24 pin and D-sub mini 15 pin inputs
Desktop (with tilt stand) and VESA mount versions available
2-year manufacturer's warranty
Product Information
Availability
The DuraVision FDSV1201 and FDSV1201T are now shipping. Date of availability varies so please contact the EIZO group company or distributor in your country for details.
About EIZO
Founded in 1968, EIZO Corporation is a leading global manufacturer of high-end visual display products. The image quality, long-term reliability, and innovative features of EIZO monitors make them the products of choice in many financial trading rooms, back offices, hospitals, air traffic control centers, design studios, and eSports organizations throughout the world. EIZO is based in Japan and listed on the first section of the Tokyo Stock Exchange. It is represented in over 70 countries and regions by a network of group companies and exclusive distributors.
For more information, please contact:
EIZO Corporation
153 Shimokashiwano
Hakusan, Ishikawa 924-8566
Japan
Phone: +81 76 277-6792
www.eizo.com
All product names are trademarks or registered trademarks of their respective companies. EIZO and DuraVision are registered trademarks of EIZO Corporation.