Press Releases
EIZO Introduces Two 15" Industrial Monitors with LED Backlights and Four Cabinet Variations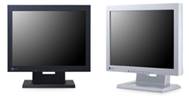 Hakusan, Japan, May 25, 2011– Eizo Nanao Corporation (TSE: 6737) today introduced two 15-inch monitors for the industrial market – the DuraVision FDX1501 and the DuraVision FDX1501T.
The two monitors are nearly identical except the DuraVision FDX1501T comes with analog resistive touch display technology and accepts touch input from both a bare and a gloved hand. The FDX1501T supports the 32-bit versions of the Windows 7, Vista, XP, and 2000 operating systems.
To accommodate the requirements of various installation environments, both monitors are available in four configurations: standard (with stand), VESA mount (no stand), chassis, and panel mount.
They offer reliable operation in temperatures of up to 50° C and are backed by a two-year manufacturer's warranty which covers 24-hour continuous operation to ensure they are suitable for use in factories.
Furthermore, the cabinets do not contain ventilation holes and control buttons are completely sealed, making the monitors impervious to liquids and dust. The front panels of both models are IP65-rated (panel mount type only) meaning they can withstand dust ingress and are protected against low-pressure water jets.
Both models have a 1024 x 768 native resolution and come with a white LED backlight that offers high brightness for better visibility in a brightly lit environment. The maximum brightness is 400 cd/m2 for the DuraVision FDX1501 and 320 cd/m2 for the DuraVision FDX1501T. The contrast ratio is 700:1 for both monitors. The LED backlight is also mercury free so it will have minimal impact on the environment which it is disposed of compared to a CCFL backlight.
For connecting to PCs, all versions of both monitors come with D-Sub mini 15-pin analog and DVI-D 24-pin digital inputs. The standard and VESA mount versions are also equipped with built-in speakers.
The standard and VESA mount versions of both monitors are equipped with a sensor called Auto EcoView which automatically detects changes in the ambient brightness and then adjusts the screen's brightness to the optimal level. This helps save energy and reduces eye fatigue by ensuring the screen is never too bright or too dark. In addition, a gauge called EcoView Index displays the amount of power and CO2 reduction compared to using the monitor with the Auto EcoView function turned off.
Availability
The DuraVision FDX1501 and DuraVision FDX1501T begin shipping in July. Date of availability varies by country so please contact the EIZO subsidiary or distributor in your country or territory for details.
All product names are trademarks or registered trademarks of their respective companies. DuraVision and EIZO are registered trademarks of Eizo Nanao Corporation.