Press Releases
EIZO Brings Competitive Advantage to Gamers with 23" FORIS FS2333 LED-Backlit Monitor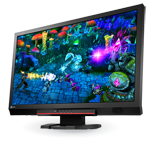 Hakusan, Japan, June 12, 2012 – Eizo Nanao Corporation (TSE: 6737) today introduced the FORIS FS2333, a 23-inch full high-definition (1920 x 1080 native resolution) home entertainment monitor. The FORIS FS2333 is designed for gaming as well as other leisure activities such as watching movies and editing photos. It features all-new tone mapping technology called "Smart Insight" with five settings for RTS (real time strategy) and FPS (first person shooter) games that EIZO co-developed with Fnatic, one of the world's leading professional esports teams.
Smart Insight automatically identifies dark areas of an image and improves visibility. Important details in the shadows such as the location of an opponent become easier to spot so gamers can react more quickly. Because Smart Insight uses tone mapping, it improves visibility in dark areas while preserving image details without reducing contrast. This is a significant improvement over conventional gaming monitors which attempt to achieve improvements in visibility by applying gamma correction uniformly across the image resulting in blur and low contrast in dark areas.

The FORIS FS2333 comes with two other "Smart" technologies called Smart Resolution and Smart Detection. Smart Resolution is EIZO's own super-resolution technology that analyzes an image for noise and blurring and then corrects the blur without accentuating the noise. This feature is "Smart" because it adjusts only those areas where it is needed. It even distinguishes skin tones and text from other content and optimizes how they are displayed. Smart Detection identifies where on the screen a video or game is being played and applies super-resolution processing to sharpen the image while leaving other areas untouched.

The FORIS FS2333 uses an IPS panel and a mercury-free LED backlight. The IPS panel offers vivid display of color and wide 178° viewing angles. The gray-to-gray response time is just 3.4 ms, the fastest for a monitor of this size with an IPS panel. The input lag, which is the difference between when a signal is input into the monitor and then shown on the screen, is just 0.05 frames.

Other features gamers will enjoy include speaker and headphone jacks, a remote control with access to the on-screen display menu, and multiple connectivity options with dual HDMI inputs, one DVI-D (digital), and one D-Sub (analog) input.

A scaling function is included for those who play games at less than the monitor's native resolution of 1920 x 1080 but want to take advantage or the monitor's 23-inch screen size. The scaling function enlarges the image while maintaining the aspect ratio or expands it to fill the entire screen.

An ergonomic stand allows for positioning the screen at an angle most comfortable for the user. It includes 60 mm of height adjustment, 25° of tilt and 344° of swivel. It also comes with a handle on the backside which makes it simple to carry the monitor to a gaming event.

For amateur digital photography enthusiasts, this monitor is compatible with EIZO EasyPIX, an optional color matching tool consisting of calibration software and a color sensor. EIZO EasyPIX calibrates the monitor's brightness, color temperature, and gamma to specific values.
Additional Features
250 cd/m2 brightness and 5000:1 dynamic contrast ratio.
Five preset modes - Cinema, Paper, sRGB, Game, Eco – and two user adjustable modes.
Dual 0.5 watt internal speakers.
Red, blue, and gray color stripes included for affixing to the front of the monitor.
Auto EcoView brightness sensor that reads the ambient lighting and adjusts the screen's brightness to the ideal level.
Five-year manufacturer's limited warranty*.
Availability
The FORIS FS2333 begins shipping in July. Date of availability varies by country. EIZO will unveil the monitor at DreamHack Summer 2012 from June 16 – 19 in Jönköping, Sweden. Visitors to DreamHack can try it out in the EIZO booth located in Hall B03:04. The FORIS FS2333 will also be featured in two other upcoming esports events that EIZO is sponsoring – the HomeStory Cup 5 in Krefeld, Germany from July 5 – 8 and the North American Star League (NASL) Season 3 finals in Toronto, Canada from July 14 – 15.
About EIZO
Founded in 1968, Eizo Nanao Corporation is a leading global manufacturer of high-end visual display products. The image quality, long-term reliability, and innovative features of EIZO monitors make them the products of choice in many financial trading rooms, back offices, hospitals, air traffic control centers, and design studios throughout the world. EIZO is based in Japan and listed on the first section of the Tokyo Stock Exchange. It is represented in over sixty countries by a network of subsidiaries and exclusive distributors.
For more information, please contact:
Eizo Nanao Corporation
153 Shimokashiwano
Hakusan, Ishikawa 924-8566
Japan
Phone: +81 76 277-6792
Fax: +81 76 277-6793
www.eizo.com
* The usage time is limited to 30,000 hours.