Press Releases
EIZO Opens Own Cloud Service for More Collaborative PC Gaming Experience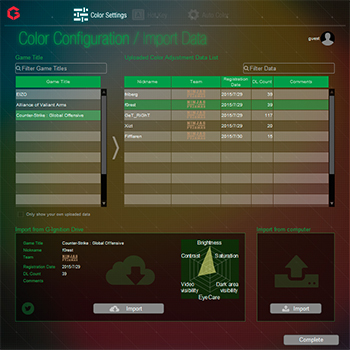 Hakusan, Japan, October 28, 2015 – EIZO Corporation (TSE: 6737) today announced that its free cloud service, G-Ignition Drive, is now available.

Until now, gamers could adjust their monitors and save their gaming presets (monitor settings) only to their PCs, making it difficult to share their presets with other gamers. With this new cloud service, gamers using FORIS FS2434 and FG2421 monitors can easily upload gaming presets to G-Ignition Drive and share them over social networks.
0G-Ignition Drive stores gaming presets by game title. FORIS users simply choose the games they play and upload their own gaming presents as well as import gaming presets uploaded by other gamers. In addition, gaming presets from EIZO-sponsored professional gaming team Ninjas in Pyjamas are available on G-Ignition Drive.
G-Ignition Drive is accessible by downloading G-Ignition Ver 2.0 software from gaming.eizo.com/g-ignition.

About EIZO
EIZO, which means image in Japanese, is a visual technology company that develops and manufactures high-end display solutions. EIZO integrates hardware and software technologies with consulting, web hosting, and other services to help customers in business, graphics, gaming, medicine, maritime, air traffic control, and other fields work more comfortably, efficiently, and creatively. Headquartered in Hakusan, Japan, EIZO has R&D and manufacturing facilities in Japan, China, Germany, and the US, and representation in more than 80 countries.
For more information, please contact:
EIZO Corporation
153 Shimokashiwano
Hakusan, Ishikawa 924-8566
Japan
Phone: +81 76 277-6792
www.eizoglobal.com

# # #

EIZO and FORIS are registered trademarks of EIZO Corporation.