Press Releases
EIZO Delivers More Collaborative Gaming Experience with World's First* LCD Monitor Smartphone App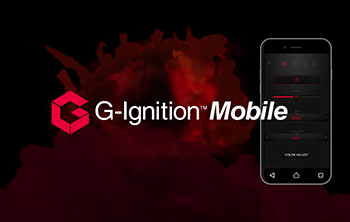 Hakusan, Japan, December 3, 2015 – EIZO Corporation (TSE: 6737) today announced the availability of its free smartphone app, G-Ignition Mobile.
*World's first for LCD monitor control app with Bluetooth Smart technology.
G-Ignition Mobile is the world's first smartphone app for an LCD monitor. It works with Bluetooth Smart technology built into EIZO's new FORIS FS2735 gaming monitor.
Both the Android* version and iOS version of G-Ignition Mobile will be available on December 4th. The Android version will be available on Google Play, and iOS version will be available on the iTunes Store.
*Android 6.0 version will be available in January, 2016
With G-Ignition Mobile, gamers can control their FORIS FS2735 monitor's settings, access EIZO's own cloud service called G-Ignition Drive, and display smartphone notifications on the monitor's screen even when playing games on PC or consoles.
Use Your Smartphone Like a Remote Control
G-Ignition Mobile lets gamers turn the monitor's power on and off, adjust its volume, and switch video inputs just like using a TV remote control. Adjusting the monitor's color is now easier than ever before. Unlike pressing buttons on the monitor, adjusting with G-Ignition Mobile's newly designed smartphone user interface makes monitor control more intuitive.
Compatible with EIZO's Free Cloud Service, G-Ignition Drive
G-Ignition Drive is accessible by downloading G-Ignition Mobile. Gamers can save their monitor settings on either their smartphone or G-Ignition Drive. G-Ignition Drive stores gaming presets by game title. Gamers can import their monitor settings at gaming tournaments and LAN events or share their monitor settings with friends.
EIZO will provide a gaming preset with low blue light settings and presets from EIZO-sponsored gaming teams such as Ninjas in Pyjamas on G-Ignition Drive by February.
On-Screen Notifications
Gamers will never miss important phone calls, emails or messages with G-Ignition Mobile. Their smartphone notifications will appear on their FORIS FS2735 screen even during game play.
EIZO will provide 5 kinds of notification icons with the FORIS FS2735: Phone Call, E-mail, Social, Game, and Information.

EIZO is also planning to provide custom notification icons with game characters in the spring of 2016.
G-Ignition Mobile product information and video is available on gaming.eizo.com/g-ignition.
About EIZO
EIZO, which means image in Japanese, is a visual technology company that develops and manufactures high-end display solutions. EIZO integrates hardware and software technologies with consulting, web hosting, and other services to help customers in business, graphics, gaming, medicine, maritime, air traffic control, and other fields work more comfortably, efficiently, and creatively. Headquartered in Hakusan, Japan, EIZO has R&D and manufacturing facilities in Japan, China, Germany, and the US, and representation in more than 80 countries.
For more information, please contact:
EIZO Corporation
153 Shimokashiwano
Hakusan, Ishikawa 924-8566
Japan
Phone: +81 76 277-6792
www.eizoglobal.com
# # #
G-Ignition is a trademark, and EIZO and FORIS are registered trademarks of EIZO Corporation. Android is a trademark of Google Inc. iTunes is a registered trademark of Apple Inc. iOS is a mobile operating system created and developed by Apple Inc. The Bluetooth word mark and logos are registered trademarks owned by Bluetooth SIG, Inc.