Press Releases
EIZO Improves Efficiency of Monochrome and Color Image Interpretation with Expansion of Hybrid Display Function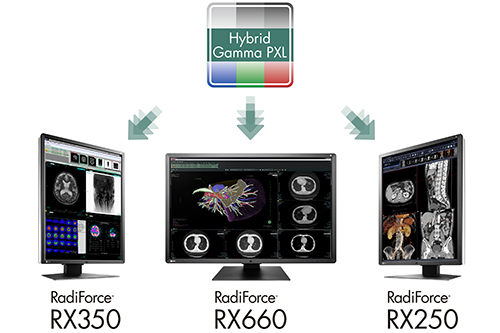 Hakusan, Japan, November 22, 2017 – EIZO Corporation (TSE: 6737) today announced that the Hybrid Gamma PXL function, which improves efficiency of monochrome and color image interpretation, will now be available on more models from 2018. Additionally, a recent study undertaken by the Kumamoto Chuo Hospital of Japan, shows the effectiveness of the function.

With recent technological advancements in the medical field, doctors are increasingly combining the use of monochrome images such as x-ray, MRI, and CT with color images such as endoscopy, ultrasound, and nuclear medicine. When viewing monochrome medical images, a GSDF (Grayscale Standard Display Function) is required as defined by DICOM Part14, whereas when viewing color medical images, a y2.2 gamma curve defined by sRGB is required. Typically this means that monochrome and color images cannot be viewed together. However by using EIZO's Hybrid Gamma PXL function, both monochrome and color images can be displayed on the same screen in the ideal grayscale/gamma curve for each.

Hybrid Gamma PXL is a new feature that was introduced with the RadiForce RX560 on July 3, 2017. The function automatically distinguishes between monochrome and color images pixel by pixel, creating a hybrid display where each pixel has optimum grayscale or gamma curve. This gives it greater accuracy and reliability than conventional area-detection methods.

Hybrid Gamma PXL will be included with the RadiForce RX660, RadiForce RX350 and RadiForce RX250 color monitors shipped after January 2018. Date of availability varies by country, so contact the EIZO Group Company or distributor in your country for details.

From May to July 2017, the Kumamoto Chuo Hospital, Japan, evaluated the Hybrid Gamma PXL function included on the RadiForce RX560. Radiologists with more than 12 and 27 years of experience visually assessed the monitor using several evaluation images, and scores were given based on the performance of each image. Approximately a 37% improvement was noted when comparing the use of a color monitor with Hybrid Gamma PXL to one without it. In addition, Hybrid Gamma PXL was found to operate equally as well as monochrome monitors with GSDF when displaying monochrome images. With the Hybrid Gamma PXL function, EIZO continues to provide a high degree of customer assurance to medical professionals and their patients.

EIZO White Paper
See the White Paper "The Advantages of Hybrid Gamma PXL" [PDF]
Product Information
About EIZO
EIZO (TSE:6737), which means image in Japanese, is a visual technology company that develops and manufactures high-end display solutions. EIZO integrates hardware and software technologies with consulting, web hosting, and other services to help customers in business, graphics, gaming, medicine, maritime, and other fields work more comfortably, efficiently, and creatively. Headquartered in Hakusan, Japan, EIZO has R&D and manufacturing facilities in Japan, China, Germany, and the US, and representation in more than 80 countries.
For more information, please contact:
EIZO Corporation
153 Shimokashiwano
Hakusan, Ishikawa 924-8566
Japan
Phone: +81 76 277-6792
Fax: +81 76 277-6793
www.eizoglobal.com
All product names are trademarks or registered trademarks of their respective companies. EIZO and RadiForce are registered trademarks of EIZO Corporation.