Press Releases
EIZO Releases 58" Monitor for Streamlining Medical Image Display in Operating Rooms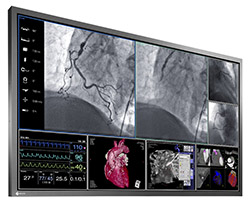 Hakusan, Japan, March 12, 2014 – EIZO Corporation (TSE: 6737) announced the release of the RadiForce LS580W, a 58-inch large monitor solution for operating rooms.
In the operating room and interventional suite, essential information such as X-ray, endoscopic images, and heart rate is typically displayed using several different monitors. The RadiForce LS580W provides a 4K ultra HD solution for viewing a variety of vital information, displaying 8 megapixels of high-resolution data on a single screen. It is the latest addition to EIZO's line of OR solutions, which also includes large monitor managers for gathering input data and a 60-inch medical monitor solution.
Compared to its predecessor, the RadiForce LS560W, the screen size has been increased to provide an extended viewing area for keeping images organized and efficient. The bezel thickness was reduced, allowing for a larger screen while maintaining the same physical dimensions as the previous model. In addition, the reduced bezel size contributes to the monitor's lighter weight. The consistent size allows convenient installation using the same ceiling suspension as the previous model.
The RadiForce LS580W is equipped with two independent mercury-free LED backlights that are highly efficient compared to conventional CCFL backlights, saving energy even when running at high brightness levels.
Redundant power supplies and backlights as well as two DVI inputs give the monitor a high degree of operational reliability for creating a fail-safe environment. A monitoring function can be configured to notify the X-ray system in the event operating conditions becomes critical or a component fails to ensure maximum safety.
The contrast ratio of the RadiForce LS580W has been greatly improved from the RadiForce LS560W to 4000:1, providing exceptionally clear images and deeper blacks.
To ensure the most accurate and consistent shadings possible, EIZO carefully measures and sets every grayscale tone on the production line to offer medical monitors that are fully compliant with DICOM Part 14 international standards.
Availability
Production of the RadiForce LS580W begins March 2014. Availability varies by country so please contact the EIZO group company or distributor in your country for details.
Product Information
About EIZO
Founded in 1968, EIZO is a leading global manufacturer of high-end visual display products. The image quality, long-term reliability, and innovative features of EIZO monitors make them the products of choice in many financial trading rooms, back offices, hospitals, air traffic control centers, design studios, and eSports organizations throughout the world. EIZO is represented in over 70 countries and regions by a network of group companies and exclusive distributors.
For more information, please contact:
EIZO Corporation
153 Shimokashiwano
Hakusan, Ishikawa 924-8566
Japan
Phone: +81 76 277-6792
Fax: +81 76 277-6793
www.eizo.com
All product names are trademarks or registered trademarks of their respective companies. EIZO and RadiForce are registered trademarks of EIZO Corporation.