Press Releases
EIZO Releases 23-inch Multitouch Color LCD Monitor with Smooth and Detailed Handwriting Input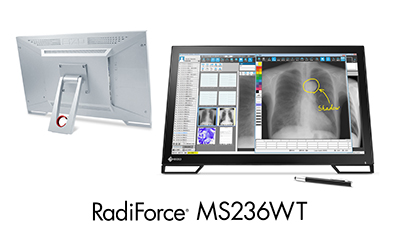 Hakusan, Japan, October 4, 2017 – EIZO Corporation (TSE: 6737) today announced the release of the RadiForce MS236WT, a 23-inch 2MP multitouch monitor with palm rejection technology and active stylus pen compatibility for smooth and detailed handwriting input. It is the successor model to the RadiForce MS235WT and features improved functionality and a DICOM Part 14 preset mode.

The MS236WT is equipped with a projected-capacitive (PCAP) touchscreen that registers up to 10 different touches, and recognizes dragging and flicking finger movements. It has palm rejection technology which allows the user to write even when resting their hands on the screen. It is compatible with commercially available stylus pens for even smoother and more detailed handwriting than by hand, making it perfect for electronic medical record entry.

The monitor comes with a DICOM Part 14 preset mode, which is adjusted to the correct grayscale tone at the factory. This is optimal for viewing DICOM medical images during clinical review. The RadiForce MS236WT meets the strictest medical and safety standards such as the CE (Medical Device Directive) and EN60601-1 for installation in clinics and hospitals.

Product Information
Availability
The RadiForce MS236WT will begin shipping in December, 2017. Date of availability varies by country so contact the EIZO group company or distributor in your country for details.
About EIZO
EIZO (TSE:6737), which means image in Japanese, is a visual technology company that develops and manufactures high-end display solutions. EIZO integrates hardware and software technologies with consulting, web hosting, and other services to help customers in business, graphics, gaming, medicine, maritime, and other fields work more comfortably, efficiently, and creatively. Headquartered in Hakusan, Japan, EIZO has R&D and manufacturing facilities in Japan, China, Germany, and the US, and representation in more than 80 countries.
For more information, please contact:
EIZO Corporation
153 Shimokashiwano
Hakusan, Ishikawa 924-8566
Japan
Phone: +81 76 277-6792
Fax: +81 76 277-6793
www.eizoglobal.com
All product names are trademarks or registered trademarks of their respective companies. EIZO and RadiForce are registered trademarks of EIZO Corporation.