Press Releases
EIZO Releases 19-Inch, 1 Megapixel Monitor for Viewing Medical Charts and DSA, CT, and MRI Images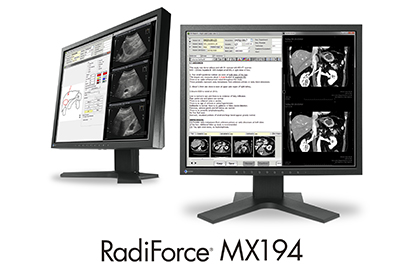 Hakusan, Japan, April 5, 2018 – EIZO Corporation (TSE: 6737) today announced the release of the RadiForce MX194, a 19-inch clinical review monitor designed for viewing medical charts and images such as DSA (digital subtraction angiography), CT (computed tomography), and MRI (magnetic resonance imaging).
The MX194, the successor to the MX191, is a 19-inch clinical review monitor with a 1 megapixel resolution (1280 x 1024 pixels). Compared to the MX191, the brightness has increased from 300 cd/m2 to 350 cd/m2. EIZO guarantees 10,000 hours of use when the brightness is maintained at 180 cd/m2. Furthermore the monitor is equipped with EIZO's DUE (Digital Uniformity Equalizer) function, which ensures that the brightness is uniform across the screen.
Additionally, the monitor is compliant with DICOM Part 14*, meaning that it can faithfully reproduce medical images such as DSA, CT, and MRI for long periods of time.

* DICOM (Digital Imaging and Communications in Medicine) is an international network standard established by the American College of Radiation (ACR) and the National Electric Manufacturers Association (NEMA) for consistency between medical image data and manufacturer medical imaging devices. The standardized display function for grayscale images is specified in Part 14 of the contents.
Product Information
Availability
The RadiForce MX194 will begin shipping in June, 2018. Date of availability varies by country so contact the EIZO group company or distributor in your country for details.
About EIZO
EIZO (TSE:6737), which means image in Japanese, is a visual technology company that develops and manufactures high-end display solutions. EIZO integrates hardware and software technologies with consulting, web hosting, and other services to help customers in business, graphics, gaming, medicine, maritime, and other fields work more comfortably, efficiently, and creatively. Headquartered in Hakusan, Japan, EIZO has R&D and manufacturing facilities in Japan, China, Germany, and the US, and representation in more than 80 countries.
For more information, please contact:
EIZO Corporation
153 Shimokashiwano
Hakusan, Ishikawa 924-8566
Japan
Phone: +81 76 277-6792
Fax: +81 76 277-6793
www.eizoglobal.com
All product names are trademarks or registered trademarks of their respective companies. EIZO and RadiForce are registered trademarks of EIZO Corporation.