Press Releases
EIZO's Line of ATC Visual Display Solutions Used in Thales Australia's CASIA Research Facility
Hakusan, Japan, July 25, 2017 – EIZO today announced that its line of air traffic control (ATC) visual display solutions are now being used in Thales Australia's Centre for Advanced Studies in Air Traffic Management (CASIA) located in Melbourne, Australia.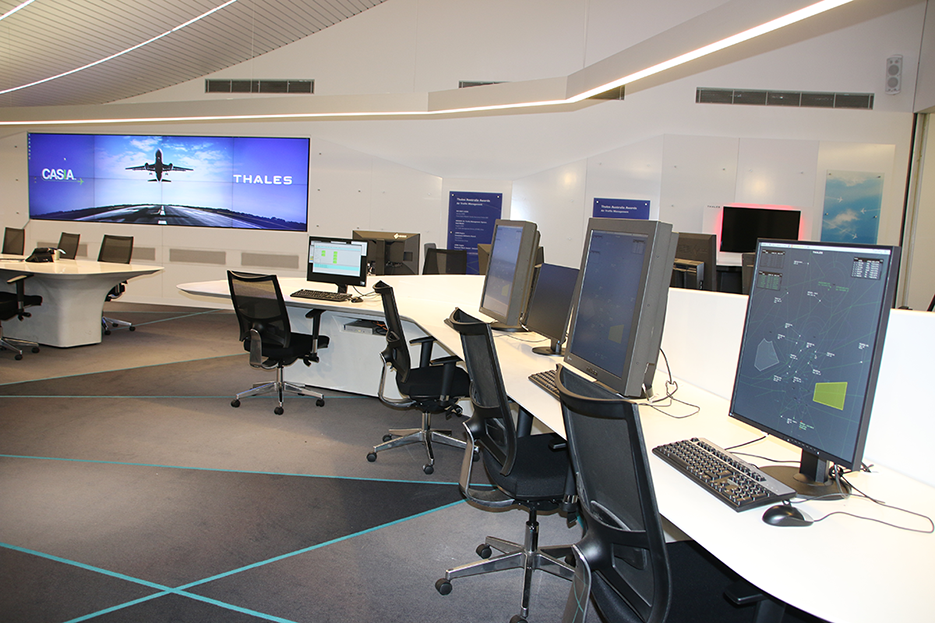 CASIA is a premium platform for showcasing the latest developments in ATC technology worldwide. The unique research and development facility is equipped with the latest in EIZO's line of primary control monitors including its 5th generation Raptor SQ2825 2K x 2K primary control monitor. EIZO's industry-leading Re/Vue Series of recording & streaming are also used at CASIA as well as several FlexScan auxiliary monitors in varying sizes and resolutions, including touch panel monitors.
"We have chosen to partner with EIZO to supply monitors in our CASIA showroom because of the high quality of their products and the professionalism of their team. EIZO monitors perform at a high standard in supporting Thales applications, and they look great in the CASIA showroom where we host our customers, industry partners, research partners and visiting dignitaries." - Mark O'Flynn, Innovation Manager Thales Australia
By continuing to reinforce its relationship with long term partners, EIZO continues to invest, grow, and excel in providing the ATC sector with the most extensive lineup of visual display solutions in the industry.
About EIZO
EIZO (TSE:6737), which means image in Japanese, is a visual technology company that develops and manufactures high-end display solutions. EIZO integrates hardware and software technologies with consulting, web hosting, and other services to help customers in business, graphics, gaming, medicine, maritime, air traffic control, and other fields work more comfortably, efficiently, and creatively. Headquartered in Hakusan, Japan, EIZO has R&D and manufacturing facilities in Japan, China, Germany, and the US, and representation in more than 80 countries. For more information, please visit www.eizoglobal.com.
All product names are trademarks or registered trademarks of their respective companies. EIZO, Raptor, and FlexScan are trademarks of EIZO Corporation.