Press Releases
EIZO Joins United Nations Global Compact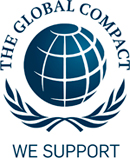 Hakusan, Japan, September20, 2012 – Eizo Nanao Corporation (TSE: 6737) today announced it joined the United Nations Global Compact and revised its Principles of Conduct accordingly.

The UN Global Compact is a voluntary initiative to achieve sustainable growth in which companies act as good citizens of society by realizing responsible and creative leadership. Corporations that sign the UN Global Compact pledge to protect 10 basic principles concerning corporate social responsibility (CSR) in the areas of human rights, labor, the environment, and anti-corruption.

In recent years, the EIZO Group's operations have become increasingly global through the establishment of several companies overseas. In developing its global business, EIZO recognized the need to fulfill its societal responsibilities and one measure was to join the UN Global Compact. EIZO has also revised its corporate principles of conduct, which it calls the "EIZO Principles of Conduct – The Seven Promises" (see below) to reflect the UN Global Compact.
EIZO Principles of Conduct – The Seven Promises
We will supply high-quality products and services loved by customers through creating and offering new value by unique technologies and ideas.
We will promote our manufacturing and business activities in consideration of reduction of environmental burdens.
We will act as an international corporation with a global outlook and mindset.
We will conduct open and fair trade.
We will seek to build and maintain strong bonds of trust with our stakeholders (business partners, employees, shareholders, and the local community).
We will strictly respect and comply with both the letter and the spirit of the law as a good corporate citizen.
We will respect basic human rights and value a broadminded corporate culture.
About EIZO
Founded in 1968, Eizo Nanao Corporation is a leading global manufacturer of high-end visual display products. The image quality, long-term reliability, and innovative features of EIZO monitors make them the products of choice in many financial trading rooms, back offices, hospitals, air traffic control centers, and design studios throughout the world. EIZO is based in Japan and listed on the first section of the Tokyo Stock Exchange. It is represented in over sixty countries by a network of subsidiaries and exclusive distributors.
For more information, please contact:
Eizo Nanao Corporation
153 Shimokashiwano
Hakusan, Ishikawa 924-8566
Japan
Phone: +81 76 277-6792
Fax: +81 76 277-6793
www.eizo.com