Creative Work
Diana Mehner - Every Dog Has Its Day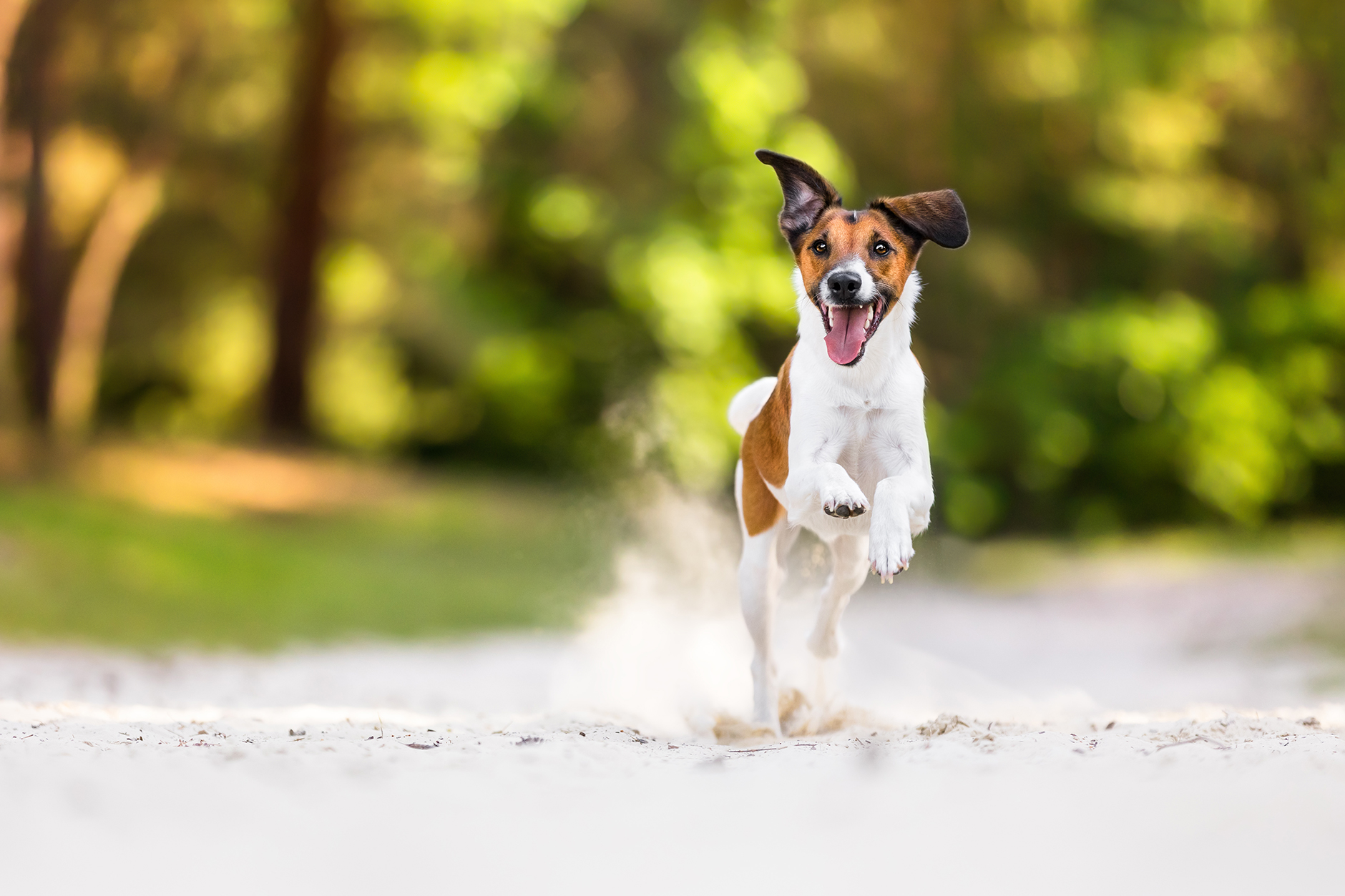 Dogs are exciting models for photographers - but not so easy to photograph. In an interview, professional dog photographer Diana Mehner gives tips on how to take unusual pictures of our four-legged friends and explains how important it is for her to work in true colors with her ColorEdge CG2700S monitor from EIZO. She also gives helpful tips on how to put your pet in the spotlight for great photographic results.

Whether you simply want to photograph your own dog, take pictures of animals for friends and family, or even earn money doing dog photography, photographing these four-legged friends is fun in any case! It's clear from Diana Mehner's expression – she approaches the dogs and their owners with friendliness and good humor, which ultimately results in great photos. We asked the dedicated dog photographer about her recipes for success.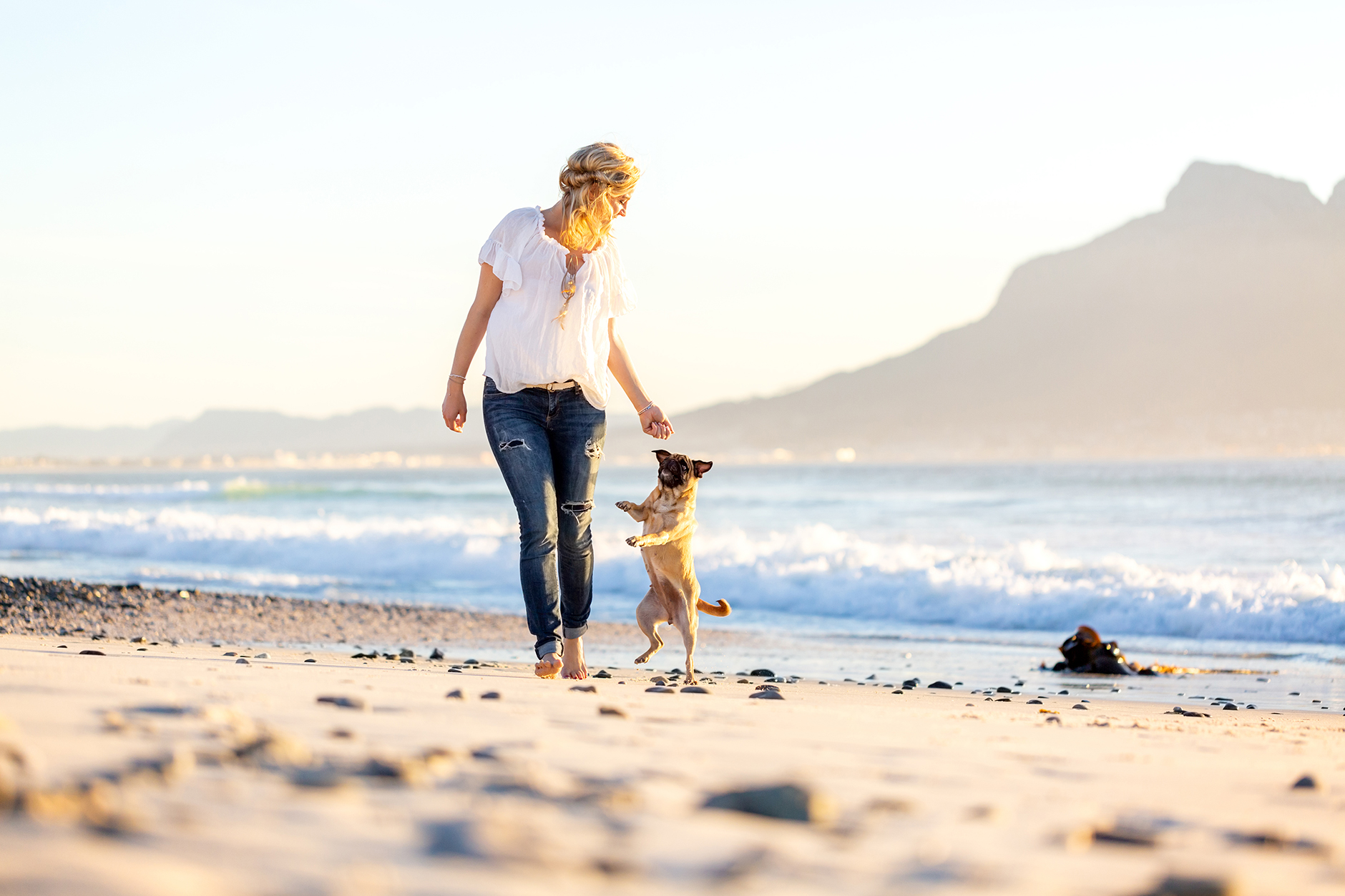 What qualities does a dog photographer need to have?
You have to be able to read dogs in order to recognize and respect their limits. Then you have to quickly get into the dog's character and get as many good photos as possible in the dog's relatively narrow window of attention. To do this, it is extremely important to master your camera and to have thought out beforehand where and what kind of photos you want to take and with what kind of light. And of course, patience is crucial. Dogs don't work like people. They are what they are. You can only make the best of it. But it's also important that you don't care what outsiders think of you during the shoot. Often you lie around on your stomach somewhere and try to attract the attention of the four-legged model by making funny noises. I never have a problem with that. I'm always so "in the zone" that I don't even feel fears like my fear of heights or my fear of ticks or spiders.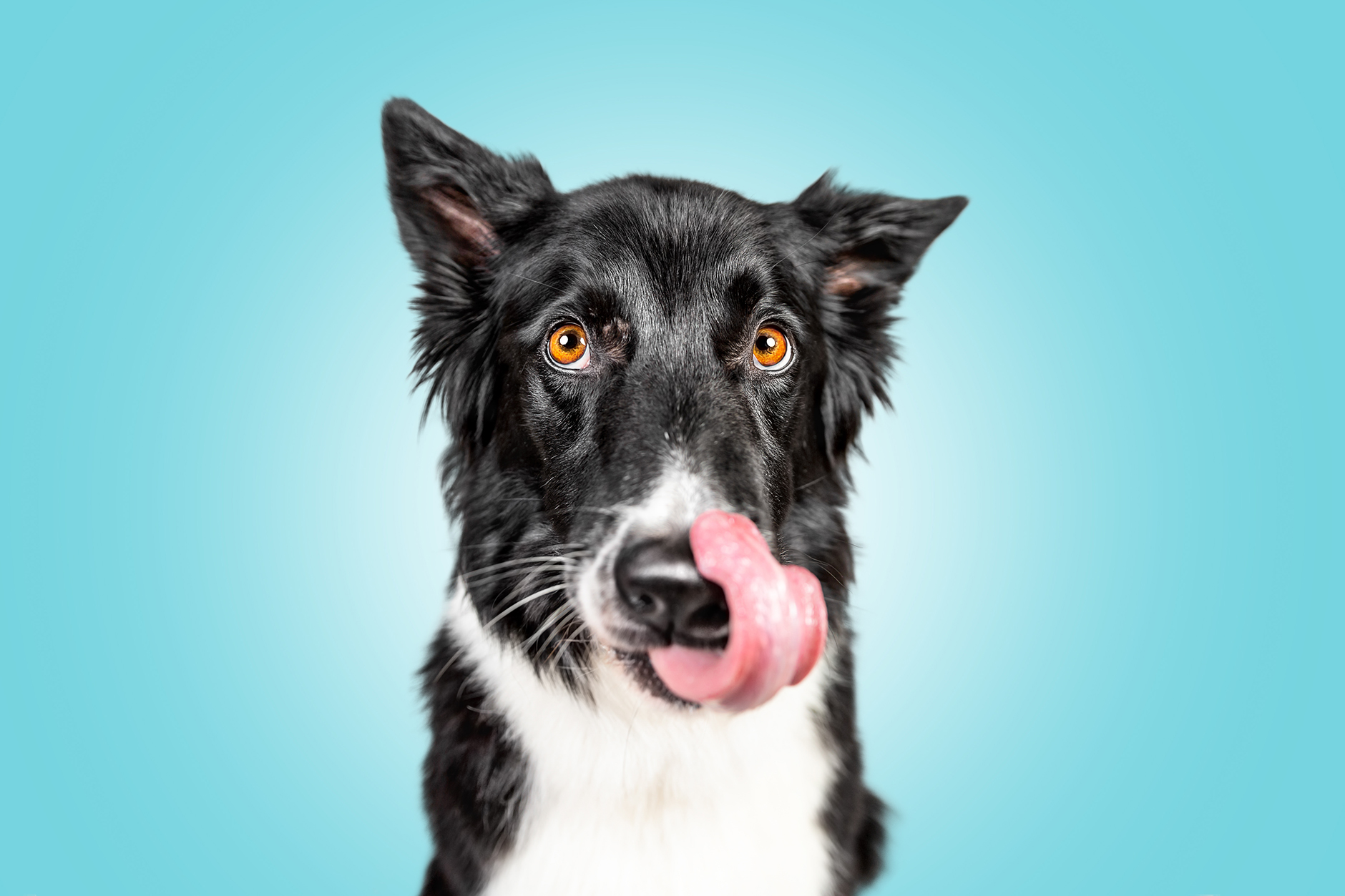 TIP: Include Foreground
Adding a foreground that forms a third layer with the dog and the background makes almost any picture better. So, look for grass, branches, or tree stumps. If possible, use an open aperture to gently separate the foreground and background and put the emphasis on the animal.

What are the challenges in dog photography?
Every dog is different. This is not only true for external characteristics such as size, color, or coat structure. Dogs differ even more in character. The age of the dog also plays a big role. Puppies are often totally playful and wild. Old dogs are often blind or deaf or can only move to a limited extent. In addition, some dogs have simply had very bad experiences with people. All this has to be taken into account.
Have you ever been bitten?
Fortunately, I have never been bitten. At the most, I've been nipped when a dog wasn't quite so careful when getting a treat. At action shoots you sometimes get knocked down when the dogs run straight at the camera (and the photographer). The photos before the impact are then often the best pictures.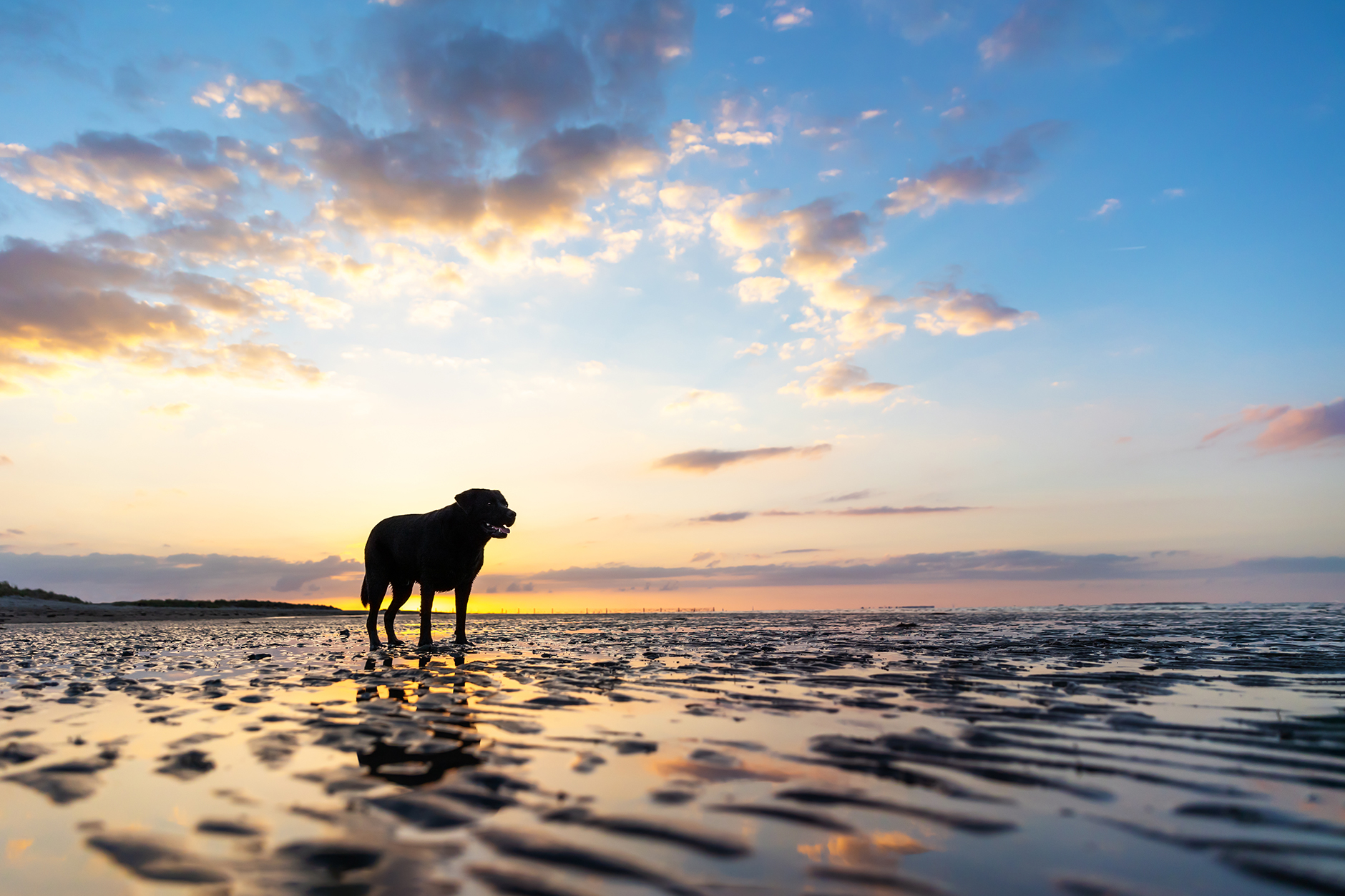 TIP: In Action
Let the dogs run directly towards the camera: This always looks very dynamic. The easiest way to achieve this is with the help of a master or mistress who stands behind you and lures the dog. Small obstacles in the way make the dog jump, which creates additional dynamics.

One of your trademarks is the "funny dog portrait". How do you get shots like that?
First of all, I think about the appropriate background. I use a white or grey background so that there is no color fringing. That's really difficult to remove. I like to have photos of the dog sent to me in advance to choose the most suitable background. The pictures are taken with a very open aperture. This not only looks nicer - the softer edge is also easier to crop. For the rough selection I use the quick selection tool in Photoshop and then enhance via Enhance Edge. Fluffy white fur is especially problematic. Finally, I add a matching color background and a glow behind the dog. Not every background color works equally well with every dog. For grey dogs, light blue or mint work particularly well. The more intense the new color, the more problematic the cropped edge. Short-haired dogs also need to be touched up in detail.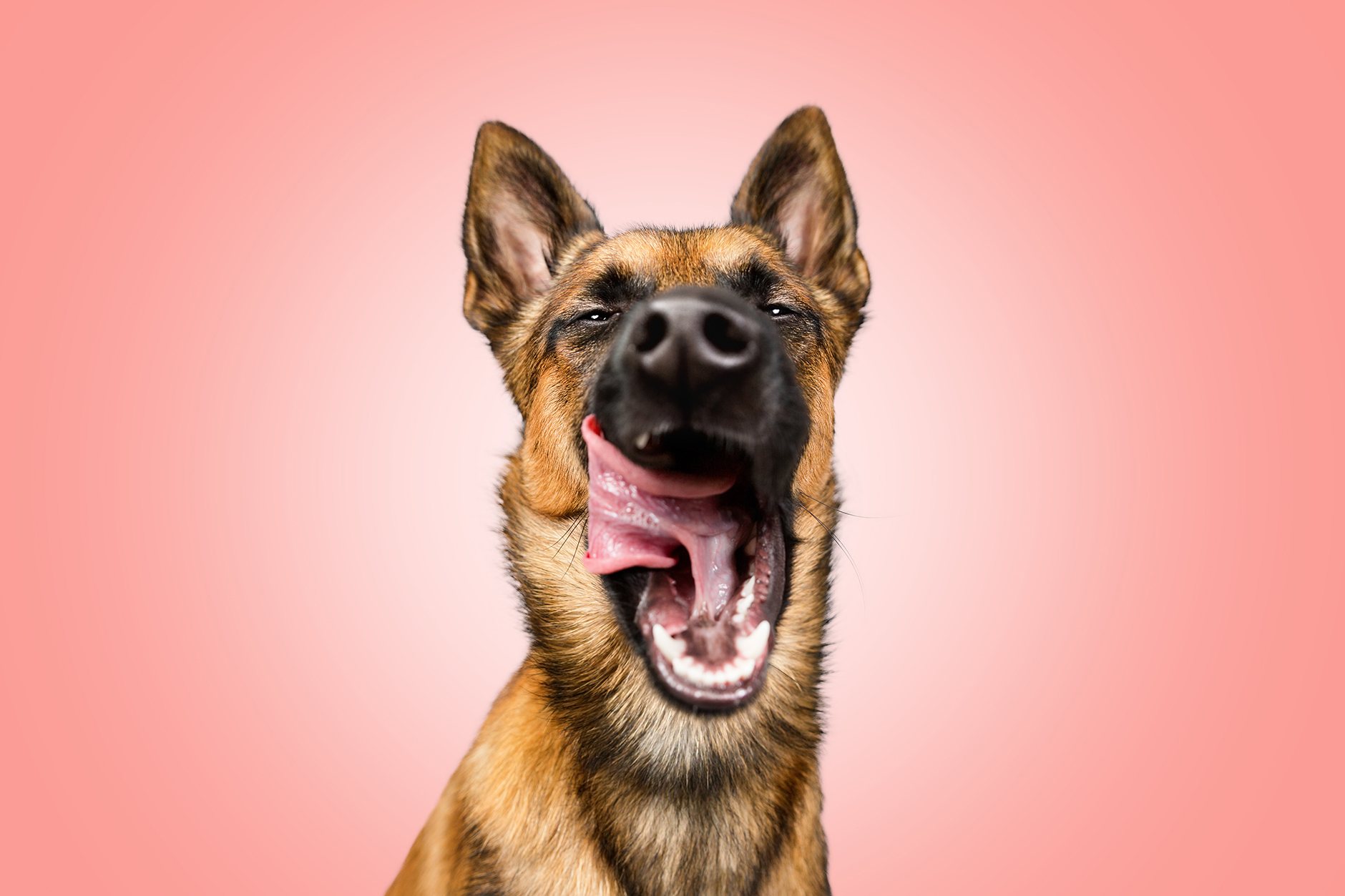 TIP: Taking Studio Portraits
Diana Mehner takes such studio pictures with an open aperture and preferably with a wide angle - to create the closeness. The easiest way to get the dog's attention is with treats: this creates the "loyal look". Shoot in front of white or grey, crop, and color the background.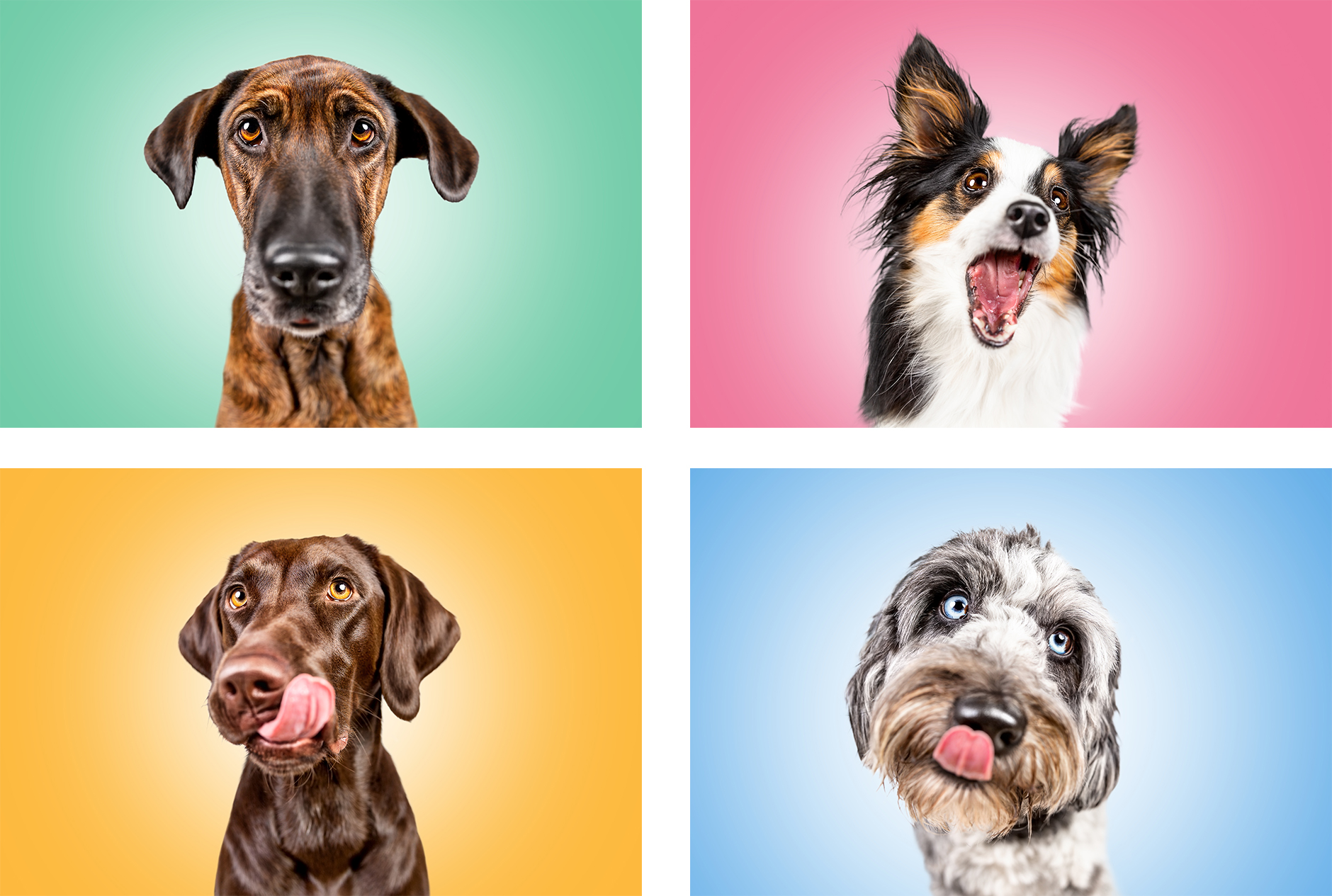 What does it look like in your "digital darkroom", i.e., on your desk?
On the software side, I use Adobe Lightroom for image organization and basic raw development. In Photoshop I then retouch away collars, leashes etc. And beauty retouching is also a must for dogs. This often concerns the teeth and the fur. Then I emphasize the eyes and make the fur shine. On the hardware side, I use a powerful desktop computer and even during my training I bought an EIZO monitor. At vocational school, everyone always wanted to work on the one EIZO ColorEdge monitor, and it was clear to me: I needed one too. It wasn't a ColorEdge, but it served me well for a long time and I calibrated it regularly. Recently, I have been using the brand new ColorEdge CG2700S.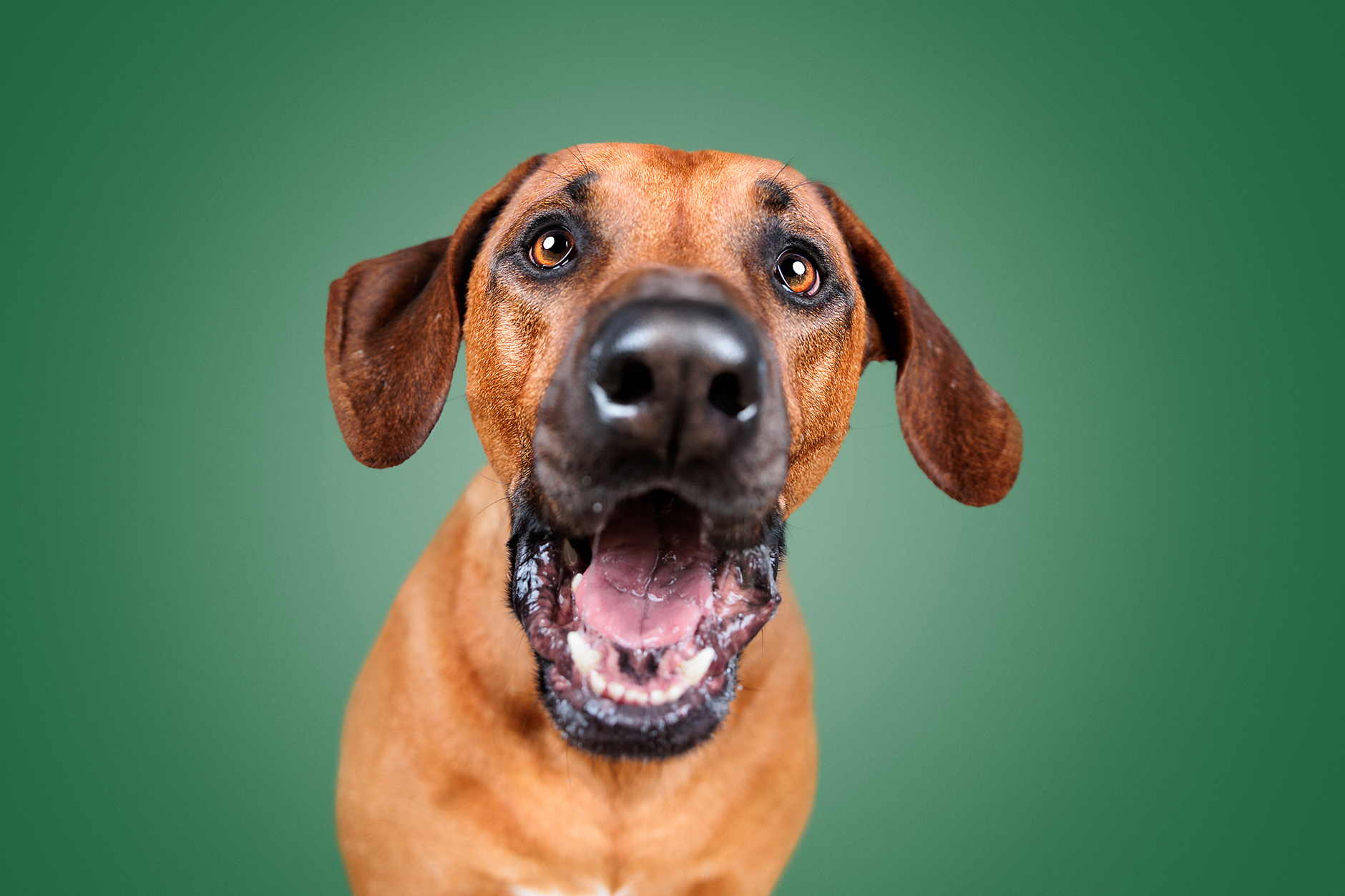 TIP: Perspective at or Below Eye Level
No matter how big or small the dog is, photograph at or even below eye level if possible. This almost always makes animal portraits more exciting than the view from above. As a dog photographer, you therefore very often lie on the ground. If you photograph from above, then exaggerate as much as possible and point the camera directly downwards.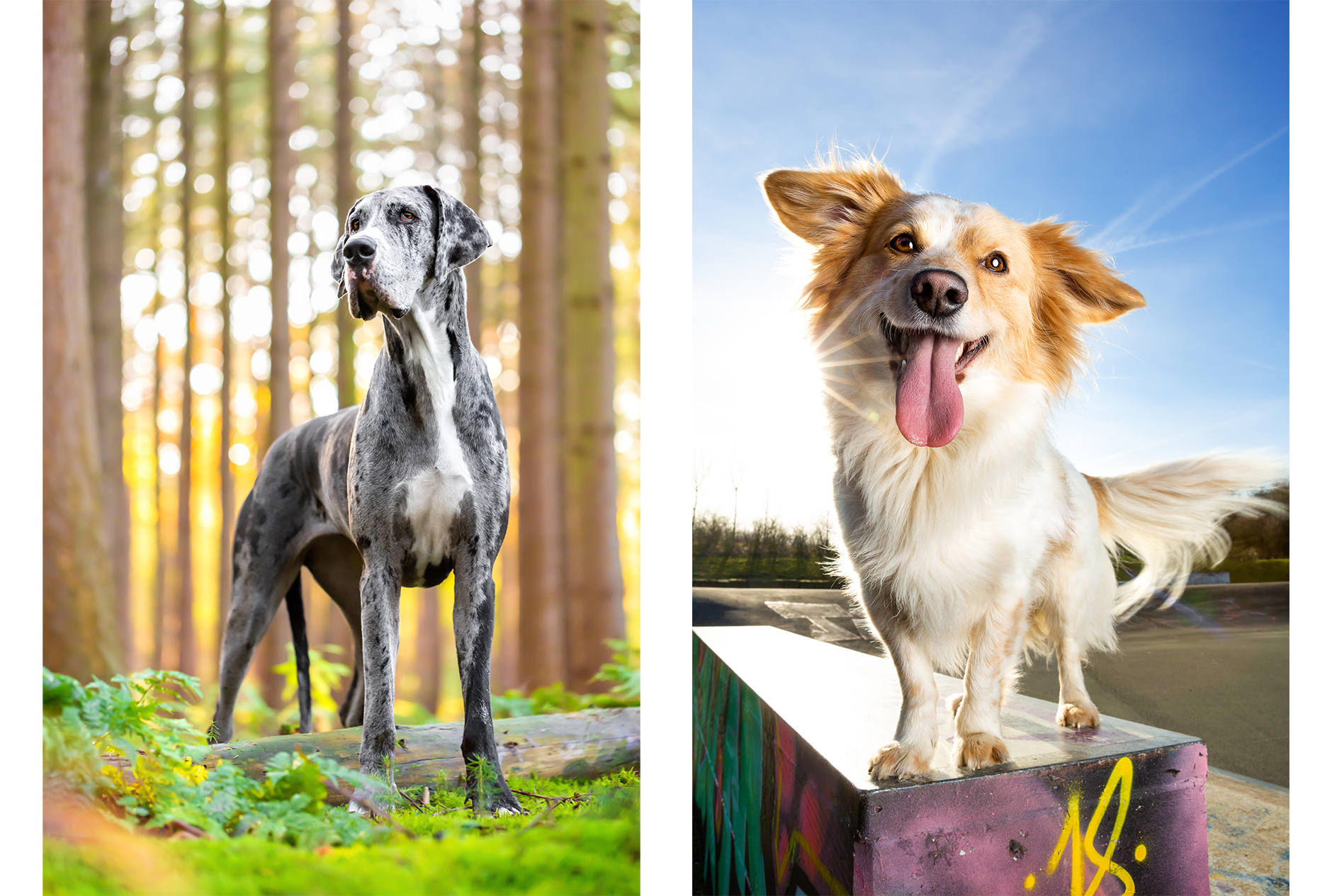 What is your experience after switching to a high-end graphics monitor?
First of all, the step from 23 inches to 27 is spectacular. And with calibration, I already had a relatively good impression of my image file within the scope of what the old monitor could display. I was halfway safe from total surprises when ordering print products. But you can't expect miracles from a monitor that doesn't have a large color space. Due to the larger color space, the color representation of the CG2700S is in a completely different league. The smoothness of the color and greyscale transitions is really outstanding, the built-in calibration sensor is an absolute comfort feature. In the past I have put off calibrating. Now I can program it so that the monitor does it automatically and in my absence. The homogeneity of the image display is simply perfect for my eyes. What surprised me the most was the effect of the light-shielding screen that comes with the monitor. It ensures that the image is significantly less distorted by stray light. The new monitor came at the right time for the production of my first book project.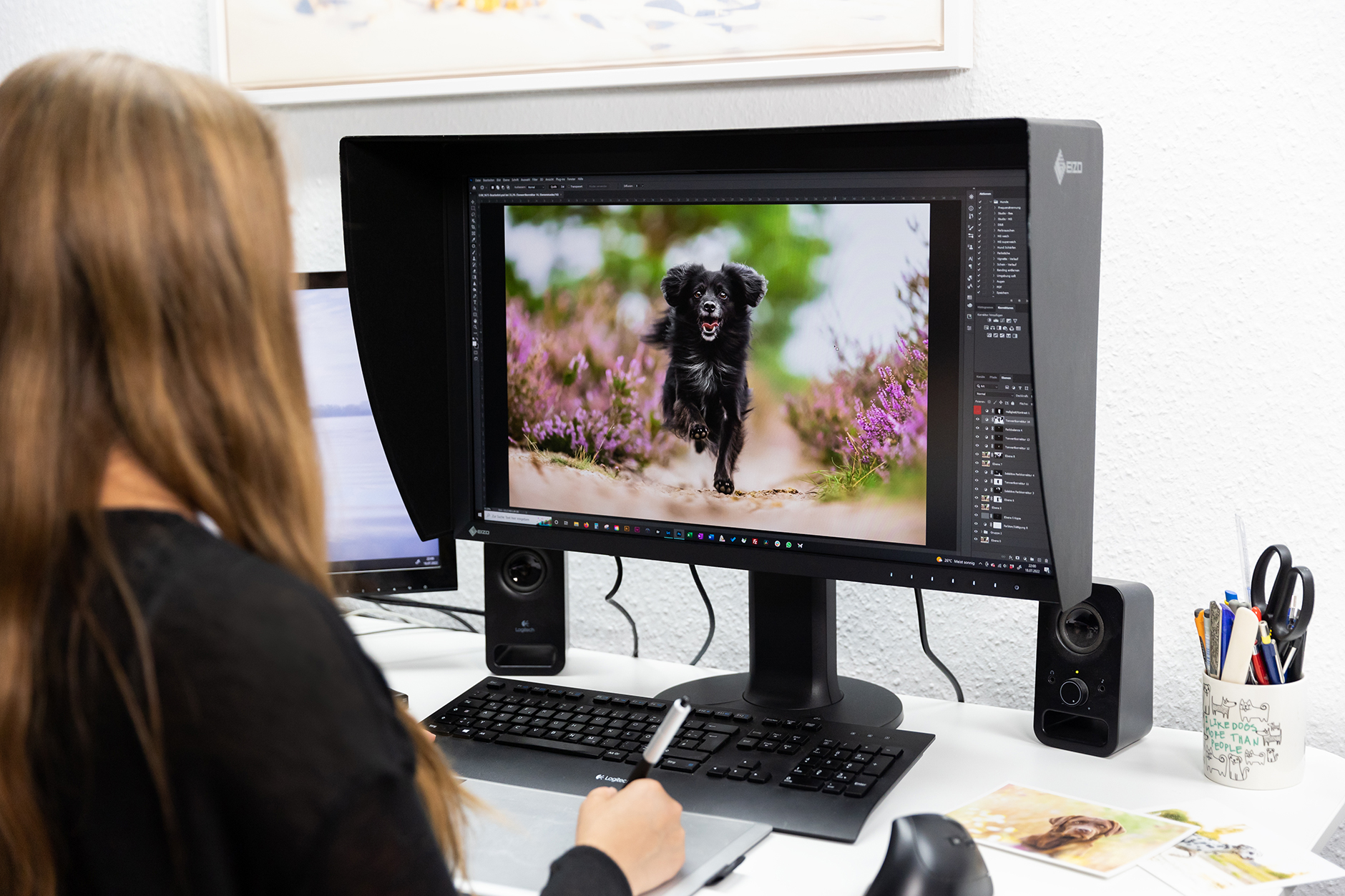 TIP: Simulating Night Photos
The best time to achieve the night scene effect is during the blue hour. A pop-up flash with diffuser (ideally unleashed slightly to the side) provides soft light. Work with a relatively slow shutter speed so that the landscape gets enough light.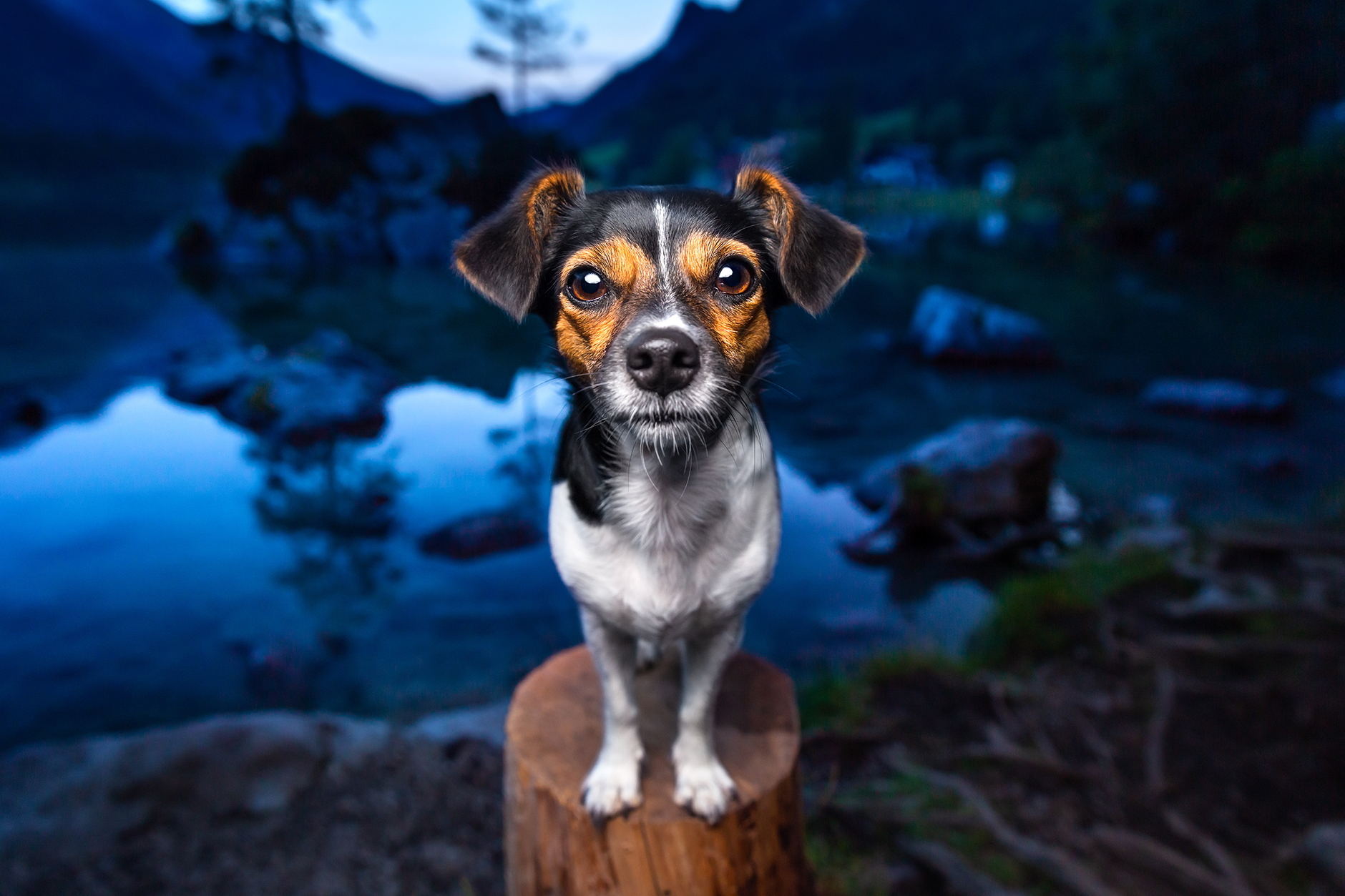 TIP: Dogs Playing
Flying leaves or other objects can make a photo very dynamic and also animate the dog. The easiest way is to have a companion help you and throw the leaves towards the animal. Keep the exposure time short and make sure that leaves stand out against a blurred background.

Book project? That sounds exciting. What is it all about?
In autumn, the book Hundefotografie - So setzt du deine Fellnase liebevoll in Szene (Dog Photography – How to Put a Fuzzy Nose in the Scene) will be published by Rheinwerk Verlag. Together with my co-authors Sarah Stangl and André Bauer, we give countless useful tips. My CG2700S has given me the certainty that I have delivered my pictures to the publisher in perfect quality.
Where do you go from here?
We'll soon be moving back from Brandenburg to East Westphalia or the Weserbergland. Actually, we had broken up our flat and wanted to travel through Europe for a year with our VW bus. And then Covid came along. The idea is not completely off the table yet. In any case, I would like to be even more mobile in the future and include neighboring countries. Our camper is the ideal base for this. I also want to expand my YouTube channel.
TIP: Unusual Places
Dogs can also be staged outside of nature. Make sure you get permission from the property owners.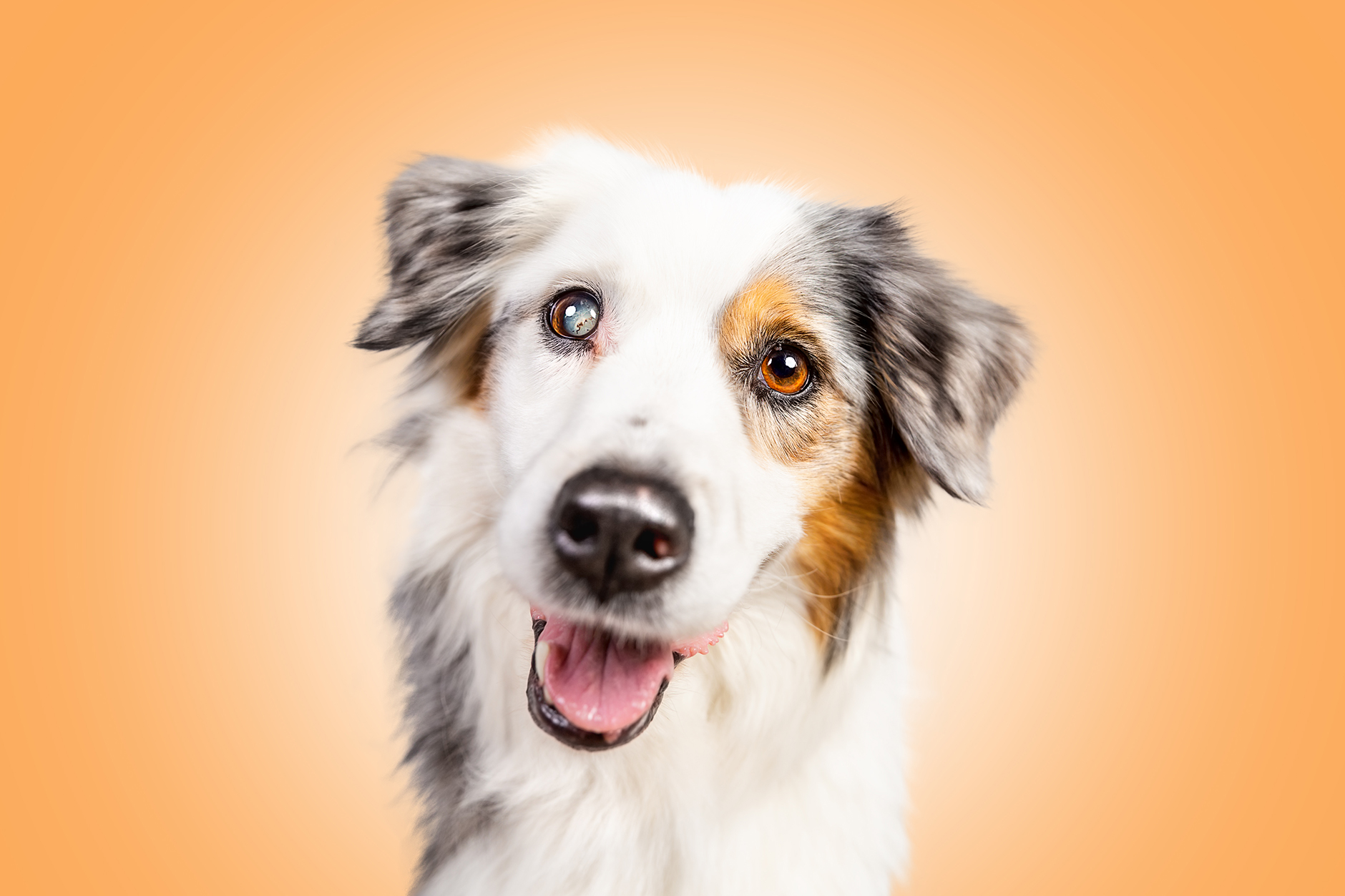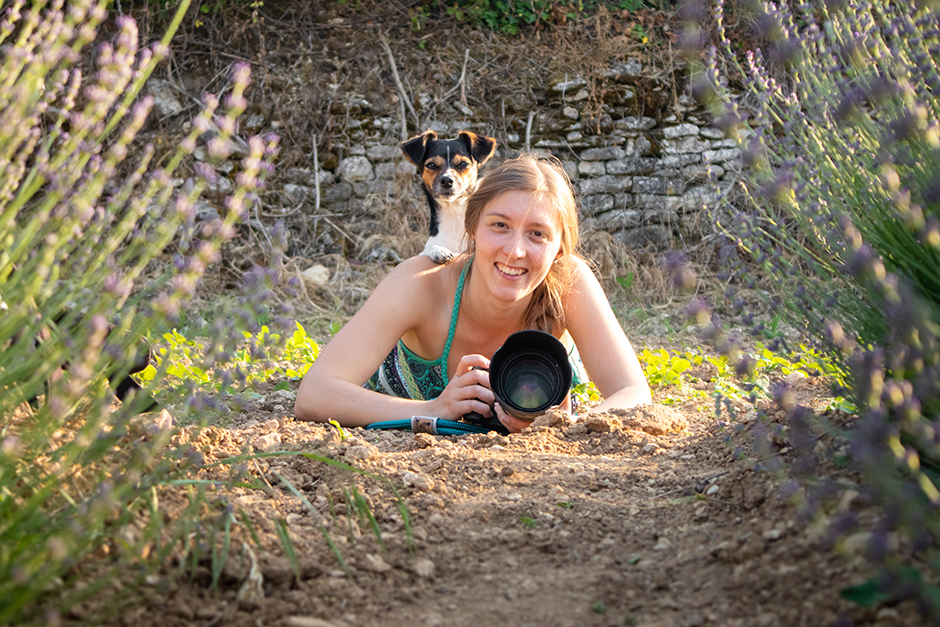 About Diana Mehner
Diana Mehner's interest in dog photography began during her training as an advertising photographer. As part of her project "Dogs of Paderborn", she portrayed over 700 dogs between 2016 and 2019. What started as a single project is now the focus of her work as an independent photographer. With her brand "Hallo Lieblingshund" (Hello, My Favorite Dog) she is now a force to be reckoned with in the German-speaking dog photography scene. Unlike most dog photographers, however, she did not come to dog photography through her own four-legged friend - in her case it was the other way around.

Immediately after completing her training, the young photographer set up her own business and initially concentrated on wedding, people, and business portraits. But at the same time as dog photography became more and more important in Mehner's work, the desire to have her own dog also grew. So, in 2018, Leia, a small Jack Russell mix, moved in with Diana and her husband Hauke and keeps them both on their toes. Since then, dog photography has also been the focus of Mehner's work. In addition to dog shoots at various locations, Diana Mehner's "Funny Dog Portraits" are very popular. These are studio photos in which the aim is to capture particularly funny or unusual facial expressions of the beloved four-legged friend. Mehner's dog portraits get a high recognition value from the light setup with two softboxes as well as the colored backgrounds that are added in the post-processing of the pictures. In addition to her photography work, she regularly gives coaching sessions that other dog photographers book to learn from Mehner's working methods and image editing workflow.

Diana Mehner's Website (German)
Instagram
YouTube


Deployed Product
ColorEdge CG2700S