Creative Work
Studio Isar Animation Fully Relies on EIZO
The adventures of Maya the Bee, Vic the Viking and Heidi have delighted children for generations. While their parents are nostalgic about hand-drawn features, children these days are increasingly interested in remakes, relaunched computer-animated series and films starring much-loved characters from the Belgian company Studio 100. Studio 100 Media in Munich, the German headquarters of the company, founded a new subsidiary at the end of 2018 to carry out CGI work for upcoming film productions completely in-house in the shape of Studio Isar Animation.




Maya the Bee – the Golden Orb is Studio Isar Animation's first production in Munich. Prior to this, most CGI work was outsourced by its parent company Studio 100 Media. All tasks like modelling, texturing, shading, lighting, FX, compositing and rendering are now pooled at Studio Isar Animation. The studio also offers these services to third parties and co-productions as contract work. The animators, who have been assigned to up to forty workstations, use EIZO ColorEdge and FlexScan monitors to bring the upcoming third movie about the world-famous bee to life. The Studio 100 Group, together with its affiliated animation studios Flying Bark Productions in Australia, Studio 100 Animation in France, and Little Airplane Productions in the US, will soon be able to carry out all aspects of film production in-house. "Thanks to our location in the immediate vicinity of Studio 100's office in Neumarkter Strasse in Munich, the communication channels are incredibly short," smiles Sinje Gebauer, Head of Studio at Studio Isar Animation. This simplifies communication.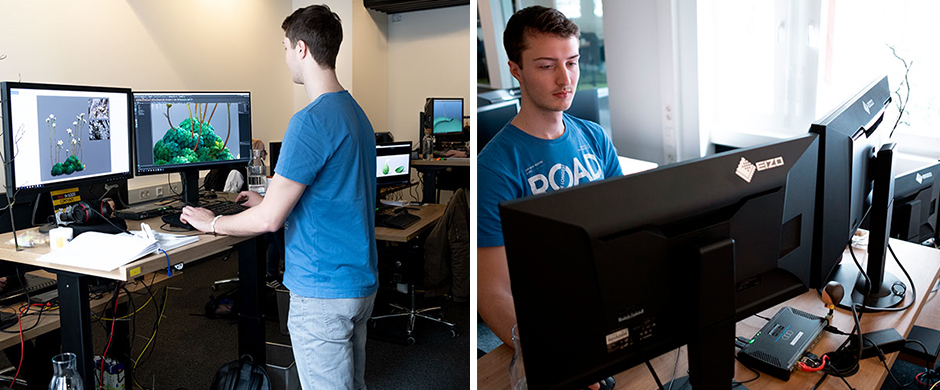 "Our top priority in designing the studio was ensuring that the hardware was high-quality and that the animators' well-being was factored in," explains Fabio Ticca, Business Development Manager at Espace Technology GmbH, the commissioned IT system vendor. "That's why EIZO monitors were really the only contender," explains the studio expert, who works for the IT company specialized in the creative industry. This is another reason why the workstations are housed centrally in the basement, so that the animators can enjoy some peace and quiet without having to put up with excess heat. "We want to get the best artists on board, and that's why we also need to be able to offer the ideal working conditions," explains Christian Korneck, Head of IT at Studio Isar Animation. And alongside height adjustable desks, this also includes monitors from EIZO. A dual-screen solution consisting of one EIZO ColorEdge CG2730 and one FlexScan EV2750 was chosen for each workstation. The ColorEdge is used for all color-accurate tasks, while the EV2750 doubles the available desktop space and thus makes ergonomic work a reality.




A long-term plan has been set out for the studio. That's why over thirty fully equipped workstations have been set up to begin work on the new film. "Our workforce made up of permanent employees and freelancers will gradually be expanded and adjusted to current requirements. We anticipate that we will reach our final company size by the end of 2019," explains Sascha Kremers, Head of Pipeline.
This is when Studio Isar Animation will have reached its full capability, so that Maja, Vic and the heroes of today's parents will be able to go on many more thrilling adventures, now and into the future.

About Studio Isar Animation
Studio Isar Animation is a subsidiary of Studio 100 Media AG, which is headquartered in Munich. Its parent company is the Belgian firm Studio 100 NV. Studio 100 Media holds the rights to a wide range of renowned classics, develops and acquires new animation series, and is responsible for global distribution of its own portfolio as well as third-party sales. Studio 100 Media also acts as a producer for children's animated films, including Maya the Bee – the Movie and Maya the Bee – the Honey Games.

Studio 100 Media brands have also established six theme parks in Belgium, the Netherlands and Germany as members of the Studio 100 Group.

Deployed Product
ColorEdge CG2730
FlexScan EV2750