Case Studies
FOX SPORTS and FOX International Channels Italy
Products Deployed

ColorEdge CG276
ColorEdge CX240
FlexScan EV2436W
Founded in 1994 in the United States, Fox Sports currently reaches over 70 million subscribers worldwide. Already present in South America, Australia and Asia, besides the USA, it arrived in Europe in 2013, making its name as the most widespread television brand in the world. In Italy, the channel is home to the top players in soccer. Managed by Fox International Channels Italy and available as part of Sky football and Mediaset Premium packages, it exclusively presents matches from the Barclays Premier League and English FA Cup, the Spanish Liga, the French Ligue 1 and the Dutch Eredivisie.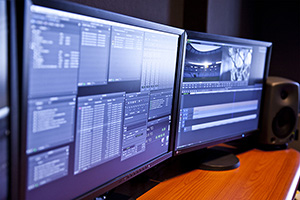 Carlo Ruscitti, technical post production supervisor at Fox International Channels Italy, commented, "In the Graphics and Post Production department we produce a large quantity of videos to promote our channels and for FOX SPORTS, seeking to maximize the quality and innovation of our technical equipment within budget constraints. Since the creation of the first FOX channels in Italy, quality has been our main resource for making our brands stand out in the fiercely competitive world of pay TV. That's why we have given the utmost importance to developing new technological features in television: virtually all of our channels are today broadcast in high definition, and technological upgrading of our broadcast systems has always gone hand in hand with the development of technical solutions by our post production team. Our editing rooms and graphics workstations have always used computer monitors by leading brands, because the visual output is a vital factor in this line of work: the view window in the computer monitor is the first window in which our creativity appears, therefore it is essential to be able to view our brands correctly right from the start in terms of colors, multiple viewing angles and general quality of the signal. Finding monitors with these features, which can be perfectly integrated with our broadcasting equipment, meeting the standards set by our graphics and video professionals at the same time compatible with our budget, has never been an easy task. As part of our research, we have tried out EIZO monitors, which meet all technical and quality credentials in order to be chosen as our Graphics and Post Production monitors."
Reasons for choosing EIZO monitors
"We installed the following EIZO monitor models in our graphics and post-production department for FOX SPORTS:

ColorEdge CG246 in Graphics – off-air graphics workstation
ColorEdge CX240 in Graphics – on-air motion graphics workstation
FlexScan EV2436 in Post Production – video editing and graphics workstation

The installation of EIZO monitors was very simple and, following configuration of the colorimetry using the inner sensor or the EIZO EX2 sensor, the monitors were 100% functional in just a few minutes, ready to be tested by our operators."

For the off-air graphics station, the CG246 was chosen, complete with a built-in SelfCalibration sensor for high-fidelity promotional graphics in video and in the printing stage. The software used here is mainly bitmap and vector-based, such as Illustrator, Photoshop and Cinema 4D and the output offered by the monitor was highly praised by the graphics operators for its color fidelity and the actual quality of visualization (definition, refresh and black level).

The CX240 in motion graphics were equipped with ColorNavigator software and the EIZO EX2 sensor. With the hardware and software combination it was possible to perfectly calibrate the degree of color: this function is necessary not only for color consistency between one graphics workstation and another, but above all between two monitors of the same workstation. The motion graphics workstations normally use Adobe After Effects and Cinema 4D, and the visualisation of these and other supply software was very good according to the graphic technicians working at the station.

In video post-production, EV2436 monitors were used, with high level features and viewing options but with a PC brand monitor budget. In these stations editing software such as Avid Media Composer and Adobe After effects are mainly used.




Conclusions
Mr. Ruscitti also finished by saying,"The monitors in all graphics and video workstations are completely in keeping with our high expectations and all of the professionals working on these models have given positive feedback, both in terms of different viewing angles without losing quality as well as in terms of color fidelity. As the technical manager of Graphics and Post Production, the range of options was also important to me, and the EIZO catalog meant it was possible to adapt the various options according to the working needs of the different departments and to satisfy budget requirements."