Case Studies
Mackevision Medien Design GmbH
"We demand perfect results without any compromises. That's why we use EIZO monitors in our workflow."

Ulrich Schempp – Head of 2D/3D at Mackevision Medien Design GmbH in Stuttgart
Mackevision Medien Design GmbH is one the global market leaders in computer generated imagery (CGI). CGI is an umbrella term for fields such as data-supported 3D visualization, animation, and visual effects. Mackevision designs and produces high-end interactive applications, visual and video material, develops imaging solutions, and provides support for the entire CGI process, from data preparation, to creative conception, all the way through to the final product. Founded in 1994, Mackevision boasts an international team and works with large corporations as well as mid-size companies and agencies. Today, the company totals over 400 employees working at its Stuttgart, Germany headquarters as well as its sites in Munich, Hamburg, London, Florence, Paris, Detroit, Los Angeles, New York, Beijing, Shanghai, Seoul, Tokyo, and Singapore.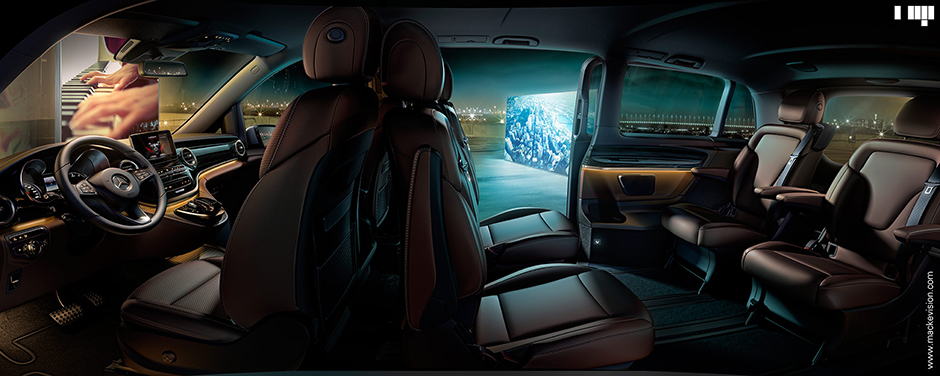 Ensuring Maximum Precision Throughout the Entire Workflow
Mackevision's drive to meet the highest industry standards has led to success. Over the last few decades, the company has won numerous awards and earned a strong global reputation in the field of digital image production. Mackevision offers a broad range of visual services, which include supplying entirely computer-generated imagery, integrating digitally produced content into real footage, and further processing video and photo material. The company relies upon high-performance, premium quality computer systems and professional monitors throughout the entire work process in order to meet the exacting requirements involved in providing these services.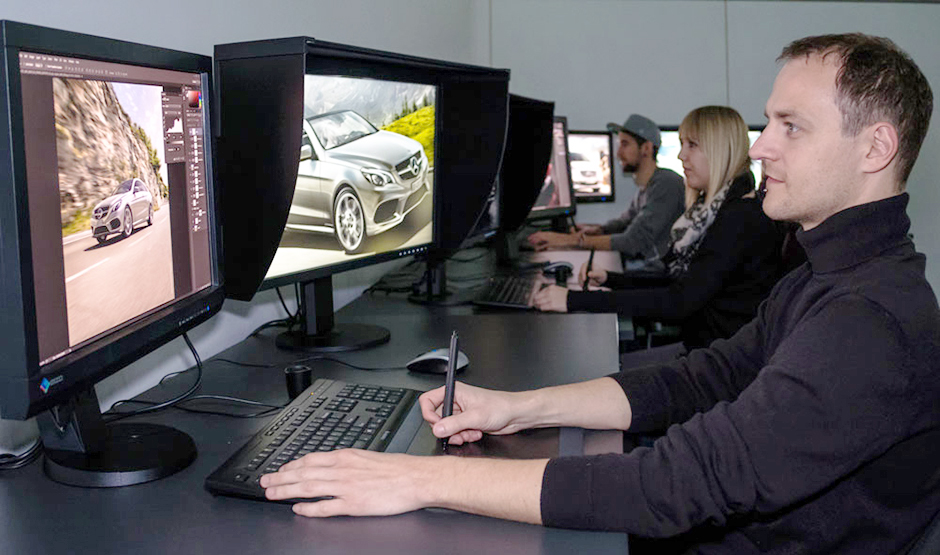 For Mackevision, the Key to Color Reproduction Lies in the Small Details
Mackevision has been relying upon the high-performance EIZO monitors for over ten years, using these devices for image production in all color-critical applications. The company has developed a workflow for single frames and moving images that involves multiple data sources and a variety of different output media. As such, this workflow requires expert, multifaceted color management. It is crucial to maintain color standards and to have perfectly calibrated monitors during the entire image creation process. "Our pipeline allows us to deliver a large volume of media containing material that we've created. Because of this, we work with a number of artists simultaneously on any one given project. Sometimes these artists are located on several different continents. Within this workflow arrangement, minor discrepancies in color reproduction have major consequences," explains Mr. Schempp.

Automatic Self-calibration Increases Productivity
The only way that Mackevision can ensure constant, color-accurate video output across the board is by using EIZO ColorEdge CG247 monitors. These monitors feature integrated measurement devices with reliable self-calibration. "These monitors let us save a great deal of time, which is a benefit that shouldn't be dismissed offhand. Our artists no longer need to spend time adjusting their monitors themselves," notes Mr. Schempp, who values the cost-efficiency of these EIZO devices.
Mackevision juggles a large volume of projects, carried out at the many individual work stations at the company's various sites. As a result, various different color and monitor profiles come into play. "We're capable of switching between various projects at a single work station without wasting any time. We don't have to recalibrate the monitors at our post-production stations each time we begin a new project," explains Lead Photoshop Artist Stephan Poettgen. "And since the monitors can calibrate themselves, they automatically prevent errors in color reproduction. Us artists basically don't need to do anything in terms of color management, so we can focus entirely on our work," he adds.
"We've been offering innovative, premium quality, and reliable data-based visualization solutions for 20 years now. In order to be able to do so, we emphasize professionalism and insist on meeting the highest standards – this also applies to our partners," says Mr. Schempp.
The graphic monitors in the ColorEdge CG series are truly unique, thanks to a combination of high-end monitor technology, fully developed ColorNavigator software, and integrated sensors to increase productivity. It's no wonder that Mackevision, with its 200+ EIZO CG monitors, will continue to choose EIZO in the future.