Case Studies
Movir chooses a comfortable workplace with the EIZO EV2436-GY

Movir is a specialized disability insurance company for medical, business professionals and entrepreneurs. As an insurer, Movir has over 100 years of experience in disability, with a strong focus on prevention and reintegration.
Geert Schelbergen, IT Service Manager at Movir, explains their choice for EIZO.
"EIZO monitors are deployed at the Department of Finance, Marketing and IT. Eventually we will also replace the monitors of other departments. Given our experience with EIZO, the chance of choosing EIZO again is very high since high quality is a high priority at Movir.
"The monitor had to meet health and safety requirements and we conducted a test with monitors from various brands. Testers were specifically asked about the following points:
Is the text on your screen clear and easy to read?
Is the image stable and shows no flicker?
Is the screen free of glare and reflections?
Is it easy to adjust the brightness and contrast of the screen?
Can the screen be moved on the table, it is at the right height and is tiltable?
The EIZO EV2436-GY was elected almost unanimously as the best monitor.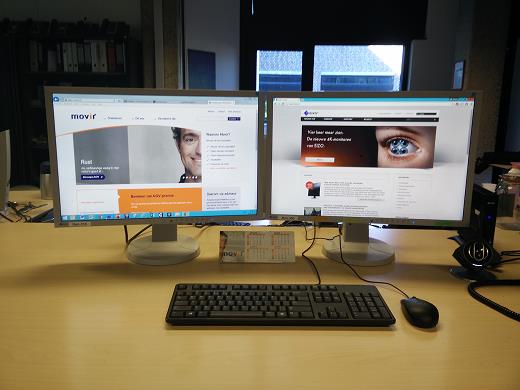 "The fact that there is a five year exchange warranty on the monitors, made the choice for EIZO even easier. So far we have only once invoked this guarantee, says Geert Schelbergen. "