Case Studies
The Perfect Photo: Taken on the Rope and Completed at the Monitor
For Rainer Eder, dedicated outdoor photographer, it's all about being in the right place at the right time – and doing the right thing at the right moment.
Born in Austria, he has been working as a professional photographer both in Switzerland and internationally for many years. 15 years ago, the enthusiastic Alpinist made his mark in the climbing scene when he got the opportunity to take eye-level shots of the world's best climbers ascending through rock and ice.
He is also into other extreme sports, such as base jumping, freeriding, speed flying and wild-water kayaking. Having teamed up with Nikon, he now takes shots for various clients, among them famous outdoor brands such as Adidas, Mammut and Red Bull. The big players appreciate his eye for detail and his skilful staging – no matter the venue. His photos appear in numerous outdoor, mountaineering and glossy magazines around the world. Rainer Eder loves his vocation, particularly working in nature, travelling, the diversity he encounters and the wide variety of exceptional individuals he meets.

Rainer Eder, finalist in the 2010 and 2013 Red Bull Illume photo competition.
A perfect photograph requires more than working on-set. Subtle nuances and details must be painstakingly matched and adjusted using image editing software. Aside from high-quality camera equipment, professional photographers also need a reliable true-color display. With EIZO meeting these high standards, the ColorEdge was Rainer Eder's model of choice. For three years now, he has been viewing and editing his images on an EIZO CG276. It did not take him long to decide. The automatic calibration solution, which makes complicated calibration and adjustment a thing of the past, immediately caught his eye. At this level of professionalism, true-color images are an absolute must: "What you see is what you get".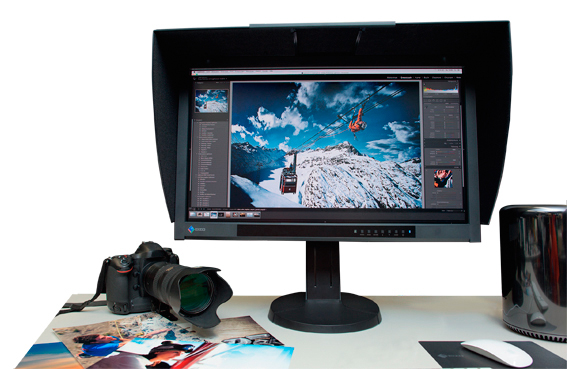 Asked about his reasons for choosing an EIZO monitor, Rainer Eder smiles and says: "The main benefit for any owner of a CG276 is the fact that one doesn't have to worry about anything. The programmable, fully-automated calibration solution saves a lot of time. Of course, I am also impressed with the wide color spaces and the excellent image quality. The top viewing angle stability provided by the 27-inch ColorEdge monitor guarantees clear colors and high contrasts – an important aspect when several people view pictures on the same display. On top of this, I can now work at the screen for hours without tiring."
"I should also mention the generous 5-year onsite guarantee, which I have actually had occasion to use. We were hit by lightning and the electrical surge led to a total power failure – not a good situation for a photographer with deadlines. Thanks to the EIZO Swiss Premium Guarantee, I had a new monitor on my desk in less than 24 hours. As I said, it's all about being in the right place at the right time – and doing the right thing at the right moment."